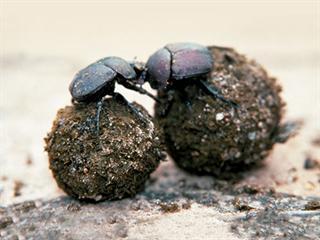 Their job is to help remove the animal dung that covers huge areas of pastoral land. In the process, it is hoped that they will improve soil health and pasture productivity and reduce water and nutrient runoff. The beetles process dung for food and reproduction, eventually breaking it down into a sawdust-like material. Since sheep, cattle, horses, deer, goats and other domestic animals were introduced to New Zealand, there have been no associated beetles to process their dung.
New Zealand has 15 native dung beetles but they are not adapted to living in open, modified habitats such as livestock pastures. As a result, it has been estimated that about 700 000ha in New Zealand is covered by animal dung at any one time. Onthophagus binodus from southern Africa and Onthophagus taurus from northern Africa are species of the first 500 dung beetles released. The two species were imported from Australia where a national dung beetle project launched in 1965 has introduced more than 50 species.
The New Zealand release is the first for the Dung Beetle Release Strategy Group (DBRSG), which plans to move onto farms around the country. The DBRSG gained permission from the Environmental Risk Management Authority in February 2011 to import and release the first 11 species of beetle.Beetles were initially quarantined at the government's Landcare Research Institute, where they were put through disease clearance by the Ministry for Primary Industries. Since then, they have been mass-reared.
Project manager Andrew Barber says the release is an important step in improving New Zealand's agricultural performance.
"I believe dung beetles have the potential to transform New Zealand's pastoral-based agricultural system. More production at a lower environmental cost – it's a terrific story. Our grandchildren won't believe these paddocks were once covered with dung."
According to New Zealand's Federated Farmers National President Bruce Wills, the release of the beetles onto a South Island dairy farm has potential to help with the environmental aspects of animal dung disposal. "Dung beetles have long been put in with livestock in other countries to process their dung, but New Zealand, to date, hasn't had the right species to be able to handle the open field conditions," he says.