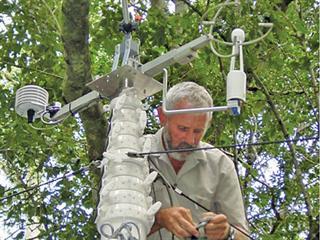 South Africa could soon have a cluster of up to seven cosmic-ray moisture probes installed in agricultural, forestry and remote areas, if the ambitions of Prof Colin Everson of the Centre for Water Resource Research are fulfilled. The probes use cosmic-ray neutrons to deliver up-to-date readings of the moisture content of soil. Soil moisture is inversely related to the neutrons in the air above the soil surface.
Read: Precision farming – a global perspective
Because weather is involved in water recycling, the probes could result in significant improvements in weather forecasting and irrigation practices, and provide new data about the impacts of climate change. The probes were developed by a team at the University of Arizona, led by Marek Zreda, and form the basis of COSMOS, a four-year US$5,5 million (R550 million) project funded by the US National Science Foundation to provide soil moisture data on a continental scale.
The US$20 000 (R200 000) probe is manufactured by US company HydroInnova. It is an above-ground sensor that uses the low-energy cosmic-ray neutrons above soil level to detect moisture as deep as 0,5m over a 34ha footprint. There are 60 cosmic-ray probes installed in the USA, five in Europe, 13 in Australia, one in Kenya and one in South America. South Africa does not yet have a probe, but Prof Everson was recently awarded a R1,2 million science grant from the US Agency for International Development (USAID) for his research on cosmic-ray moisture probes.
Potential
Together with a R1,6 million infrastructure support grant from the National Research Foundation, Prof Everson aims to expand the African network and install six or seven sites in South Africa. The first one will be in dryland maize and soya bean lands at Baynesfield, and others will be in irrigated potato lands in Gauteng, wattle plantations near Greytown and pristine grassland in the Drakensberg near Cathedral Peak.
"The probes have the potential to provide hydro-meteorologists with new methods of evaluating surface soil water. The continuous data streams linked to the new COSMOS continental-scale network will have broad impacts beyond the atmospheric sciences," Prof Everson explained.
"This data has, for example, relevance to hydrometeorologists interested in land-atmosphere interactions, ecologists interested in the impact of soil water on ecological status and evolution, remote sensing scientists for soil moisture calibration and validation, surface-water and groundwater modellers, and agricultural scientists interested in understanding and predicting the relationship between soil moisture and crop yield," he added.
The network of probes in SA will have important consequences for food security and water demand forecasting, irrigation schedules and harvest indices. "There is a need to increase agricultural productivity to feed a growing population. While irrigation will bolster dryland crop production, agriculture faces growing competition for water from industrial, domestic, municipal and other users of water."
Read: Improving food security in KZN: too little, too slow
According to Prof Everson, innovations are needed to increase water use efficiency. "New technologies of soil moisture sensing from cosmic-ray moisture probes and remote sensing have the potential to provide irrigators with scheduling techniques better adapted for more-effective and wiser use of the limited water supply."
The probe can also measure biomass such as forests and crops. "The technology could allow a sugarcane farmer to estimate the biomass of a crop through the measurement of thermal neutrons." The production of a crop or forest can be linked to water use through changes in soil water content, which can provide a measure of the water efficiency of the crop.
"The technology could also be used where there is a danger of mudslides or in a mining context where there is the danger of slime dams failing," Prof Everson said.
Soil moisture estimates could prove beneficial in predicting weather, modelling climate and mitigating disaster. "Until the development of the probe there was no suitable technology that could measure soil moisture at the appropriate scales to validate the models. A cosmic array network should improve the quality of soil moisture data used by the SA Weather Service in its national Flash Flood Guidance (FFG) system."
The COSMOS network will also provide long-term monitoring sites so that climate change can be detected through long-term trends in soil water and precipitation."Individual COSMOS probes send the neutron data and ancillary data to a server where soil moisture is computed and posted on the COSMOS web site. "Data from the cosmic-ray sensors can be accessed via the web as near real-time plots or text. There is about a one-hour delay," said Prof Everson.

Phone Prof Colin Everson on 033 260 6093 or email [email protected].