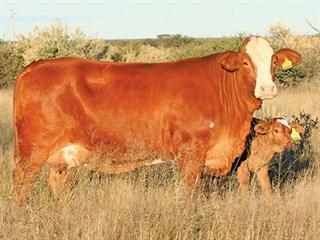 "Your profit is our concern" is the motto of Diethelm and Katja Metzger's Simbra stud, and this sentiment is firmly emphasised by Diethelm. "We can only guarantee quality animals when strict selection is in place," he explains. "Profit is our bottom line, as it is in any business. We aim to produce well-adapted cattle that can perform optimally under extensive conditions anywhere in Southern Africa. We want our buyers to profit from our cattle."
The stud has 447 cows and breeding heifers, 33 bulls, 381 calves and 242 pre-mateable heifers. Fertility is an important angle in cow and bull selection. The Simbra advantage, according to Diethelm, is that the beef producer has a fine genetic combination from the respective parent breeds to produce an optimal animal for the market.
Read: Know your cattle: Simbra
"Apart from producing a genetically superior animal, the cattleman has an ease of management advantage," he says. "The Simmentaler and Brahman breeds were predominantly used in the Namibian slaughter market and to produce replacement heifers. Combining the characteristics of the two breeds makes sense."
According to Diethelm, the Simmentaler has the milk for quick-growing calves, and the growth and conformation to produce a heavy steer; the Brahman is well-adapted to the environment and can produce earlier- maturing carcasses. "With a healthy population of Brahman and Simmentaler cattle in Namibia, it made sense to breed Simbra cattle."

Diethelm and Katja Metzger, Simbra stud breeders from Namibia.
Diethelm established the Metsibra Simbra Stud in 1985 with his parents. He and Katja started their own Simbra stud herd in 1995 and registered it as the Kamab Simbra Stud. The Metzgers' wider enterprise includes wildlife ranching, Makadi Safaris (trophy hunting) and the Kamab Guest farm. They farm on 25 000ha, of which they own 10 000ha and lease 15 000ha.
Veld, soil and water
The veld is sweet and consists of open grassland, with camel thorn (Acacia erioloba), black thorn (Acacia mellifera) and shepherd's tree (Boscia albitrunca) dominant. The grass component includes curly-leaf (Eragrostis rigidior), vlei love-grass (Eragrostis rotifer), wool grass (Anthephora pubescens) and tassel three-awn (Aristida congesta). Red bushwillow (Combretum appiculatum) and black thorn (A. mellifera) are found on the highland plateau.
The most significant grasses on the plateau are sand quick (Schmidtia pappophoroides) and black-footed signal grass (Brachiaria nigropedata), with tassel three-awn (Aristida congesta) a pioneer species. The soil varies from sandy soil to clay loam and in parts the terrain is rugged. The annual average rainfall is 350mm. The area along the Black Nossob where the Metzgers farm is particularly dry, with little underground water.
Diethelm's grandfather, Ernst, tested 62 borehole sites before he eventually built two large earthen dams for water storage. These and many small quarry dams (gatdamme) are the farm's lifeblood. There are 68 camps, varying in size from 270ha on their own land to 800ha on leased land, and 21 watering points. "As we produce and rear slaughter steers off the veld, a reliable water supply remains our greatest challenge," explains Diethelm.
"We depend on surface run-off captured in the dams. In drought years, the dams dry up. In the recent terrible drought, I culled a number of my cows, keeping only the cream of the crop. "The official stocking rate is 10ha/MLU but we stock at 18ha/MLU. We switched from a rotational grazing system to a low stocking rate, permanent grazing system a few years ago. We also run a wildlife farming operation and it was difficult to keep game out of the camps that we were resting for cattle grazing. The cattle were then at a disadvantage when we moved them back into the camps."
Veld is the cheapest and most efficient forage source for the Kamab Stud. The cattle receive a mineral supplement, and show cattle and sale bulls receive additional feed and concentrate.
Natural breeding and AI
Depending on the camp size, the bull:female ratio varies from one bull per 18 females to one bull per 35 females. Most females are naturally serviced, but Diethelm plans to expand artificial insemination (AI) using South African genetics. The Kamab herd's broad genetic base includes South African and Namibian bulls. Semen is imported from the USA and Australia.
Dieter and Katja also continually upgrade their stud using South African and Namibian Simmentaler and Brahman genetics.
Two breeding seasons compensate for the unreliable Namibian climate and frequent droughts, and help with more efficient use of bulls. A cow is allowed a second chance only once during her lifetime: if not pregnant after that, she is culled.
Breeding for commercial clients
Birth weights average 34kg and 36kg for heifer and bull calves respectively. Weaning weights depend on rainfall and grass availability, but range from 240kg to 280kg in an average year. Since 2006, the Kamab herd has maintained the same birth weight but the weaning weight has increased.
Animals are sold directly off the farm, but the best are held back for two annual auctions: the Simbras Blazing Ahead auction near Klerksdorp, which takes place in March, and the Central Select auction in Windhoek in September. Culls are sold to Meatco, the Namibian meat processing and marketing organisation.
The commercial cattleman is Diethelm's most important client. "This is the guy I breed bulls for," he explains. "I have to understand his requirements, his challenges and his ultimate profitability. That's why we concentrate on fertility, adaptability and hardiness. It's the stud breeder's responsibility to produce more efficient breeding cattle that will enable the commercial cattleman to produce more beef."
Herd health
Disease management is kept to the minimum because, as Diethelm explains: "We want our cattle to be hardy and resistant to disease." The animals are inoculated only against anthrax, botulism, black quarter and brucellosis, as legally required in Namibia.Cattle earmarked for sales and shows are treated against lice and ticks. Anaplasmosis is endemic to the Seeis region, but the Kamab cattle are resistant to it.
Predators include black-backed jackal, caracal, cheetah and leopard. Diethelm explains that some animals will instinctively chase off predators. This trait has unfortunately largely been lost in Southern African cattle in favour of other characteristics. "While studying agriculture at Pretoria University, I was required to do a statistics project. When I analysed my father's data from the Brahman herd he was farming at the time, it showed that some cows lost their calves to predation every year."
After the research was completed, they worked on the assumption that if they culled the cows that lost their calves to predation, there would be indirect selection of cows that protected their calves from predators. "We've reduced losses to predators by following this strategy," he says. Diethelm believes cattle breeding has a future because the world's population, and more specifically the African population, is growing. This population growth and the rising middle class will increase the demand for meat.
"Namibia is part of a growing international market and is well- positioned to export to global markets," he says.
Phone Kamab Simbra on +264 62 503732 or +264 81 128 9017. Email [email protected], or visit the website www.kamab-simbra.com.