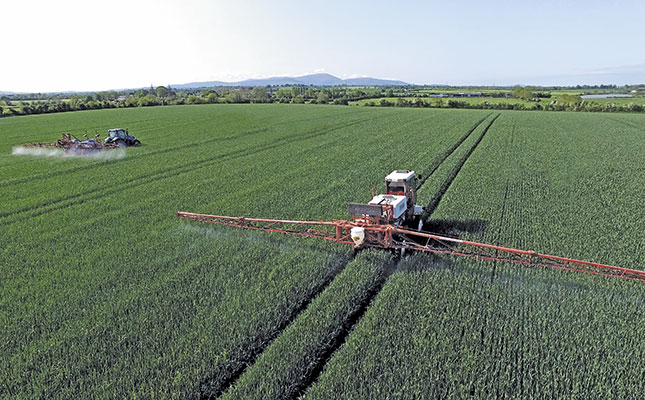 Research shows that in Europe, the cost associated with water contaminated by pesticide run-off due to spray drift is around €30 billion (R420 billion) annually. Spray drift is influenced by air movement, wind, nozzle size, tractor speed, boom height and droplet size.
While finer droplets allow for more even coverage across the bottoms and tops of leaves and the leaf canopy, they also take longer to wet the crops and are harder to control. Conventional technology used in crop spraying systems generally only allows for 30% of the spray to adhere to the crop, while the remaining 70% is wasted and contaminates surrounding areas.
MagGrow, an Ireland-based company, has developed a crop spraying system that uses MagGrow's patented magnetic field technology to reduce spray drift and improve spray adhesion. According to independent research conducted on the system in Ireland, the US, Kenya, Ethiopia and the Netherlands, the MagGrow system allows for spray drift control of over 80% and superior coverage, while also improving droplet adhesion by between 42% and 98%.
How the system works
Gary Wickham, co-founder of MagGrow, says that the system is based on the premise that magnetic fields, applied under appropriate flow and fluid conditions, can influence the physical properties of spray fluid and associated spray droplets to facilitate more effective spray dispersion and leaf adhesion.
MagGrow uses off-the-shelf nozzles that produce small droplets. The system is fitted with magnetic inserts, which reduce spray drift. These magnetic inserts ionise the pesticide solution, which, in turn, makes it easier for the droplets to adhere to the crop.
Saving with the system
Wickham explains that this spraying system not only leads to producers saving on water costs, but also to better environmental compliance as lower levels of pesticide or herbicide are applied. Independent trials conducted in the Netherlands also showed a savings in chemical usage of at least 25%, as well as a 25% or more reduction in water use.
It also showed a 20% or more reduction in diseases and a 10% or more improvement in yield.
System construction
The sprayer system is made from cast aluminium and contains no moving parts. According to Wickham, it is easily installed and maintained, and all parts have been pressure-tested to operate up to 1 000kPa. The system comprises three parts, namely, a primary magnet housing fitted onto the main body of the crop sprayer; a boom arm sleeve, fitted to the boom of the crop sprayer; and a nozzle adapter that fits standard fat cap nozzle bodies.
The number of individual parts required depends on the size of the crop sprayer, and a typical 24m crop sprayer would require a minimum of six main magnet housings, one boom arm magnet housing per boom section, and one nozzle adaptor per nozzle.
Wickham says that the system can easily be fitted to new or existing spray equipment.
For more information on the MagGrow spraying system, visit maggrow.com