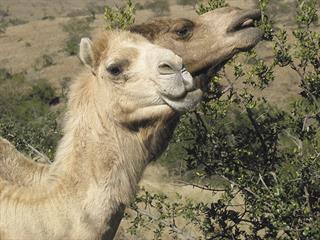 It seems that Camels are betterat browsing larger portions of the sweet thorn (Acacia karroo) prevalent in the Eastern Cape than goats are, says Cornelius de Ridder, pasture scientist at the Eastern Cape agriculture department in Döhne. Camels (Camelus dromedarius) browse much higher and more aggressively, without any impact on their health, and so could be better at combating bush encroachment than other livestock. "They utilise branches and leaves to such an extent that the trees struggle to recover," explains Cornelius.He's been studying camels' browsing habits on Nigel Flanagan's Clifford Farm in Stutterheim. Nigel introduced camels in 2006 to control sweet thorn encroachment on old lands, where very dense stands occurred. But at the time, their impact on the trees was unknown.
Current bush control
Cornelius says most farmers use a combination of Boer Goat browsing and fire to control bush encroachment. "But for Boer Goat farming, you need expensive fencing to contain animals. And to successfully control bush encroachment, fire needs the accumulation of at least 4t/ha of dry matter.
"Burning under such circumstances can be risky. And, of course, few farmers can afford to accumulate such amounts of grass material. They need it for feed."Goat farmers in the Karoo consider sweet thorn valuable for year-round fodder and shelter. However, cattle and sheep farmers in grassveld believe the trees compete with and push out grasses.
Camels prove their worth
A trial was conducted to find out more about the camels' impact in the veld, with the following questions in mind:How well would the camels use sweet thorn?To what extent would sweet thorn recover afterwards?Up to what height would camels browse the trees?Can camels reduce and/or control the sweet thorn encroachment?For the past four years, the trial has used two grazing periods in a season.
The first period is early, after the trees have completed the new season's flush growth. The second period is toward the end of the growing season, as trees prepare to conserve energy reserves for the new season's growth after winter. While other browse-control methods showed either static or consistent increases in tree density, camels browsing trees twice per season significantly reduced tree density.
Fewer trees per hectare
In the camel browsing treatment, tree-canopy height increased slightly from 1,64m to 1,8m. At the same time, the total volume of material browsed also increased. Tree density dropped dramatically from 11055,56/ha to 3472,22/ha, showing the impact camel browsing can have on sweet thorn."This proves camels can reduce tree numbers considerably, but this reduction – more than half over a four-year period – is still minor if the total number of trees per hectare is considered," notes Cornelius.
"The trial must run as a long-term project for the real effects to show. "Tree density in the trial is still very high at 3472,22/ha and the tree survival system has yet to crash."Contact Cornelius de Ridder on 082 821 6995 or Nigel Flanagan on 082 773 0882. |fw
Camel numbers dangerously low
In 2003, there were 476 camels in South Africa, Namibia and Botswana, of which 234 were sampled for genetic analysis, according to a paper published in the SA Journal of Animal Science. Results indicated little differentiation between camels from southern Africa and camels from Sudan. There was no evidence of loss of genetic diversity in any individual population. Camels were domesticated about 3 000 years ago and are mostly found in Africa's arid areas, with a population of about 11,5 million camels in 1992.The paper notes that in southern Africa, the first camels (of unknown origin) arrived in Namibia through Walvis Bay in 1891 and were used for postal and military transport. Many were used in the Second World War in fighting units. An estimated 3 000 camels were introduced into Botswana, Namibia and South Africa in that period. Kalkfontein-North was the breeding station that supplied the South African Defence Force and Police Service with camels for patrolling and anti-poaching operations.
The introduction of modern all-terrain vehicles caused a sharp decline in the use of camels. Camel numbers started to decline due to the neglect of the remaining animals, the castration of bulls to lower their aggression during the rutting season, ongoing slaughtering, the limited number of breeding animals, and a high calf mortality. According to the paper, camel use has increased again in recent years, mostly due to ecotourism. And, because they could also be used to control bush encroachment, the researchers suggest that remaining animals be managed properly to ensure survival, optimal production and to prevent inbreeding.At the time of the study, there were nine camel breeders in southern Africa, with camels found in the Gauteng, Northern Cape, Western Cape and KwaZulu-Natal in South Africa; in Windhoek, Swakopmund, Grootfontein and Gobabis in Namibia and in Botswana.
Source: South African Journal of Animal Science 2005, 35 (3): Microsatellite markers reveal low genetic differentiation among southern African Camelus dromedarius populations, by M Nolte, A Kotzé, FH van der Bank and JP Grobler. The journal is available online at www.sasas.co.za.