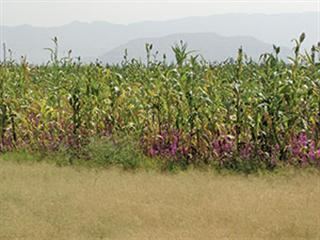 Witchweed (Striga hermonthica) is a parasitic root weed that causes significant yield losses in grain crops such as sorghum, pearl millet, finger millet, maize and rice. Endemic to sub-Saharan Africa, it infests 26 to 50 million hectares, causing annual crop losses of between 30% and 90%. At times, there may be complete yield loss. While witchweed can be controlled by using resistant cultivars, crop rotation, intercropping with legumes, late planting, trap crops and fertilisers, few small-scale farmers adopt these measures, apparently because they are inaccessible or unaffordable. As a result, witchweed infestation and damage are increasing.
Recently, however, plant breeders at the African Centre for Crop Improvement (ACCI) at the University of KwaZulu-Natal have developed a promising two-pronged integrated management strategy to control the weed. This combines the breeding of plants that demonstrate witchweed resistance with the use of a biocontrol agent (BCA), Fusarium oxysporum that attacks witchweed strains. The approach looks set to enhance small-scale sorghum productivity.
The study – conducted by ACCI researcher Professor Hussein Shimelis, Dr Rebeka Gebretsadik of the Debrebirhan Agricultural Research Centre in Ethiopia, Prof Mark Laing and Prof Pangirayi Tongoona of the ACCI, and Dr Nigussie Mandefro of the Rural Capacity Building Project in Ethiopia – set out to identify and breed specific sorghum genotypes. The characteristics sought by the breeders were resistance to witchweed, compatibility with Fusarium, high yield, and farmer-preferred agronomic traits. In all, the team examined 50 sorghum genotypes from Ethiopia.
They also isolated a strain of Fusarium from severely diseased witchweed plants collected from sorghum lands in the north-eastern lowlands of Ethiopia. This BCA, mass-produced in dry powder form by Dr Mike Morris of Plant Health Products in the KwaZulu-Natal Midlands, was used to inoculate the sorghum seed. "Fungi are preferred to other micro-organisms as bioherbicides because they're usually host-specific, highly aggressive, easy to mass produce, and genetically diverse," explains Prof Shimelis.
Because of the intimate relationship between root parasitic weeds and their annual crop hosts, it is difficult to apply conventional weed control such as post-emergent herbicides. Using BCAs in conjunction with witchweed resistance, however, suppresses the weeds relatively easily. After greenhouse trials, 12 promising sorghum lines were identified. Field and laboratory tests demonstrated that treating sorghum seed with Fusarium reduced witchweed germination and growth. They also showed that using it regularly led to reduced witchweed seed banks.
Combining the BCA Fusarium with witchweed-resistant sorghum varieties gave even better results. In the trials, witchweed counts were reduced by up to 92%. Most gratifyingly, yields increased dramatically. "Yield from sorghum planted with Fusarium-treated seeds was 144% higher than from sorghum planted with uncoated seeds," explains Prof Shimelis.
"Seeds treated with Fusarium also grew faster; crop maturity was accelerated by an average of 14 days."
Resistant varieties proven
Using resistant varieties is the most affordable, effective, and environmentally sound method for controlling witchweed. This approach has been demonstrated over several years in field tests in Ethiopia and Tanzania. "In Ethiopia, about 30% of lowland areas where sorghum is the predominant staple crop are infested with witchweed. Yield losses here range from 50% to 100%," says Prof Shimelis.
"Three high-yielding witchweed-resistant sorghum varieties developed at Purdue University in the US were released in Ethiopia and grown using sound moisture conservation methods and suitable soil inputs. Witchweed infestation was reduced dramatically and sorghum yields increased by up to 400%." Despite the success of these varieties, farmers have been slow to adopt them, mainly due to a lack of effective seed production and inadequate marketing.
Prof Shimelis and the members of his team hope to change this with their two-pronged approach and by developing sorghum varieties optimally suited to the region. "Field experiments are currently under way at established witchweed-infested plots and farmers' fields in the north and south Wello regions of Ethiopia," he explains.
Source: Crop Science, Volume 53, March to April 2013.
Contact African Centre for Crop Improvement on 033 260 6474, or email [email protected].
Websites: www.ukzn.ac.za and www.acci.org.za