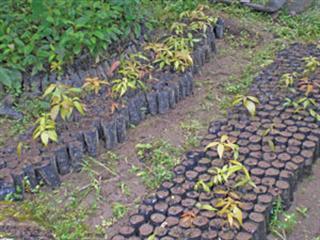 Society often demands that farmers produce food as cheaply as possible, yet expects them to spend time and money caring for 'the environment' – the soil, rivers and biodiversity. Of course, like other businesspeople, farmers should be held accountable for their actions, but how can they be motivated to care for the environment pro-actively?
The answer, judging by examples in South Africa and Costa Rica, may lie in financial incentives. The Kromme River in the Eastern Cape provides 40% of the water supply of the Nelson Mandela Bay Municipality. Although the water is of good quality, the river's 155 000ha catchment area has suffered environmental degradation. Working for Water is involved in a programme to clear alien vegetation, but economist Katie Gull of the University of Cape Town, who has studied Port Elizabeth's critical water shortages and the agricultural value of water, believes that a great deal more needs to be achieved.
She explains that stepping up the alien clearing, restoring the palmiet wetlands and protecting the river channels will improve water flow, agricultural productivity and flood protection. Most importantly, though, she says that farmers should be encouraged to participate in a stewardship programme, and believes this may eventually lead to their being paid for 'ecosystem services'.
"The catchment which feeds the Kromme River is in bad condition," she explains. "The additional yield resulting from clearing just 1ha of alien plants amounts to 3 207m3 of water per year. Removing 140ha of invasive woody trees each year can result in an estimated additional 440 000m3 flowing through the river."
Gull believes that success in involving farmers in the Kromme River programme could convince the authorities that protecting rivers saves on management costs and that a payment for ecosystems (PES) programme for farmers is a viable alternative to building dams or piping in water from elsewhere.

An old-growth rainforest in Costa Rica drawing tourists, storing CO2 and protecting water resources. This forest, on the border of Chirripo National Park, forms part of a private reserve funded via the government's PES programme.
Costa Rica
Arguably the best model for this approach is provided by Costa Rica. Here, implementation of PES has turned the country from environmental disaster to environmental pacesetter. In the 1970s, overseeing a rapidly growing agricultural economy, the government of Costa Rica gave its farmers carte blanche to expand their lands, adopting a 'if you can clear it, you can claim it' policy. Costa Rican farmers are in control of a large portion of the country's land and forests.
The resultant agricultural expansion led to the fastest rate of deforestation in the world, as well as serious loss of biodiversity. The government realised it had to address the problem, but at the same time did not want to jeopardise the agrarian success that was the foundation of Costa Rica's economy. Its solution, spearheaded by minister of environment and energy Carlos Rodriguez, was to recognise the economic value of farmers and compensate them for providing environmental services.
These include watershed management for downstream users such as hydro-electricity plants, biodiversity management and carbon sequestration and storage. The success of this approach has helped the country gain top spot in the New Economics Foundation's Happy Planet Index, which evaluates the environmental efficiency with which nations achieve human well-being.
Local application?
Developing a PES market in South Africa will not be easy, as "there's no organised action from the farmers, no sellable product and no buyer," says Alanna Rebelo of the Department of Conservation Ecology and Entomology, Stellenbosch University. Rebelo suggests that as a first step, farmers have to define what they would like to sell and to whom – a municipality, for example – and what land use changes they are prepared to make.
Marketable options could include improved water quality through soil stabilisation by means of the restoration of dongas and wetlands, or increased water quantity through the removal of invasive alien plants. Farmers in the same area also need to work together to optimise their services, she argues. They would be unable to do so individually because the scale is too small.
Other steps that farmers can take include:
Packaging their offer as cultural, aesthetic or tourist, for example. This would help to sell it and prevent future exploitation by entities such as mining companies.
Including partners. These could be institutions keen on promoting PES, conservation NGOs or financial institutions. Crucially, notes Rebelo, farmers should study the partner's credentials carefully and at all costs avoid any group or individual seeking short-term gain.
Integrating catchment management. All aspects of nature are interlinked, and it is often counterproductive to look after only a single aspect. Water management, for example, cannot be separated from alien vegetation removal, fertiliser run-off from lands, irresponsible road construction and other problems. The natural system in the entire area has to be managed as a whole.
Responsibilty
Costa Rica's PES programme is based on the principle that forests provide services for which the beneficiaries should be obliged to pay. This legal recognition paved the way for the establishment of the National Forest Fund, through which payments for environmental services can be collected from beneficiaries for distribution among those who deliver these services. This places great responsibility with the seller – the farmer – to provide guarantees that the promised goods will be delivered.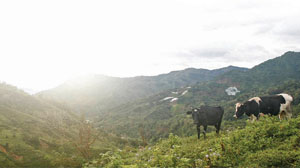 Dairy cattle grazing on the border of Chirripo National Park, Costa Rica.
Rebelo argues that in SA the process in farming areas "inevitably" begins with a land use change. "From there," she says, "it grows to building confidence between buyers and sellers. It is critical that farmers take the lead. "Instead of waiting for an offer from a municipality, landowners or users must sign themselves up and bring something sellable."
Rebelo emphasises that protecting South Africa's environment and securing a prosperous future for the country's agricultural sector are not opposing goals. Costa Rica has demonstrated this clearly through its holistic and smoothly managed approach.
Contact Alanna Rebelo on 079 499 7235, or email [email protected]. Email Katie Gull on [email protected].