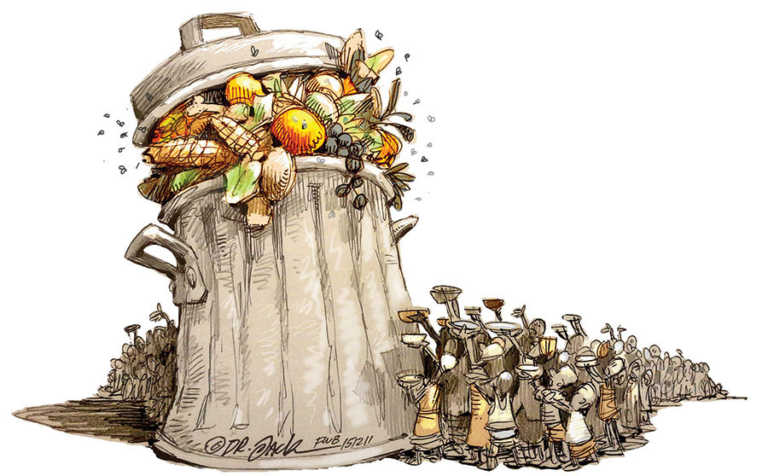 In this year's WWF South Africa report, Food Loss and Waste: Facts and Futures, it's revealed that as much as 10 million tons of food goes to waste in SA every year; about 95% of which is lost before it reaches consumers.
However, the 12 million food-insecure South Africans and rising food prices aren't the only knock-on effects of this problem. WWF South Africa says it also has a serious impact on water consumption, energy and the environment.
On the other hand, there are many small-scale farmers who, through the strategic use of smallholder co-operatives, may be able to lessen the waste burden.
A look at SA waste
As much as a third of our food ends up in landfills. With only 26g of every 100g of harvested spinach being eaten (according to a WWF case study on Woolworths), this contributes significantly to food insecurity across the country and continent.
But hungry people aren't the only concern. Every item of fresh produce that exists takes water, energy and resources to grow and harvest, so that's wasted too.
And the figures add up. For instance, WWF South Africa points out that "the energy wasted for producing food that is never consumed is estimated as sufficient to power the City of Johannesburg for roughly 16 weeks". That's four months.
Further, WWF states that: "The wasted embedded water would fill over 600 000 Olympic swimming pools. Given that farming consumes 62% of total freshwater used in SA, this is a huge waste of scarce water resources in the 30th driest country on the planet."
To put that in everyday terms, WWF notes that pouring half a cup of orange juice down the drain wastes a quantity of water equivalent to 12 flushes of the toilet – by virtue of the process involved in getting the juice from tree to cup.
Add this to an already strained waste-disposal system and it's easy to see that there are many problems that could be addressed by focusing on food waste.
Where the problems lie
There isn't enough current data available to pinpoint hotspots, exact volumes and causes of waste in the supply chain.
However, from what we know, it appears that the losses we're seeing occur mainly because of agricultural and post-harvest-related processes, storage and the lack of cold-chain facilities – important features when many SA products travel thousands of kilometres before reaching consumers.
Three possible solutions
Co-ordination/distribution: Lack of co-ordination between the market and growers leads to oversupply. Produce is delivered to markets on days when markets are full. If delivery were delayed by a day or two, all products might have been bought.
Packaging: There are good examples of creative packaging that preserves produce for longer. But these are expensive and, especially with low-value produce, packaging costs should be kept to a minimum.
Final consumption: On the individual level, it's important not to buy more product than can be consumed. A good example is a bulk product like potatoes where a large bag is bought, but only some is eventually used.
The co-operative answer
Apart from normal climatic factors, the main causes of harvest failure and low-quality products among small growers is lack of knowledge, harvest methods, post-harvest facilities and techniques, storage and logistics – concerns that overlap significantly with the processes most impacted by food wastage.
The co-op model, on the other hand, is one of the best ways to unlock value in rural communities. This is because, through sharing resources, risks and costs, groups of farmers can:
Focus on higher-value produce
Increase product volume
Fill gaps on market floors during the year
Feed their communities
Adopt better, less waste-intensive tools and technologies that could help alleviate some of the burden of food wastage
Further, co-ops offer small-scale growers a collective power that affects their ability to market and negotiate prices; benefits that filter back to the beneficiaries and their local communities.
Ultimately, the entire South African food production chain needs to be taken apart and pieced back together using systems that better integrate and co-ordinate things such as sorting, packaging, storage, logistics, and distribution.
In the meantime, however, we could work to alleviate some of the burdens food waste has on society by embracing the human resources we already have.
Dr Justy Range is the Business Development Manager at Freshmark Systems, a subsidiary of MICROmega Holdings Ltd.