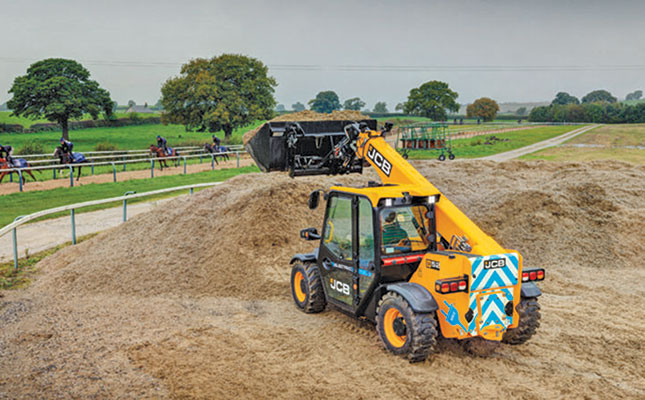 More than 43 years after JCB first pioneered the concept of telescopic handlers, the wraps have now come off the 525-60E, a fully electric version of the popular Loadall. Designed to deliver the same performance as the conventional diesel-powered machine, the 525-60E offers a zero-emissions load-handling solution to construction, industrial and agricultural customers.
According to a statement by the manufacturer, its new zero-emission load-handling solution does not compromise performance or productivity.
The Loadall 525-60E offers a number of standout features:
Dual electric motors for drive and lift deliver greater efficiency;
Brake regeneration boosts battery charge;
Regenerative hydraulics increase efficiency;
Full-shift operation maximises the machine's capability;
Charging options include on-board and rapid charging.
Electric-powered throughout
According to JCB, the 525- 60E uses two proven electric motors, one for the driveline and the second to power the hydraulic system. The 17kW traction motor drives through a permanent four-wheel-drive dropbox to drive/steer axles.
The 22kW hydraulic system motor powers a fixed displacement gear pump, delivering a maximum 80ℓ/minute of flow.
Flow is proportional to joystick position, and the lift end is controlled by an electro-hydraulic valve block, with hydraulic regeneration on boom lower and retract.
The electric motors are 85% efficient, compared with the 45% efficiency of a diesel engine. The 96V lithium-ion battery is capable of providing full-shift operation.
The traction-drive motor utilises regenerative braking rather than a traditional braking system, topping up the battery in the process. The hydraulic system also regenerates flow while lowering the boom, reducing the power requirement and extending operating hours.
The brake regeneration function turns off automatically when the battery is fully charged.
The machine has the same on-board charger as other JCB E-TECH products, capable of recharging the battery in eight hours using a standard 240V, 16A electrical supply. An optional JCB universal charger can be used for a rapid top-up (as short as 35 minutes) during breaks.
Quietly capable
A secondary benefit of electric operation is a significant reduction in noise levels, making the Loadall suitable for extended operation in sensitive urban job sites.
External dimensions are unchanged from the diesel model and the 525-60E offers the same 3,7m outside turn radius.
Maximum lift capacity is 2 500kg, with a 2 000kg maximum load at the full 6m lift height. The machine has been designed to deliver similar cycle times as the diesel telescopic, with no loss of performance.
It can be used with forks, a range of buckets and many other JCB Loadall attachments.