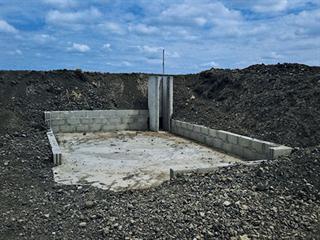 Any farmer who lives at low altitude in the warmer parts of South Africa, has level ground on his farm, and has access to plenty of water, can consider pond fish-farming. This method of raising large numbers of fresh fish is viable in neighbouring countries, and can also work well in South Africa. Egypt has similar temperature profiles to Polokwane in Limpopo, and produces over one million tons of tilapia a year from seasonally farmed ponds.
The requirements for pond fish-farming are:
A supply of water from a river, dam or irrigation scheme that is adequate to fill several ponds of 5 000m3 each – and keep them full.

Gently sloping land with clay soil that holds water well.

A supply of animal manure (chicken, cattle, pig or goat) to fertilise the ponds.

A nearby market for the fish.

Thousands of farms fulfil these requirements. Land at the bottom of slopes, near vleis or watercourses, which has clay soil that becomes waterlogged at times and is usually too wet for crop farming, is ideal for ponds.
Requirements
The first requirement is a topographical survey of the land. This is invaluable in determining the ponds' layout. Commercial fish ponds are usually 0,5ha in extent, although ponds of 0,25ha may be viable on smaller farms.
Once this survey is complete, you will need to survey and excavate the main drainage canal.
This is the exit route for water drained from the ponds. The used water is rich in nitrate from the manure and is ideal for irrigating crops. In this way, the manure is used twice: first to enrich the water for the fish and then as a liquid crop fertiliser.
Vehicle access is essential for monitoring, stocking and harvesting the fish, and should form part of the design. The main dykes built along the deep end of the ponds should be wide enough to support light vehicles. This means that a dyke must be about 4m wide at the top.
The ponds should have gently sloping floors that slope from a shallow end of 30cm to a deep end of 1,5m to 1,8m in depth adjacent to the main dyke. Ponds can be built using a small bulldozer, excavator, front-end loader or TLB.
The water inflow and outflow from ponds should be controlled by concrete structures: sluices for the inflows and monks for the exits. The latter are U-section concrete towers set at the deepest part of the pond, with wooden boards controlling the water level. A large diameter pipe is run from the monk under the main dyke to the exit channel.
Expected return
A 10ha farm will cost approximately R200 000. Production depends on feeding: if you fertilise a farm of this size with manure only, you can expect a tilapia yield of about 5t/ ha/ year. With supplemental feeding, this quantity can be doubled. At a retail price of R35/ kg, this means a gross return of about R1,75 million.
Nicholas James is an ichthyologist and hatchery owner.