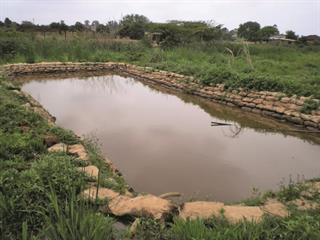 Tropical Africa abounds with small rural ponds that supply families and communities with small amounts of fresh fish on an ad hoc basis. However, few use modern aquaculture husbandry techniques and production is low.
Before 1960, the Belgian Congo (now the Democratic Republic of the Congo) had more than 40 000 of these ponds, many of which have now fallen into disrepair. Commercial- scale projects are almost invariably both privately funded and advised.
The most frequent enquiries I receive are from rural South Africans, who ask two questions:
Where can we get more information on aquaculture so that we can start a fish farm?
How do we draw up a business plan to raise funds to start a fish farm?
These are difficult questions to answer, given the almost total lack of government agency capacity to help such people.
In traditional agriculture, support can be sourced from a number of avenues, depending on the sector. Information comes in the form of manuals, producer organisations, online support and extension officers.
In these respects, local support for aquaculture fails dismally. Despite repeated government claims of a policy to promote aquaculture, including the much-publicised Operation Phakisa initiative in October 2014, little has been achieved.
Trained extension officers in the Department of Agriculture, Forestry and Fisheries are almost non-existent. Even the few who trained some years ago through a Rhodes University rural fisheries development programme have rarely seen a fish farm. Literature relevant to South African conditions is hard to come by, and commercial expertise has to be paid for, something that few can afford.
What government should be doing
Government agencies should spend more of their budgets on disseminating easy-to-understand information to help people in rural areas decide whether or not to pursue aquaculture as an activity. Government should fund the compilation of basic and advanced manuals aimed at potential subsistence or commercial-scale farmers.
It should employ experts from within the fledgling private commercial aquaculture industry to run training courses, compile business plans for those who cannot afford them, and provide mentoring support.
Presently, none of this is happening, and government agencies squander taxpayers' money reinventing the wheel of failure, fighting over promotions, developing five-year plans that are never implemented, and attending conferences where in some instances no farmers are sponsored to attend.
In Egypt and Asia, the situation is very different: extension support for aquaculture – at any level – is institutionalised by governments. Real extension expertise is available, and the private commercial sector is not treated with suspicion and hostility, as happens locally.
In Egypt, practical support is even extended to the funding and subsidisation of government feed mills to reduce input costs for starter fish farmers. Such an approach locally would be a breath of fresh air.