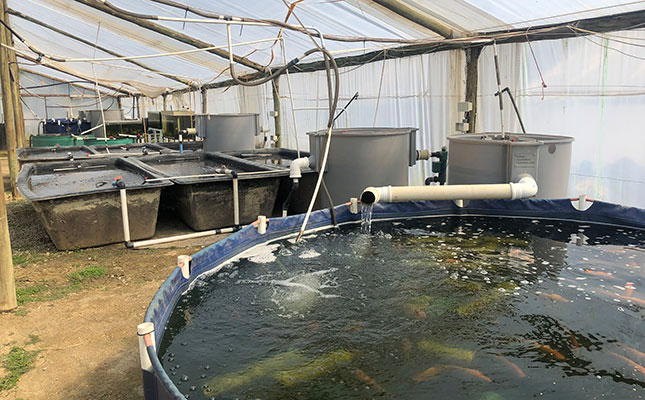 Tell us more about your business, David Fincham Aquaculture.
The business was started in 2014 and developed the one-tank fish farming system and aquaculture production unit (APU), a semi-intensive recirculating tilapia farming system designed to meet the needs of tilapia farmers in Africa.
The APU is a complete and ready-to-install system. We've already supplied 450 APUs to farmers in Africa, of which 100 are in South Africa. These units enable farmers to learn about tilapia farming and experience the processes required for the upscaling of production to commercial levels. We also supply and stock fingerlings through our own and partner hatcheries using good-quality genetic stock. We're in the process of increasing volumes to meet market demand.
What is the potential for tilapia farming in South Arica?
Current annual production of tilapia in South Africa is estimated at between 200t and 400t, which is extremely low given the potential for the industry. The landscape for tilapia production is changing and will change at an increasing rate as critical mass is built.
The demand for jobs, food security and productive use of land and water will be major drivers of the tilapia sector's growth. This has been witnessed worldwide and is true for countries such as Bangladesh and Brazil.
The development of hatcheries will be driven by demand, but growth has to be achieved with high standards in terms of genetics, health and biosecurity.
Small-scale farming is vital to South Africa and Africa's food security, and fish farming can yield good returns even on a small piece of land. The income generated from fish production can be used, in turn, to diversify and develop other farming activities, making farmers more resilient against external, uncontrollable elements such the economy, markets, the weather and disease outbreaks.
What type of yield can a farmer expect to produce using one of your APUs?
When maintaining an average stocking rate of 20kg fish/m3 water, a complete commercial entry- level greenhouse APU module of 40m x 10m can produce 20t (about 60 000 fish) a year. In this example, the greenhouse module is set up to accommodate 16 APUs. Each APU holds about 10m3 water and disposes of 40ℓ to 60ℓ of usable nutrient-rich water daily.
Which tilapia species do you breed and supply to customers?
We breed several species: the Mozambique tilapia (Oreochromis mossambicus), both the silver/black and the red strains; the red-breasted bream (Coptodon rendalli); and the Til- Aqua International Nile tilapia (Oreochromis niloticus). This last species and strain is a natural male tilapia and is available only from David Fincham Aquaculture in Southern Africa. We chose it because it sets us apart from other tilapia hatcheries and operations.
We've been in partnership with Til-Aqua International in the Netherlands since 2015, specifically so that we could import the natural male tilapia. This fast-growing silver/wild-type natural male tilapia has a male ratio of up to 99%.
In addition, we source genetics from Rivendell Hatchery in East London, Aquaculture Innovations in Grahamstown, and Kariba Bream Farm in Kariba, Zimbabwe. We aim to breed with the best available species and strains so that we can provide the best available stock to the farmers who buy from us.
What are some of the risks and barriers to entry associated with aquaculture?
South Africa's environment doesn't provide the optimal water temperature to farm in extensive systems, such as ponds and dams, and for this reason, producers have to build temperature-controlled environments to farm successfully.
Two of the production factors that farmers need to manage carefully are feed cost and disease management. Feed is the highest production cost in tilapia production, and a farmer therefore needs to manage feed usage strictly. Our feeding regime is based on the behaviour of the fish and environmental factors.
Our feeding rate is adjusted per feed and every 10 days through the observation and monitoring of feed usage and growth rates. We work closely with partners in the feed industry to help identify and develop new and alternative feed ingredients and formulations.
Disease risk is present in any farming operation, and aquaculture systems are susceptible to parasites and fungi under favourable conditions. The APU system enables a farmer to work within a controlled and closed environment.
The introduction of diseases into the system can be limited by monitoring all stock being moved onto and off the farm. We have a biosecurity and fish health management system in place. Disease outbreaks should be minimal in a well-controlled environment, and if the production system and environment, including water quality, feed quality and biosecurity, are managed carefully, the risk is low.
How do you anticipate the aquaculture sector and market for tilapia in South Africa developing in the future?
The contribution of tilapia production to food security at the moment is negligible, but there's great opportunity for growth. There are currently fewer than 100 tilapia farmers in South Africa, made up of mostly small pond farmers and small- to medium-scale commercial farms.
Our mission is to see this industry grow by hundreds or even thousands of smaller farms over the next 10 to 15 years. The supply of tilapia could potentially reach 6 000t/year over the next 10 years.
However, to achieve this volume of production without relying on only a few exceptionally large commercial farms, the sector would need to develop hundreds of smaller-scale farmers. This could make a significant contribution to job creation.
In terms of demand, and looking just at Johannesburg, if we can reach a point where one million people buy just one fish each per week, we'll already have a huge market. Most fish consumed in South Africa, such as tinned sardines, come from the ocean.
We hope to replace a small share of this demand with tilapia. As the industry grows, other opportunities will emerge in the supply and value chains. There will, for example, be a greater demand for hatcheries, grow-out farms, feed plants together with grain farmers, and agro-processing plants, as well as businesses in the supply chain and logistics.
What was the best decision you made for your business?
Probably to grow the business to include the full value chain for the development of tilapia farms. We can engage with farmers on most subjects and at any level, and we can provide our farmers with the overall vision for their projects and help them get started. Our production system offers farmers the opportunity to start small on their own and make informed business decisions based on their own experience.
What advice do you have for prospective tilapia farmers in South Africa?
Don't ask all your questions on the Internet or base your business on what you see there. Tilapia farming is best learned through observation and your own experience. In addition, factors such as the environment, location, markets, and economies of scale can all have a major impact on the success of an aquaculture business.
Phone David Fincham on 011 678 1906, or visit tilapiafarming.co.za.