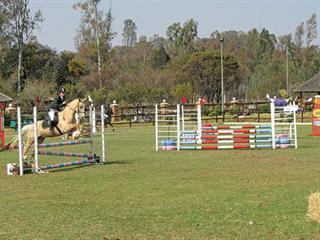 These days, it's not uncommon to find more than 900 children competing at a single inter-school riding event – and the popularity of riding as a school team sport has increased the market for suitable horses. Disciplines include dressage, endurance, equitation, jumping, disabled riding, showing, saddle seat, eventing, vaulting and Western riding. Riders who qualify can go on to compete at inter-regional and inter-provincial level, and finally at the South African Schools Championships.
The SA National Equestrian Schools Association (Sanesa) is the governing body. Schools join Sanesa directly, which allows pupils at the school to compete at Sanesa shows. A pupil may not compete for a school that he or she does not attend, but provision has recently been made for home-schooled children to join a 'virtual school' so that they can also compete.
Many of these youngsters live on farms and competing at inter-school team competitions gives them the ideal opportunity to socialise with their peers.
More accessible
All school sports are governed jointly by the departments of education and sport through the 'School Sport Policy', which is described in the South African Schools Act (No. 84 of 1996). The policy aims to deliver school sport consistently to all levels of learners across all registered schools, irrespective of ability. And the department regards school sports as an important part of educational activities, promoting a healthy lifestyle as well as skills development.
For farming parents, riding may be much more practical than netball, rugby, soccer, cricket or swimming sessions at school as their children can practise at home. And school colours are awarded, just as for other sports. Children who ride are usually fitter and healthier than their friends who sit and watch TV all day. Being in charge of a horse also fosters responsibility and maturity. And the effort involved in exercising and turning out horses to achieve winning scores in show classes with up to 40 riders keeps children out of mischief!
Family occasions
School shows also become family occasions, with Dad roped in to drive the horsebox, Mum making a picnic and doubling as the groom, and brothers and sisters often mounted on the same horse in different events. Sanesa competitions have also proved a positive development for Boerperd breeders. This popular horse is versatile, affordable, easy-to-keep, sweet-natured and able to compete in many disciplines. It also crosses well with other breeds. One of the top adult show horses in South Africa at present is a 16-hand (1,6m high) silver-white Boerperd x Friesian.
Many children also ride Thoroughbreds, as jumping is the most popular discipline and horses off the track are cheap and easy to find. Arabians, Welsh ponies, Nooitgedachts and Warmbloods are other popular mounts.