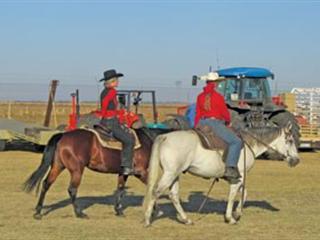 With maize a high-risk way to make a living and, as silage and stover can be marketed to livestock producers, part of the exhibition space is devoted to cattle, sheep, goats, pigs and a few horses. Three breeds were represented at Nampo this year – the Friesian, Miniature and American Quarter Horse.
American Quarter Horses
Nampo has very few stables and, as the American Quarter Horses present were stock horses, they were relegated to the cattle kraals, where they fared well, but needed heavy blankets for the chilly Free State weather at night. The cattle in the kraals all had warm winter coats and, although American Quarter Horses are accustomed to work cattle in Canada at -20°C, our SA variety compete at inter-schools and so have to keep short coats in winter.
The American Quarter Horse comes in two sizes. The stock horses are equine 4x4s, broad in chest and hindquarter with huge muscles. An American Quarter Horse 150cm at the withers can carry a 1,8m-tall cowboy weighing 130kg to cut cattle out of a herd or rope a steer. The show horse type is taller (up to 175cm at the withers) and isn't recommended for cattle work.
The stock horse is ideal for handling feedlot cattle and taking tourists on trail rides. There are only about 300 pure-bred mares in South Africa and an American Quarter Horse stallion will put muscle into Boerperd- or Nooitgedacht-type mares to breed affordable ranch horses for working cattle or patrolling fences.
Friesians
The huge black beauties exhibited at Nampothis year proudly wore South African Champion rosettes and moved with superb grace, covering the ground as though flying. Friesians are excellent high-stepping carriage horses and fun to ride in shows. At Nampo they were exhibited in long lines and a pair performed a dressage pas de deux at the extended trot in the small show arena. From an economic point of view, an investment by a maize farmer in this breed would probably be linked to a wedding venue, farm tourism or breeding, with maize by-products being an important component of the horse's energy requirements.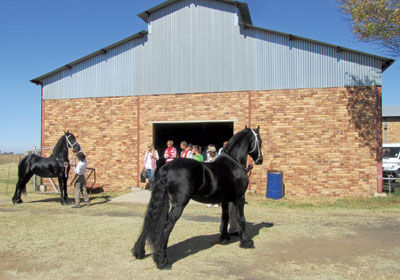 Friesian horses.
Miniature horses
Four Miniature Horses were exhibited. With the maximum wither size for a registered horse 92cm, they're no bigger than sheep. The Miniature Horse Breed Society was recognised in 1989 and currently has about 52 members. These tiny ponies appeal to children and adults alike.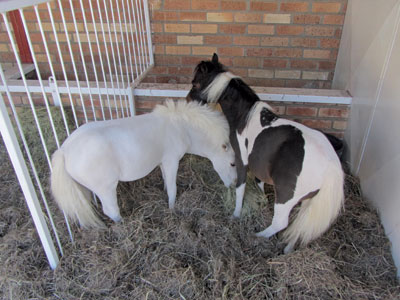 Miniature horses.

They would make a charming addition to a farmyard or orchard, keeping the lawn cropped and probably providing just enough manure to fertilise the flowers and fruit trees. From an economic point of view, these little horses would add a charming touch to a bed-and-breakfast or farm stay. These horses shouldn't eat maize as they can get overfat, but breeding could be a profitable sideline for a farmer.

Contact Dr Mac at [email protected]. Please state 'Horse talk' in the subject line of your email.