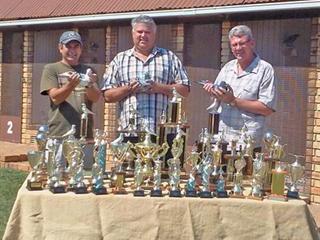 GJT Lofts is made up of a partnership between Gerhard van Aswegen, Stear Painter (and his sons Richard and Henrico) and Gerhard's brother-in-law, Thys Steenkamp. Gerhard was introduced to the sport by his father-in-law during the early 2000s, while Thys was dumped in the 'deep end' by Gerhard and Stear during 2011.
Stear, who was introduced to pigeon racing by his father, Ds Gert Painter, is the most experienced of the three, having raced pigeons for more than 30 years. He also won the 2001 Sun City Million Dollar Pigeon Race with his father. In 2011, GJT raced teams in the Magalies Posduif Klub (MPK) and Witpoortjie Posduif Klub (WPK), both of which are part of the West Rand Racing Pigeon Association (WRRPA).
The WRRPA is a very strong union with nine clubs and about 150 teams. There are 36 races a year with an average of 1 500 pigeons a race. And GJT had an incredible 2011 season. In the MPK it won an astonishing 34 out of 36 races and a further 13 in the WPK. What makes these feats even more impressive is that they were achieved with more than 95% of the racing teams consisting of youngsters bred in 2010.
While acknowledging that 'super pigeons' and a sound management programme are essential for top performances, the partners believe their success can also be attributed to the fact that "three sets of senses," as Gerhard puts it, are always better than one!
But what about those 'super pigeons'? Painter Putteries form the foundation of the loft, with three main lines – the birds Blou Grootte, Dudley and Bosduifie. Blou Grootte is the progenitor of a large portion of the famous Tom Lock line, and GJT is the proud owner of five of this phenomenal cock's grandchildren, who were responsible for 13 wins last year.
Breeding
Because GJT owns a family/strain of super pigeons, it uses line-, in- and cross-breeding, and has achieved success with all three methods. "The secret to cross-breeding is to find a bloodline that's built on similar principles and, most importantly, carries many of the same physical and orientational traits as the base family," notes Gerhard. Consequently, GJT has invested in families which meet these criteria, such as the De Rauw Sablon, Koopman, Houben and Kaasboer strains.
Once the cross-breeds have shown they can race just as well – or, hopefully, even better – than the 'pures', they get line-bred back to the original base. In this way the base is revived and strengthened. When it comes to the perfect loft, the GJT guys have only three requirements – north-facing, good ventilation and bone dry. More important is an atmosphere where the pigeons love coming home to their loft – and that has more to do with the people involved than the structure itself.
Advice
Their advice to other fanciers? "When starting off it's much better to buy babies from four or five champion flyers in your immediate vicinity than spending thousands on stock birds. Test these babies and find out which of them work for you and then go back to the breeder in order to establish your own line of performance pigeons.
"For the more experienced fanciers out there – one of our main principles is 'breed as many babies as you possibly can, but keep as few as you can'. In other words, be ruthless in your selection – only keep the very best."
Contact Thomas Smit on 011 680 4778 or at [email protected]. Please state 'Pigeons' in the subject line of your email.