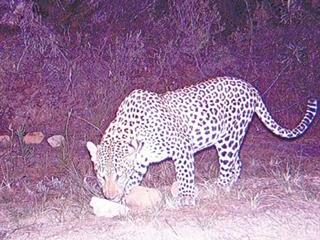 To many, the Cape leopard is an embodiment of beauty and elegance. To some stock farmers – especially those in the Southern Cape – it's a ghost, a thief, which strikes at night, leaving behind the mangled carcass of an Angora sheep or Nguni calf. Despite this, most people would probably agree that the Cape leopard deserves protection – if only it could leave the lamb chops for our braais and stick to eating dassies or klipspringers.
But do farmers and leopards have to be enemies? And do leopards prefer – or actively seek out – livestock? These were some of the questions raised by the Nelson Mandela Metropolitan University Saasveld Project in 2008, which focused on leopards in the George-Wilderness region.
Previous studies by Peter Norton, Quinton Martins and Jeannine McManus in Cederberg, the Western Cape and Baviaanskloof, the south-eastern Cape show that Cape leopards are rare and have huge home ranges. Between 1977 and 1982, an average of 690 stock animals were reportedly killed annually by leopards in what was then the Cape Province.
More recently, according to the then Department of Environmental Affairs and Tourism, 28 leopards were killed in a 300km² area in Eastern Cape between 2005 and 2008. What would be the situation in the George-Wilderness area? Before we sought to determine how many leopards there were in the George-Wilderness region, we needed to find out if they prefered to snack on cattle rather than bushbuck, and if leopards in the Southern Cape were regular stock killers.
Chasing ghosts
We knew that trying to follow a small cat weighing no more than 20kg to 40kg (Cape leopards are about half the weight of their Kruger Park counterparts) through a forest of yellowwood, spikethorn and liana would be impossible. Catching and collaring a leopard would be tricky and expensive (GPS collars cost in excess of R30 000), and reports of discovered kills on farms proved too infrequent to accurately detail the predator's diet (11 kills in three years).
We rather opted for the camera trap used by American trophy hunters, who photograph and profile their deer before hunting them. We ordered 10 camera traps from the US, each equipped with an infrared sensor to photograph the leopards and the prey. But we still had one more problem – determining whether the leopards in our area were stock killers or if they prefer the offerings of the native forest and fynbos.
To do this we needed to get our hands dirty. Like other carnivores, leopards leave clues of their meals in their droppings (scat). Horns, hooves, nails and hair are just a few of the things you can expect to find when dissecting a scat. With little hesitation, we put on our hiking boots and bushwhacked through several forest patches and farms in a 320km2 area between George and Karatra, looking for scat and good spots to set up our cameras.
Bushbuck preferred
From 2008 to 2010 we collected 154 scats – 50 of these were leopard, with the remainder those of caracal. We also analysed photographs of potential leopard prey collected using our camera traps from 21 locations (including three farms). We found that cattle were photographed most often, followed by bushbuck and porcupines. Although we managed to get many shots of leopards, we only photographed four individuals.
Bushbuck were the main prey found in scats – as much as 62% – followed by vlei rats and birds. This isn't surprising. It's quite feasible that a small, 20kg female leopard could survive on rodents and birds in-between larger meals of bushbuck. Most importantly, although cattle are abundant for leopards in the area, we found only one scat that contained cattle remains. Of the recovered kills, two calves were confirmed to be killed by leopards.
Farmers in the George-Wilderness area largely confirmed our findings, claiming to lose cattle to leopards only sporadically. This is notable as many farmers in Eastern Cape still regularly report livestock losses (particularly Angora goat and Merino/Dorper sheep) attributed to leopards.
Corridors
Why the difference between the two areas? Although our results are still being subjected to peer review by the South African Journal of Wildlife Research, and are therefore preliminary, it seems that the absence of leopard-farmer conflict is due to:
The proliferation of bushbuck in the George-Wilderness region, meaning that leopard don't have to resort to cattle.
Pro-active management strategies aimed at greatly reducing the chances of leopard predation. But the situation needs continued monitoring. Leopards require large areas of land and often cross several small forests or plantations often found on farms. Any future developments should therefore keep these leopard and wildlife corridors in mind.
Alexander Braczkowski is a graduate of Oxford's Wildlife Conservation Research Unit and Nelson Mandela Metropolitan University's School of Natural Resource Management.

For more info and/or a copy of the scientific article on the study, contact Alexander at [email protected].