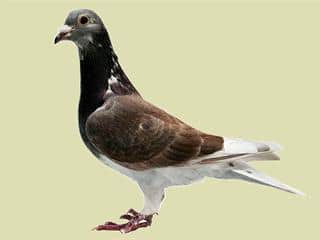 I was once travelling by train when a retired fancier seated opposite me started talking about how long it had taken to track down a good-quality red pigeon. The reds he had that showed racing potential failed to produce any offspring of value in the stock loft.
Finally, after many experiments, he got it right with a brick-red champion that was the best racer and breeder he'd ever owned.
As a schoolboy I was told that black pigeons are mated to reds to hide the red colouration, because black is dominant over red. However, you would often find one black youngster and one red in the nest of such matings, and sometimes two reds.
Often the black youngster's feathering has a red or golden tint, which I learnt was called bronze.
Winners come in all colours, shapes and sizes – gay pieds and ash reds, silver barred, duns, barless blues, bronze, mealies and grizzles. Colour has nothing to do with racing quality.
But with fewer reds in circulation, it's unfair to expect to have many "good" ones, unless you specialise in reds. Fanciers who do specialise in breeding quality red pigeons will have more better-performing reds, because they've steered the quality gene pool in that direction.
All the same, I've often heard frustrated old-timers mumble that "reds are only hawk feed", despite the fact that there's often a red at the top of the scoreboard. Strangely though, should an "anti-red" happen to discover a champion red in his race loft, he soon changes his view.
Incidentally, hawks do tend to pick out the brighter-coloured pigeons, especially reds with a whitish finish on the back, tail and wing tip. But ironically, reds are often top achievers in hawk-infested areas.
Some red achievers
The famous bronze hen ID87-48782, bred by the late G Greyvenstein and owned by East Rand champion fancier Cyril Leibach, is a renowned foundation breeder with strong passing-on power. She was bred from a dark chequer hen and red splash cock of predominantly Putterie Lambrecht strain.
Her offspring produced numerous winners and champion best pigeons, and recessive reds continue to pop up. Offspring from the famous red Pegasus continue to produce recessive reds of note for Chris Smith Lofts and numerous others.
Scarecrow, a champion blue-barred local racer, formed a "click mating" with the blue-barred Golden Eggs Hen of Belgian origin. Among their offspring are recessive reds that are great-quality breeders.
The Red King and his two brothers, Black Splash and Red Splash, bred by Buks Bradbury and now owned by Bryan Marshall from Alberton, are responsible for countless superstars in South Africa.
Several champion reds descending from Belgian Jules Rijckaert's birds have been bred in South Africa.
South African Champions Roland Bouwer and Johan Schmidt earn top results with descendants of The Red Baron, bred from a red cock acquired from Belgian champion Etienne de Vos and a mealie hen originating from Germain Imbrecht through the late Dr A Braymer.
Other local fanciers who have success with reds include Cassie Matthee, Monty van den Burg and Abe Langerman. All would join me in saying: "Long live the reds!"