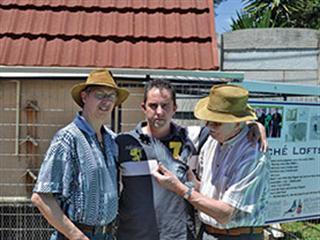 West Rand pigeon fancier Steven Fouché participates as 'Fouché Lofts' (home loft) and 'Old Boys on Tap' (one-day loft races). He's a member of the Horizon Pigeon Club, one of eight clubs in the Golden Reef Pigeon Association (GRPA). There are approximately 100 members in the GRPA and between 1 000 and 1 600 pigeons are entered in the Saturday races.
Steven's family's been in pigeon racing for about 53 years. His father, Lionel, started racing pigeons with Steven's uncle in Pietermaritzburg in 1960. Their basic families were the old Stassards, Amiels and Putterie/De Wets – and these bloodlines still run through the birds today! Lionel now partners Steven in Fouché Lofts, which is based in Roodepoort, Gauteng. Steven's uncle is still involved with pigeons and is currently crossing the old families with the new strains from Fouché Lofts, and is still based in Pietermaritzburg.
Steven's brother, Paul, meanwhile, has been a member of the Maritzburg Specialists Homing Society in KwaZulu-Natal for the past 20 years. He's had tremendous success with birds from the Fouché Lofts and has been runner-up club champion for the past two years. Steven's recent successes include winning the Club Sales Race, Yearling Derby and a GRPA event in the West Rand.
His performance highlights in one-day loft races include: 3rd and 11th, Allflight Winter Race; 3rd Ace Pigeon, Allflight Winter Race; 5th and 20th, Allflight Summer Race 2013 (with only 23 birds back on the day); 13th, Hot Spot 1, SA Million Dollar Pigeon Race (SAMDPR), 2011.
Foundation pigeons
Steven's foundation stock includes:
The Verstraete family. "The basis of my Verstraete family comes from the Uno line of the Belgium champion lofts of R&Z Verstraete," says Steven. "My foundation cock, from Pretoria champion Mark King, is the son of two direct imports from R&Z Verstraete. I've also since imported another three cocks and two hens."

Dave Clausing/Houbens. "My foundation hen is a granddaughter off Ziko and a great-granddaughter off King David, from US champion and world-renowned pigeon breeder Dave Clausing.

"I've also since bought a cock from Port Elizabeth champion Tom Chalmers, which is a great-grandson off Jonge Artiest, mated to Air Wolf, who's a daughter of the 5th pigeon in the 2000 SAMDPR, by JLN Houben from Belgium," says Steven.

In addition, he has a grandson off King David (from Nelspruit champion Paul du Randt) and a granddaughter off Jonge Artiest (from Jeff Luc and Nadia Houben in Belgium).

The Alfons Klaas family. "Alfons Klaas is a German champion and a formidable one-day loft contender," explains Steven. "Pigeons from his colony have won the SAMDPR twice.

"My first baby bred off Alfons's birds came 20th in the Carnival City Summer Race in January this year – Alfons's entry took first place."

Janssen Brothers. "In 2012 we got a chance to buy two of the last direct birds from the Janssen dynasty – a chequer cock off the Septemberman/Princess lines and a hen off the Klamper/019 lines," says Steven.

"World-renowned pigeon journalists August and Frank Daelemans from Belgium visited my loft after the SAMDPR this year, and August said the cock was one of the best Janssens he'd handled.

"This means a great deal to me, seeing that August was friends with the brothers," says Steven.

"In the past I've done mostly cross-breeding but, in the future, I'll be doing line breeding and inbreeding to preserve the families I have," he explains.

Turning to his training methods, he says he "starts chasing the birds around the loft around Easter weekend to get them into the habit of exercising."

Two months before the first official race Steven begins with small road training flights of around 20km with trainer Kobus van Wyngaardt.

"Kobus ensures all are returning in good time before taking them further," says Steven.

Training hard
"We like to train the birds hard and, once they're at the first race point, they're road-trained from 60km every day during the week, except for Sunday and basketing days for the race events. "The secret to keeping the birds in form with a strenuous training programme is knowing how to recuperate them after a race with the correct food and supplements."Steven's advice to beginners is simple. "Look for a family of champions and buy into them. "Make sure the babies get raised as healthy as possible and send a nest-pair to the one-day loft races," he says.

Contact Thomas Smit on 011 680 4778 or at [email protected]. Please state 'Pigeons' in the subject line of your email.