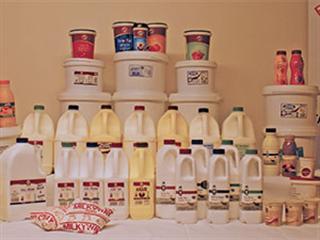 Pretoria-based Ayrshire milk processor Nkunzi Milkyway recently outdid other milk buyers when it increased its milk price by between 23c/l and 30c/l from 1 March promising a further 10c/l increase from 1 June. The company prides itself on the fact that it has not dropped producer prices since it was formed five years ago when Nkunzi Investment Holdings bought the majority of shares in Milkyway Dairy from the Malleson family.
The commitment by the board to keep prices stable has benefited the company, its producers and the Ayrshire line. "Ayrshire is a niche line. Only 3% of milk produced in South Africa comes from Ayrshire cows and we protect this niche by paying producers a premium and adjusting the price only once a year. This is workable for producers who can budget on receiving a minimum price over 12 months, which creates the stability they need to invest in the long-term growth of their businesses. We benefit by having a stable pool of top Ayrshire producers," says Nkunzi Milkyway MD Boeta Venter.
In return for this milk price premium of about 10% on Ayrshire milk, producers are prepared to go that extra mile to supply premium quality raw milk. "All milk is sourced from registered Ayrshire herds. We are very strict on the micro results of our milk and we audit our farmers every year on a range of farming practices, such as conservation management, water recycling and animal welfare. Our milk is of excellent quality, making the processing of quality products so much easier," he says.
Value adding
Nkunzi Milkyway produces a range of products for Woolworths and for its own brand. These include milk (full-cream, low-fat, fat-free), buttermilk, cream (fresh, double thick, reduced fat), yoghurts and drinking yoghurts (including an organic range), cottage cheese, lactose-free milk and yoghurt, and fruit juices and soya products. The company has grown significantly since 2008 and is now processing 18 million litres of milk annually.

Nkunzi Milkyway grants annual awards to honour top producers. The winners of the 2012 Nkunzi Milkyway Farmer of the Year Award were Gisanto Farming owners and brothers Gideon Lamprecht (far left) and Casper Lamprecht (far right), seen here with Nkunzi Milkyway MD Boeta Venter and Nkunzi Milkyway board chairperson JB Magwaza.
"Our volume growth has been 38% since 2008 but because we developed value added products, the turnover growth over the same period was 69%. We have a medium- to long-term strategy to develop our value added products and that will push up volumes," Boeta says. Woolworths has been a Milkyway milk buyer since 1988 and takes 75% of its volume. "Being a Woolworths supplier is something which almost every Ayrshire producer aspires to. This national chain is known to set high standards for its fresh produce suppliers and Nkunzi Milkyway feels confident of meeting these standards," Boeta says.
Brand marketing
The remaining 25% of volume goes into Nkunzi Milkyway's own brand, with 60% drawn into fresh milk production and 40% into value added products. The Nkunzi Milkyway brand has made its claim on the local market and distributes dairy products to the catering industry, selected retailers, wholesalers and agents in the Mamelodi area east of Pretoria.
"The Gauteng market reacted positively to our brand and to our value added products. The Mamelodi market grows every year and our five private agents play a role in this. They have developed from hawkers into successful agents within four years and account for 6% of our total turnover. We have set up vehicle finance and dedicated management to focus on this important channel of distribution," explains Boeta.
Nkunzi Milkyway has a network of Ayrshire farmers stretching from the Free State to Mpumalanga and North West. "We know that these farmers are committed to the same standards that we are. This is a competitive environment and our farmers put us ahead of the pack."
Awards
Nkunzi Milkyway holds annual awards to honour its top producers and create good news in the industry, which according to Boeta is something it needs. "The dairy industry, like the South African economy, is struggling. South Africa is still in the recovery phase after the recession. If you remove government spending from economic growth, you see that the private sector is recovering more slowly than the overall economy. But we have to focus on the good news. We are passionate about the dairy industry. Our goal is to continue to be a competitive low-cost producer of quality products, and in the Pretoria market, our objective is to be the preferred supplier of quality products."
Contact Nkunzi Milkyway on 012 940 438, 083 684 0023, or email [email protected]