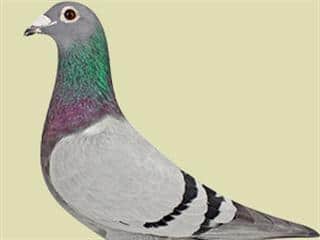 Preservation of a high-performance gene pool is obtained through specialist selection and a strict breeding plan. While it is true that a non-performing brother or sister of a super racer is sometimes the better breeder, this is an exception and one cannot formulate a long-term breeding plan on such exceptions.
If a non-performer proves a good breeder, make the most of things. But regular performance testing in strong competition should be the core of your breeding plan. Research has shown that many famous pigeon lofts worldwide have been founded on a single dominant cock or hen. The first step to long-term success in the preservation of a gene pool is mating super breeders to super racers.
Newcomers: care needed
New introductions should be handled with caution and the progeny tested to ensure that it is of the same quality as the original stock. But beware of impressive pedigrees that don't show a 'tradition' of top performance from generation to generation. New introductions are often mated to the best breeders for quick results. This method relies on the hereditary transmission of a pigeon that you know can produce the goods. If it doesn't, you may need to experiment with different matches.
Super pair
For an example of what superior matching can produce, we need look no further than the Lockies, as they are known. The super pair here was:
The Egg Cock, offspring of the legendary Blou Grootte, with a longer wing and broader flights, and a larger than average body.
The inbred Hawk Hen, which had the typical characteristics of the Tom Lock 'Hawks'. On the Out of Africa Lofts website (www.outofafricalofts.co.za) a fancier has described these as "the last four primaries louvering to allow for wind passage in flight, and a shorter and smaller apple-sized body".
The Egg Cock was inbred by Toppie Jansen back to his Famous Toppie Hen, and given to Tom Lock as an egg. As Stear Painter points out, the family has produced numerous winners for Out of Africa Lofts, Leon Wolmarans, Coenie Hattingh, Deon Jooste, Josh Joubert and others.
Racing Highlights
Out Of Africa Lofts' Egbert O'Kelly says that he has also had success with cross-material offspring of the R80 000 pair crossed to the Sierens R50 000 Andre cock and the Bak 17 line. This produced three Ace pigeons in 2012. The 2012 short distance and all distances SANPO gold medal winner, Blue Cock (ZA 23761-10), owned by the Jooste & Joubert partnership, also won the best co-efficient calculation known in South African pigeon racing history.
Breeding from two super pigeons named Ogies and Gertjie, grandsons of the original Tom Lock hen, Coenie Hattingh scored at the top in Bloemfontein and in the One-Day Lofts competition, as well as in the money races.
Other performance highlights include:
31st in SAMDPR; 2nd South African pigeon.
19th in Allflight CC main race.
4th in East London Border Lofts main race.
Contact Thomas Smit on 011 680 4778 or at [email protected]. Please state 'Pigeons' in the subject line of your email.