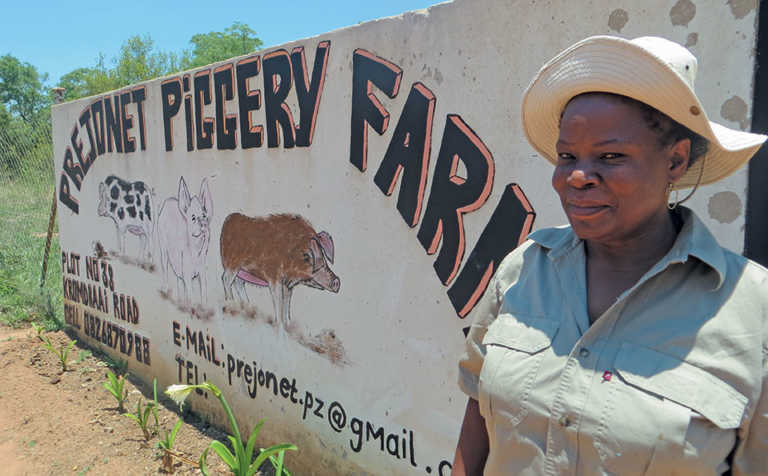 In 2011, Zodwa Thwala, a former teacher, moved from her home in Pretoria to Prejonet Farm near Hammanskraal to set up her own piggery, Prejonet Piggery Farm.
It was an enormous step financially, but Zodwa persisted, building up the business and establishing a training centre to teach basic farming skills and financial management to graduate interns.
Last year, her achievements were recognised by the Gauteng Department of Agriculture and Rural Development (GDARD), when she received its Best Female Entrepreneur Award for 2017.
Her journey to success is a lesson in perseverance, disciplined management, and the value of ongoing education.
Small beginnings
For years, in an effort to make ends meet, Zodwa had held down two jobs: teaching by day and nursing by night. Despite this, she struggled financially, and finally decided to make a complete break by becoming a farmer.
She was not unfamiliar with livestock as she had grown up on a farm where her father had run pigs, cattle and goats. Nonetheless, there was much to learn!
In 2005, while still working as a teacher and nurse, she submitted an application for land to the GDARD. It took five years for her application to be approved, and in the meantime she carried on with her other jobs and increased her knowledge of livestock production.
She completed short courses in animal production and artificial insemination at the Tshwane University of Technology and the Agricultural Research Council respectively. She also attended a three-month course at the Dalein Piggery in Pretoria. She finally retired from teaching in 2008, and from nursing in 2012.
The 8ha farm that Zodwa moved to in 2011 already had piggery infrastructure in place. She began by cashing in her pension funds and buying five Large White sows and a boar from Kanhym Estates in Mpumalanga.
This remained her supplier for some time, but when it stopped selling gestating sows, she switched to Mockford in Polokwane.
"We breed Large Whites, Landrace and Duroc boars, and also make use of artificial insemination," she explains. "We also buy gilts and select the best breeding sows from the pigs produced on the farm through artificial insemination."
Breeding
Zodwa has eight pig houses with 163 breeding pigs, 160 sows, three boars and more than 1 000 growers. For her business to remain profitable, she needs about 32 sows to farrow monthly.
"To achieve this, at least eight sows must be mated every week. Sows come on heat every three weeks," she explains.
Approximately 80 piglets are born weekly.
The boar is introduced to the sow for three days for stimulation. One boar services two sows a week.
"We bring the sows to the farrowing house a week before farrowing so they can adapt to the environment," Zodwa says.
"After mating, we return them to the dry sow house, where they're kept in a group. They're moved to farrowing crates a week later."
The gestation period is three months, three weeks and three days. Each sow produces between 10 and 12 piglets per litter. Piglets are weaned after 28 days, and the sows are then left to rest in a group in the dry sow house until they come on heat again.
This is also where record-keeping is crucial, Zodwa stresses. "We record the dates and sow and boar ID numbers during mating and farrowing."
Health and vaccination
Zodwa ensures that her farm manager, Dominick Makansi, and supervisor, Zodwa Maringi, keep up to date with developments in the industry, and that she and her team benefit from the latest research findings introduced by her students.
Zodwa achieves a 95% weaning rate, and the mortality rate of her pigs is very low due to the vaccination programme she follows.
"We don't get a lot of diseases, apart from scours," she says.
To protect the piglets against this, gestating sows are vaccinated with Litterguard. In addition, the vaccine Farrowsure is administered to the boars every six months, and to sows two weeks before weaning, to provide protection against a number of reproductive diseases.
"We make sure the pigs are kept comfortable and healthy. We're very strict with biosecurity measures: no one enters the pig houses without authorisation. Each worker is assigned to work in a particular house; they don't move from one to the other. They also always wear protective clothing," Zodwa says.
The houses have high roofs to ensure natural air ventilation, and that they stay cooler in warmer weather. In cold weather, electric heaters are used.
Feeding
Today, Zodwa uses 2ha for her pigs and the remainder for vegetable gardening, and keeps 50 Boer goats, which she uses to teach animal husbandry to her students.
According to her, the size of the farm limits her ability to expand the business. She therefore plans to buy another 100ha of land for silage production.
"In 2016, feed was expensive; a bag of sow and boar feed cost R200 for 50kg. In 2017, the price was more reasonable, at R160 for 50kg. When feed is cheaper, I buy in bulk to save. Feed constitutes 70% of my total input costs. Producing silage would save me 25%; maize constitutes 70% of feed ingredients," she says.
Zodwa says that any land she acquires for maize production would have to be in a different area, as her current location is unsuitable for maize production.
The pigs are fed a balanced ration from Dalein. Dry sows are fed normal sow and boar feed, and farrowing pigs get lactating feed.
The average weight of the piglets is 6,5kg after weaning. Piglets are introduced to solid feed after 14 days of suckling, and receive creep feed for a week before weaning. During this week, they are introduced to weaner feed ASA1, which they receive for four weeks until they are changed to grower feed. At 60kg to 90kg they are marketed.
Zodwa's piggery supplies 80 porkers and baconers a week to Farmers Meat Market Sundra in Springs. This translates to 3 840 animals a year. Porkers, which weigh about 60kg, are produced for the fresh meat market. Baconers, which can weigh up to 90kg, are traditionally used in the processing of bacon, sausages, hams and other meat products.
Prejonet Piggery Farm will soon be supplying Greenland abattoir in Vanderbijlpark. "We now have a truck to transport the pigs," Zodwa says.
Most activities on the farm have to be performed by hand as little mechanisation has been implemented.
"If we got sponsors, we would mechanise feeding infrastructure and equipment as it would save time and enable us to calculate the quantity of feed, to ensure we don't overfeed or underfeed. We're also looking at alternative energy, such as biogas and solar, but it's expensive to install these technologies."
Training
After getting her own farming operation under way, Zodwa was approached by students in South Africa and elsewhere seeking internships.
As a teacher by training and inclination, she recognised a dire need for training, and thus set about establishing the Prejonet Academy, an on-farm training centre.
The facility, which opened at the beginning of last year, offers internships to university students, and provides accommodation for seven interns on the farm a time. They are paid a stipend from the farm's profits. Zodwa says that this is her way of giving back to the community.
In August 2017, her academy finally received AgriSETA accreditation to start offering formal training with accommodation available for prospective farmers.
The accreditation process had taken two years, and part of its requirements were that Zodwa had to compile her own study material and have her farm inspected and approved.
"I also had to appoint a registered moderator, assessor and facilitator," she adds.
Prejonet Academy can accommodate up to 20 learners, and the training consists of a two-week and an eight-month course. These equip the students with farm and financial management skills.
The two-week course costs R6 000 and an extra R2 000 for accommodation. The eight-month course costs R35 000, including accommodation.
Zodwa says that offering these training courses also helps increase revenue for the farm.
A plea for farmers to get involved
Zodwa is keen to see more farmers offering internships to students, explaining that some agricultural students end up not graduating because they fail to find internship placement.
"We need more black farmers in the sector to help by offering internships," she says.
Email Zodwa Thwala at [email protected], or phone her on 082 687 0988.