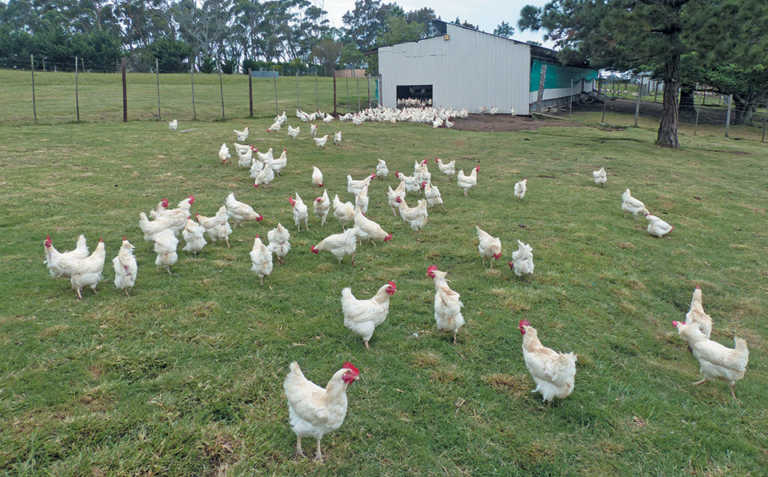 "I can't compete on price because free-range birds eat 30% more feed than caged birds, but in terms of quality and service, I have a good shot at [success]. I've seen it over and over again that people might go elsewhere, but return because of good service and quality.''
So says Mark Smith, founder and owner of Maralou Free Range Eggs.
Mark experimented with broilers and caged layers, but admits he shied away from the intensive nature of these operations. He decided to produce free-range eggs despite the increased costs and associated niche market realities.
"I liked seeing my birds running around,'' he admits.
Mark's interest in chickens stems from his late father, Edwin, who first worked for Rainbow Chicken in East London before moving to a smallholding near the Nahoon Dam in 1989.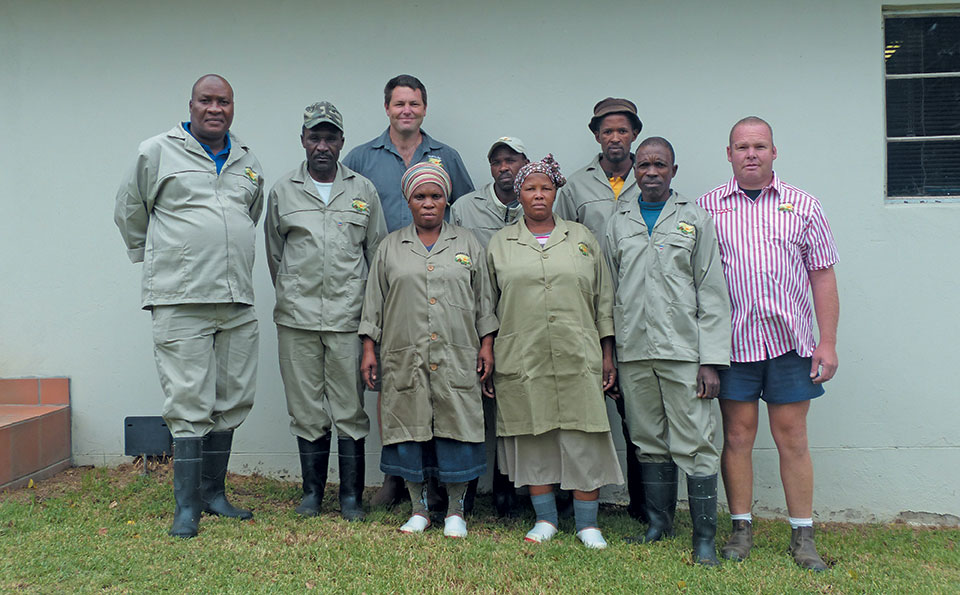 It was here that Mark began a small broiler operation at the age of just 16. After matriculating, he switched to caged layers before starting free-range egg production in the mid-1990s. In the late 1990s, when he had 2 000 free-range layers, he bought a neglected neighbouring smallholding that, together with his father's land, amounted to 52ha. Today this is known as Maralou Farm.
"There was nothing here, just a shack,'' he recalls.
Production and stocking density
Currently, Mark's 10 000 Hy-line silver layers are housed in six open- sided and manually managed sheds, each 240m2 in size. Birds are kept up to 14 months before being culled, while the production rate on the farm (the average productivity of all hens over their lifetimes) of all age groups is 87%.
Point-of-lay pullets are sourced from Almur Smit Poultry Farm near Parys in the Free State, and introduced to the Maralou egg production cycle at the age of 18 weeks.
Wood shavings are used for bedding, and birds are stocked at a rate of 6,4 birds/m2 inside, while the outside pens have ample space at one bird/m2. Both stocking densities are far below those prescribed by the South African Poultry Association.
Birds are allowed to forage in the well-grassed outside pens for a minimum of seven hours a day, and lighting in the sheds is extended to increase production time to 16 hours/ day. Each nest box caters for five layers, and eggs are collected two or three times a day.
Vaccinations and biosecurity
Pullets arriving on the farm have already been vaccinated against various diseases, including infectious bursal disease, infectious bronchitis (IV), fowl pox, Newcastle disease (ND), and avian influenza. Before placing the pullets in disinfected and rested sheds, Mark vaccinates them again against IV and ND, as well as E. coli infection.
READ Good vaccination practices
In the farm, the birds receive more spray vaccinations for IV and ND, while the threats of coccidiosis and worms are also carefully managed.
Biosecurity measures on Maralou Farm include an electric fence enclosing the property, while workers use footbaths before entering sheds. In addition, visitors are rarely given access to the enclosures.
"I explain to them that my chickens are my livelihood," says Mark.
Producing top rate eggs
Maralou Free Range Eggs undergoes a comprehensive, and expensive, food safety audit annually, but Mark appreciates its value. "It makes me stand 100% behind my product,'' he says. "And although it costs a lot of money, I know I'm in full control of my business and that the consumer is getting the best possible quality eggs.''
The annual food safety audit involves a rigorous testing and recording process from the chicken shed to the retailer's shelf in order to ensure traceability.
"People see the paperwork I have to do and they think I'm crazy. Everything gets audited. I empty the rubbish bin and I document it!''
READ Why are eggs different colours
In addition to the shelf-life tests, Maralou eggs are also tested for E. coli, yeast, mould, staphylococcus aureus and salmonella.
Mark is extremely particular about the chicken feed he uses; it is tested for pesticide and antibiotic residues, as well as animal by-products. A maize and lucerne-based feed, which amounts to between 60% and 65% of production costs, is sourced from both Epol and Monti, with the understanding that yolk colourants, antibiotics and animal by-products must be excluded.
"It's not about what I can add to my eggs [via feed], but what I can keep out,'' Mark says. "I like to check the one feed company against the other and monitor them in terms of quality and price.''
The layers receive municipal water, which Mark tests for microbial and chemical elements as part of the food safety audit. Special care is taken during the entire production process to ensure the cleanest water possible for the layers, as it plays an important role in preventing diseases such as coccidiosis.
"My father always said I should make sure that the water my chickens drink is water I would drink myself,'' recalls Mark. "I've always made sure that my water tanks are as clean as possible and that my drinker lines are always flushed clean.''
Packaging and markets
According to Mark, the best advice he can give an aspiring free-range egg producer is to match expansion with demand. He explains that buyers of free-range eggs comprise an affluent niche market that is willing to disregard price for improved quality and service.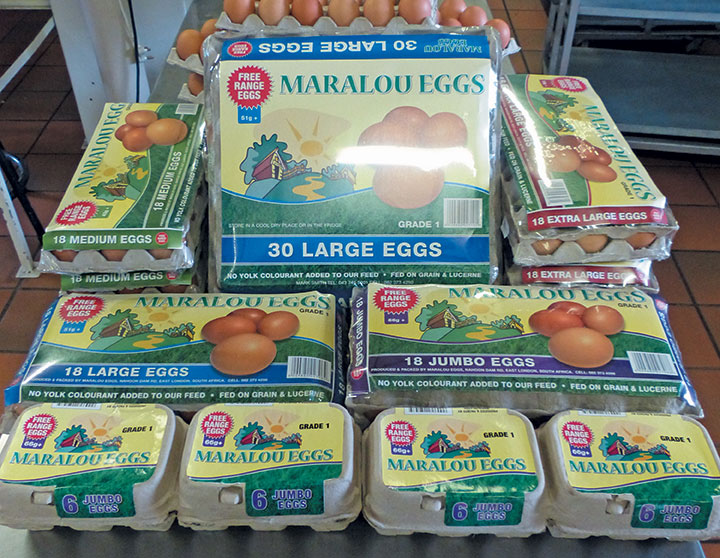 On average, free-range eggs cost R2/dozen more than eggs from caged birds.
By contrast, the mass market buys almost exclusively on price.
"With free-range eggs, you have to build a good customer base because it's a niche market and you have to grow with it,'' he says. "It's no good expanding if there's no market. You could end up selling eggs on special, which hits the pocket.''
There are also no shortcuts to become eligible to supply leading retailers that demand successful, annual food safety audit results as a prerequisite for supply. Maralou Farm excels in this regard; it achieved a score of 96% in 2016.
Eggs are graded and packed (packaging costs between R1,80/dozen and R2/dozen) in the Maralou packhouse. Undersized, cracked, and broken eggs amount to 5% of the total egg production. Eggs are marketed as medium, large, extra-large and jumbo in configurations of a dozen, 18 and 30.
Today, Mark sells his free-range eggs to Spar, Checkers, Pick n Pay, OK Foods, Kat Leisure Hotels and various smaller stores, along with selected bed and breakfast operations in the greater East London and King William's Town region. He deals personally with all orders and regularly visits retailers to better understand their demands.
"We pack and rotate shelves for them too, which also allows us to monitor our product in the market."
Phone Mark Smith on 043 745 5001 or 082 373 4250, or email [email protected].