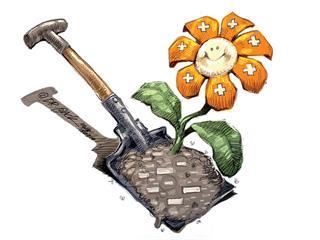 The most recent World Economic Forum (WEF) report, which compares the competitiveness of African countries, makes interesting reading. According to the WEF, South Africa has a population of 53 million. Our GDP is US$351 billion (R4,25 trillion). The size of our economy compares with those of Saudi Arabia or Texas. Agriculture adds 2,4% to our country's GDP.
South Africa's financial market is ranked seventh out of 144 countries, while our security exchanges such as the JSE and Safex are the most effectively regulated and supervised; it is easy for companies to raise money by issuing shares on the stock market. Financial services are available and affordable, and our banking institutions are generally healthy with sound balance sheets.
Our market size ranks 25th out of 144 countries. This means that the size of our domestic market for agricultural commodities is fairly significant. Our exports as a percentage of GDP rank among the top 25 countries worldwide.
Top quality
Our sophisticated business environment and goods market efficiency rank 31 and 32 respectively out of 144 countries. This means that we have top-quality local suppliers of inputs, tractors and implements that enable producers to farm efficiently.
Specialised institutions provide services and support in terms of inputs and mechanisation; this enables our producers to enjoy a competitive advantage in domestic and international markets.
Our agricultural production processes are sophisticated and knowledge-intensive and our producers use state-of-the-art marketing and hedging tools. Our agricultural markets function fairly efficiently due to an anti-monopoly policy that promotes competition.
We do not experience significant non-tariff barriers for imports, and competition in our local markets is vigorous. This is good news for farming inputs. However, we need improved rules and regulations to strongly encourage foreign direct investment.
According to the WEF report, South Africa's global competitiveness ranks 56 out of 144 countries with a score of 4,4 out of 7. We scored 63% in sub-Saharan Africa, with Mauritius the top performer at 65%. The average score for sub-Saharan countries is 51%.
The negatives
I have noted some of the reasons that we as a nation can feel proud. When it comes to doing business in South Africa, three factors stand out as problematic: restrictive labour regulations; corruption and inefficient government; and inadequate infrastructure. It is not possible for us to solve all these problems at a stroke, but they can at least be mitigated for now:
Restrictive labour regulations
South Africa rates the lowest of all 144 countries here. In order to increase our competitiveness, we must strive for co-operative labour-employer relationships. Equally important, wages need to be set by individual companies in such a way that centralised bargaining processes are unnecessary. Pay needs to be aligned with worker productivity.
Globally, South Africa ranks 21st in professional management. On the whole, senior management positions are filled by professional managers chosen on merit and qualifications. However, we need to retain our best and brightest talent to pursue opportunities in agriculture. Similarly, we have to attract the best from other industries and from around the world.
Finally, we need to ensure that we have sufficient female participation in our labour force.
On the positive side, the effect of taxation on incentives to work is minimal (15/144).
Corruption and inefficient bureaucracy
We are placed 133/144 in this regard. To be competitive, we need to have strong institutions. The incidence of crime and violence impose additional and unacceptably high costs on farming and other businesses in South Africa. The legislation surrounding bio-ethanol production is an example of the extremely burdensome governmental administrative requirements – in the form of permits, regulations and reports – that are required in order to introduce an industry in South Africa.
Equally, government officials should never show favouritism to well-connected firms and individuals when deciding upon policies and contracts. Our law enforcement services are not reliable enough and the prevalence of organised crime is unacceptably high.The corrupt diversion of public funds to companies, individuals or groups should never occur, and the ethical standards of politicians need to be beyond reproach.
At the same time, of course, it is up to individual business owners to ensure that their firms never make undocumented extra payments or bribes in connection with imports or exports, public utilities, annual tax payments, the awarding of public contracts and licences, or in an effort to obtain a favorable judicial decision.
In particular, it is crucial that the judiciary is entirely independent of influence from members of government, citizens or companies. The good news in this respect is that South Africa's auditing and reporting standards are amongst the best in the world, and up to now our property rights, including financial assets, have also been protected.
Infrastructure
South Africa has a major problem with electricity supply and fixed telephone lines. However, the quality of our air transport infrastructure is amongst the best in the world (11/144) and mobile telephone connection ranks 25 out of 144 countries. Even the quality of our roads rates 37 out of 144 countries worldwide.
The Long-term outlook
There are several issues that may not be of immediate concern for those doing business in South Africa, but that will have a detrimental impact on our competitiveness in the long run – if nothing is done to address them. Healthcare is amongst these. South Africa ranks 136 out of the 144 countries, in some part due to the impact of Aids and tuberculosis.
The poor quality of our education system is another. South Africa ranks a lowly 140/144, and some surveys have shown that our maths and science education is, on average, the worst in the world. Asian countries that experience high economic growth have excellent education systems. Our agricultural sector needs to be globally competitive and it is therefore necessary to invest in quality education systems for labourers and their children.
Conclusion
The report by the WEF is a crucial document, and we must take heed of it to improve the competitiveness of agriculture. But let us remain positive at the same time: many of South Africa's fundamentals are strong and our challenges are within our ability to remedy.
Phone Wessel Lemmer on 011 350 2275 or email [email protected].