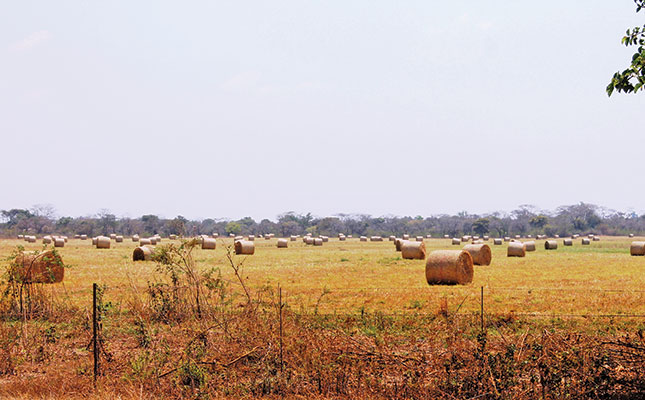 When Keith and Chris Clubb made the first moves to establish a large-scale farming operation in Zambia in 1997, they were among the very few non-Zambians doing so.
"There were very few barriers to entry. In fact, we were made to feel very welcome by the Zambian government and its citizens," recalls Chris.
"What helped us a lot was that there were no foreign-exchange controls at the time. Through the Zambian International Trade and Investment Centre, there was a clear process for us to follow to set up our farming company, and to apply for and obtain a self-employment permit and work permit."
The Clubbs had to prove that they had sufficient money to establish and grow a farming business. This requirement is still in force and the amount needed is currently about US$250 000 (R3,3 million). Chris adds that although foreigners may eventually be able to obtain a Zambian resident's permit, they will never obtain a Zambian passport.
All agricultural land in Zambia belongs to the government and interested farmers can lease it for up to 99 years. Lessees are given title deeds which can be used as collateral for bank loans. A title deed reverts back to the government once a lease expires, but the lessee retains first option of renewal.
The Clubbs entered into one such lease agreement for 5 000ha of undeveloped land in the Chongwe area of central Zambia. They arrived on the land with 29 workers and 42 Santa Gertrudis cattle – 30 bulls and 12 females – as a nucleus stud herd. They also inherited a mixed herd of approximately 400 Brahman, Boran, Hereford and Simmentaler beef cattle as part of their investment in the land and farming operation.
At that time, only 50ha of their farm Lwimba Ranch's virgin bushveld had been cleared, and it was up to them and their team to clear the remainder in order to grow the operation.
"Over the years, we've tried to expand the various operations," says Chris. "We have two farm managers: Gert Prinsloo from South Africa, who has been with us from the start, and Andy Nortjé, who took over running the farm workshop a few years ago. We also have a number of good foremen, with about 100 permanent employees and more than 200 seasonal workers."
Cattle production
Since their arrival on Lwimba Ranch, Keith and Chris have used Santa Gertrudis bulls on their beef herd, and have also been participants in Santa Gertrudis Southern Africa's herd improvement system. They now run a 2 000-head Santa Gertrudis herd that is registered with both Herd Book Society of Zambia (HBSZ) and SA Stud Book, the latter because the Clubbs regard its systems as more efficient than those of HBSZ.
In addition, stud breeding is not yet a well-established sector in Zambia, as it is in South Africa. However, this appears to be changing, according to Chris. The Beefmaster, Droughtmaster and Tuli cattle breeds, as well as the Meatmaster sheep breed, were all recently introduced into Zambia.
Increasing prices
"When we bought our farm in 1997, beef prices in Zambia were relatively unattractive," recalls Chris.
"They dropped even further for a number of years into the mid- 2000s, so farmers weren't interested in investing in commercial beef production. But in recent years, they've shot up to where we're now getting about US$2,08/kg (R27,74/kg) live weight for choice grades. Recently, this has changed due to the 35% devaluation of the Zambian kwacha against the US dollar, so in dollar terms our choice prices are currently US$1,20/kg (R16,01/kg)."
Beef grading system
The Clubbs' cattle are supplied directly to butcheries in Zambia's capital, Lusaka. The cattle go from the farm over Lwimba Ranch's weighbridge, and Chris and Keith are paid according to this.
Zambia has a simple beef grading system: meat with a good covering of white fat is considered choice grade, meat with a good covering of yellow fat is commercial grade, and meat with minimal fat covering is standard grade.
Zambia's beef producers are generally not paid a premium for a high slaughter-out percentage. However, this has changed recently for Zambia's Santa Gertrudis producers due to factors such as this breed's high dressing-out percentages.
Leases
The Clubbs have lease operations with other farmers in Zambia. "We do progeny deals with them," explains Chris.
"This started with the Zimbabweans who came to Zambia in 2003/2004. It's a win-win deal. They needed nucleus breeding cattle to get themselves established in Zambia, and didn't have the capital at the time for this. In turn we got back, and still get back, some of the progeny for our operation."
Artificial insemination
Keith and Chris frequently use artificial insemination (AI) on their Santa Gertrudis females. This is largely the responsibility of Chris's wife, Sue, who is a veterinarian. Sue artificially inseminates all of the heifers and about 60% of the cows. She then puts in clean-up bulls to cover the heifers and cows that fail to conceive through AI, and bulls onto the 40% of cows not artificially inseminated. She performs AI on approximately 100 females a day.
"We use Santa Gertrudis semen from South Africa, Australia and Namibia," says Chris. "The concept of AI is growing in popularity in Zambia because the Zambian government is keen on improving the national livestock herd. However, to ensure that only the best quality livestock genetics are allowed into Zambia, each breed society in the source countries must have signed off on the genetic material or live animals exported to Zambia."
Growth hormones
The use of growth stimulants in Zambia's livestock production sector is strictly regulated by the government. While a few of the more 'natural' products such as Ralgro are permitted, the likes of Zilmax, which is approved for use in South Africa, is banned. Other anabolic-based ear-implanted growth stimulants are also banned.
Crop production
Zambia's rainy season starts in mid-November and runs to about the beginning of April. Lwimba Ranch's average annual rainfall is about 800mm, all falling in the summer rainy season.
The farm's primary crops consist of about 850ha dryland white maize and soya beans. These are non-genetically modified as Zambia prohibits GM crops. The business also grows about 80ha seed maize for Syngenta. The maize produces an average yield of between 6t/ha and 6,5t/ ha and the soya beans 3t/ha.
Initially, Chris and Keith grew up to 80ha of tobacco but they abandoned this crop two years ago due to increasing corporate disinvestment from tobacco processing in Zambia, which has led to a poor price for tobacco leaf.
Prices of Zambia's main agricultural commodities are currently marginal. Zambia's 2014 price for soya beans was about US$550/t (R7 340/t) and is now at about US$450/t (R6 000/t). The country's white maize price is currently between US$200/t and US$210/t (R2 670/t to R2 800/t).
Input costs
"Our input costs are a lot higher than those in South Africa," says Chris.
"Most of our farming inputs have to be transported overland from either South Africa, or from the port at Dar es Salaam in Tanzania or at Beira in Mozambique. We have about six fertiliser companies in Zambia, some of which are also established in South Africa."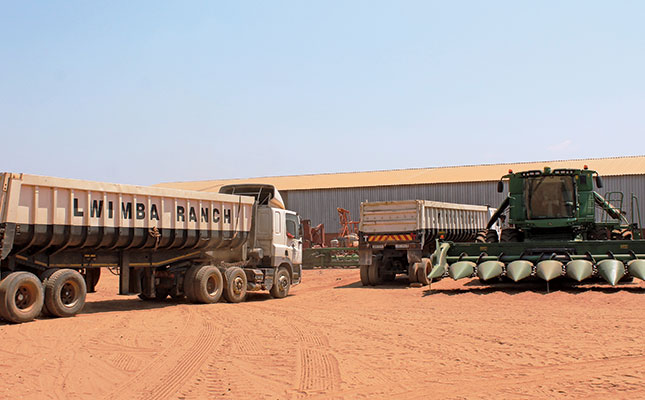 Zambian farmers pay approximately US$25/t (R330/t) for lime, excluding the transport cost. Compound D fertiliser costs about US$600/t (R8 000/t), and urea about $620/t (R8 270/t). Chris points out that liming is essential in Zambian crop production as soils are generally acidic. Soils are also generally low in phosphate.
Soil types
Lwimba Ranch has a wide range of soil types, including Hutton and several others unique to Zambia. Soil structure ranges from sandy to heavy clay. The ranch's arable soils are sampled annually. Where necessary, about 2t/ ha of dolomitic or calcitic lime are applied. The pH of the ranch's soils is curently between 5,5 and 6.
Phosphate levels vary from seven parts per million (ppm) to between 40ppm and 50ppm. This is undesirably low, so last year Chris and Keith began applying 100kg/ ha of monoammonium phosphate fertiliser. Although they would prefer to apply more, finances do not allow this at present.
"These applications have made a positive difference," says Chris. "We've seen surprising increases in phosphate levels. In some lands, it has increased from 10ppm to 29ppm over a single season. We can't explain why these jumps have been so high, but we're happy."
The Clubbs have not finished clearing Lwimba Ranch's higher potential arable land for crop production. The current rate of this laborious task is 50ha/year to 100ha/year. They are also clearing their low-potential land at the same rate to create grazing for the Santa Gertrudis cattle.
Conservation agriculture
Where feasible, the Clubbs try to implement conservation tillage to improve organic matter content and moisture retention in the soil. However, Chris says that while the ranch owns conservation agriculture planters, he and Keith "are not religious" about implementing this philosophy.
"While we value the benefits of conservation tillage, we don't want to be constrained by it. If we need to rip, lime and disc, we want to be able to do this.
We also strip-graze our crop residues and natural veld. Strip grazing the crop residue allows us roughly 240 animal unit days/ha, virtually double the number before we started to strip graze."
Equipment
Most spare parts for farm machinery and implements are readily available in Zambia, and there are a number of agricultural machinery and implements brands in Zambia that are well-known in South Africa. However, when ordering new capital equipment it is wise for a farmer to order up to nine before it is needed due to the arduous logistics of getting the equipment to a farm.
A downside of farming in Zambia at present, says Chris, is that it is almost impossible to trade in used machinery and implements on replacements. A farmer has to find an independent buyer for used capital equipment.
Labour laws
The Zambian government has strict labour laws, including a minimum wage, contributions to pension funds and various wage-related taxes.
While Zambia's farm workers are friendly and effective, they are also knowledgeable about their rights and will not allow a farmer to take advantage of them.
"The local government labour officer in our area is a very reasonable person to deal with," says Chris.
"He is fair in his dealings with both employers and labour. We've found that he could deal with the majority of disputes that have gone to him from our farm. In 17 years, we've only had to hire a lawyer twice because the dispute escalated to the judicial system."
Game farming
Lwimba Ranch has a relatively small game farming section that Chris and Keith had originally intended to use to breed game for sale. Over the years, sable, Lichtenstein's hartebeest, zebra, giraffe, kudu, puku and impala have been introduced.
However, poaching is rife in Zambia and the ranch is almost surrounded by tribal land from where poachers come regularly to prey on the Clubbs' game. Therefore, this section is now used to host the odd trophy and biltong hunt. Its financial contribution to the farm's overall income is negligible as a result of dwindling game numbers.
Email Chris Clubb at [email protected].