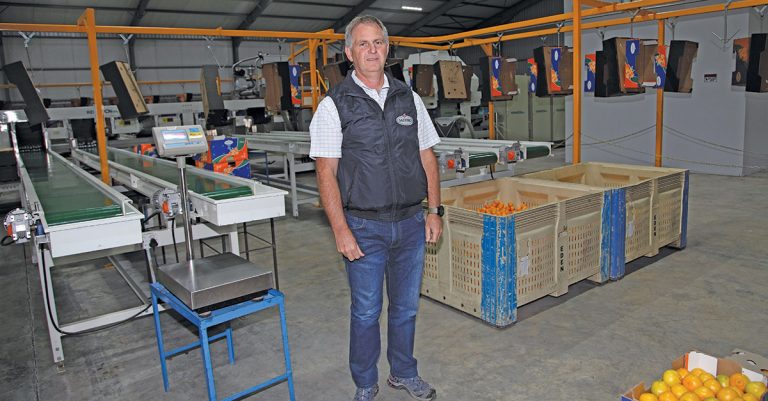 In December 2009, Shaun Brown returned to his family farm near Fort Beaufort in the Eastern Cape's Kat River Valley. Having left a career in the fruit export sector, he wanted to focus on the development of the farm, but also felt compelled to address the social problems in the valley.
"I'm a Christian, and had a vision of doing something that would lift people out of poverty and unemployment. This led to the establishment of Eden Agri Services, a packhouse where nature's bounty is shared amongst the people," he says.
According to Brown, the Kat River Valley has the climate, soils and water to produce some of the finest soft citrus in South Africa. With that in mind, he purchased second-hand equipment and began construction of the packhouse on land he purchased in 2003 outside Fort Beaufort.
The Kat River Valley is also home to the Maqoma family, the local Xhosa chieftaincy with a long lineage going back to the famous General Maqoma (1798 to 1873), who fought against the British in the Xhosa Wars of the 19th century. Today, Chief Siseko Maqoma farms citrus in the valley on Gonzana citrus farm.
In the 1990s, black citrus farmers in the area were formalised through the parastatal Ulimocor, which managed agricultural affairs in the Ciskei homeland. Ulimocor identified potential farmers and allocated 20ha allotments to each of them on 30-year lease-to-own contracts.
Brown and Maqoma met when the former was working for a fruit export company in 1998.
Maqoma says that Brown has played a central role in his development as a commercial citrus farmer. "My farming story has many ups and downs, but with Shaun's assistance and support, I established 23ha of citrus," says Maqoma.
Expanding the business
Brown completed the initial building of the packhouse in 2010, and packed the first fruit that he received from his family farm, a leased farm, and Maqoma, exporting 110 000 cartons that year.
In 2011, a group of five black citrus farmers, comprising Maqoma, Eric Nohamba, Sibongile Ndlangalavu, Mpangeli Mpukane and Noluthando Mbilase, joined the new packhouse and began packing their fruit at Eden Agri. Three years later, an additional farmer joined, followed by another two in 2017 and five more in 2020.
Funding challenges
Brown says it was obvious from the start that there was scope for the group of black farmers to improve their production. However, as they didn't own their farms, they were unable to get funding and struggled to make ends meet.
The government-sponsored recapitalisation programme helped by providing funding for the establishment of orchards. However, there was no additional government funding to maintain and manage these orchards, which made the farmers' already constrained financial situation even worse.
At the heart of the funding obstacle lies the fact that citrus farmers have to wait for up to three months from harvesting until they receive payment. What's more, during this waiting period, they need to procure inputs for the following year.
In 2012, in an effort to find a solution to their problem, Brown reached out to the Gqeberha (Port Elizabeth)-based export company South African Fruit Promoters (Safpro) to discuss the challenges that the black farmers were experiencing.
Craig Jensen, co-founder and director of Safpro, says that working with Brown fits in with the company's philosophy of helping to solve South Africa's legacy of challenges in agriculture.
"However, as an owner-operator business, it's often difficult to slot into any of the official government programmes.
"Our partnership with Brown is also based on a good business opportunity. The Kat River area has a reputation for producing excellent-quality soft citrus, and Safpro happens to have good marketing opportunities for the product. But to produce the required product, you need good farmers and an equally good packhouse.
Brown brought both the farmers and the packhouse to the table, and we realised we could unlock a lot of potential by providing affordable production finance, which the farmers were struggling to obtain."
Since 2012, Safpro has provided about R25 million a year in production loans to Eden Agri's farmers.
Tackling the land problem
One of the critical challenges the farmers faced was land ownership. "We contacted former [mayor of Nelson Mandela Bay Municipality] Athol Trollip, who knew exactly which doors to knock on at which departments to get things moving. He got involved with the project at the beginning of 2020 and, since then, memorandum agreements for the purchase and sale of five farms have been signed," says Jensen.
In order to promote the interests of the growers and negotiate the differences between government processes and the demands of the private sector, a non-profit organisation called Eden Agri Safpro Support Enterprise (EASSE) was established, with Trollip at the helm.
There are four directors: two farmers (Maqoma and Khayalethu Mpahla), Brown, representing Eden Agri, and Trollip, as the manager and Safpro representative.
"This arrangement keeps Safpro at arm's length, and it works well," explains Jensen.
According to Trollip, EASSE provides the farmers with extension and production advice, support with irrigation, pest control and fertiliser programmes, HR functions, payroll administration, and debtor and creditor management. It also ensures export compliance support. The growers pay a monthly fee for these services.
Seventeen farmers currently use the packhouse at Eden Agri.
"Our motto at EASSE is 'The extra mile', as there's no traffic jam on the extra mile, and this is what's needed for success," says Trollip.
Brown's vision for Eden Agri is bearing fruit. In 2010, the area under citrus was 86ha, and this grew to 175ha by 2020. New orchards covering 89ha are currently being established, and a further 70ha need to be developed over the next few years before the farms can be considered fully developed. Some of the producers have already purchased additional farms, which they will start developing this year.
Future growth
Eden Agri maintains an 80% export packout, which adds to the success of the partnership. According to Trollip, yet more growers, both black and white, have been attracted to the management style and commercial success of Eden Agri.
Siya Ndzoyi, who recently joined up, grows navel oranges, Clementines and Novas on 35ha.
"Eden Agri and EASSE supported me with redesigning my irrigation system in 2020. I changed to different microjet heads to ensure even water distribution, and revisited my fertigation programme. These changes have resulted in significant yield improvements," he says.
Brown has an open-minded approach to doing business, but does not like wastefulness, and insists that things take place at the right time.
"Our partnerships with growers are based on trust; [the partnerships are] transparent and honest, even when the issues are difficult," he says.
In 2017, Eden Agri started a process through which farmers can become shareholders in the packhouse.
"This is a great opportunity for us," says Maqoma. According to him, the farmers are in talks with potential funders to raise money for buying shares.
Brown's focus on the bottom line has resulted in inputs for Eden Agri farmers being purchased collectively where possible.
"The bulk purchase and delivery of diesel and fertiliser can save individual growers as much as 10%," he says.
He adds that Eden Agri and Safpro deviate from the traditional relationship exporters have with producers, especially where funding is involved.
"We don't try to exert control over the growers in terms of what they should be doing on their farms; they already know how to grow citrus. Their challenge was not having land ownership and thus being unable to secure production funding to do what's needed on their farms.
"Some of the farmers had, over the years, become so used to struggling and surviving with erratic government support that it became entrenched in their approach towards farming. Broken equipment or inadequate infrastructure were simply accepted as something to live with. Now we get [funding] and we fix the infrastructure needed to improve production outputs."
According to Brown, Eden Agri and Safpro encourage the growers to become commercially successful and independent.
"We want to move away from providing [them with] production finance, so they need to progress to a point where they can arrange commercial finance themselves. We're working towards more farmers receiving titles to their land and, with the appropriate support, we see production yields improving from 30t/ha to 50t/ha, which is possible in the Upper Kat River Valley."
With this in mind, Eden Agri is expanding its capacity. Brown says they packed 21 500 bins in 2020, and predicts they will pack 24 000 bins in 2021. If all goes to plan, 33 000 bins will be packed in 2022.
"Eden Agri started in 2010, exporting 110 000 15kg-equivalent cartons. In 2020, we exported 430 000 cartons. [This year] we expect to export 480 000 cartons, and next year, when the growth from young trees begins to materialise, we should export 660 000 cartons."
Email Shaun Brown at [email protected].