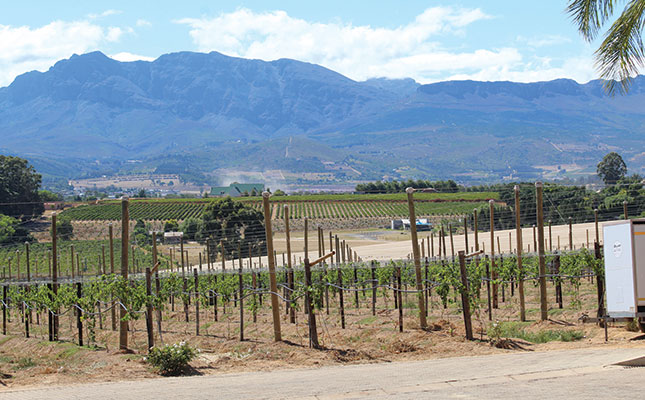 In the mid-1990s, Jan le Roux, founder of the Le Roux Group, was in discussion with then minister of water affairs and forestry, Kader Asmal, about the future of South Africa. During what started as a casual conversation, Asmal asked Le Roux what he would do for South Africa. Le Roux answered: "I'll create jobs for people."
At the time, he was serving as global CEO for the Pepkor Group, with only a part-time interest in farming. Having grown up on a wine farm near Paarl in the Western Cape, Le Roux bought the properties from his father and brother and became what he called a "weekend farmer".
"I got to a point where I realised that if the farms were going to be successful, I either needed to appoint a proper manager, or return to the farm full-time."
Finding someone who met his perfectionist standards, however, proved difficult, so Le Roux took the leap into full-time farming. Around this time, he recalled his conversation with Asmal and realised he had the ideal opportunity to make a major positive impact on the rural community in his area.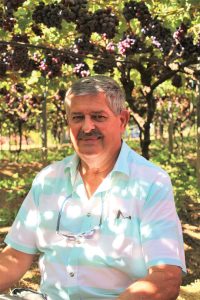 After much research, he concluded that table grapes and stone fruit were the most labour-intensive agricultural industries in South Africa. In addition, as the produce tends to be exported, there is a better chance that the fruit will receive prices high enough to justify its high labour costs.
Employing more labour, rather than less, bucks the trend in the agriculture sector, as most farmers are moving towards mechanisation to avoid often-strained labour relations. Le Roux's ultimate goal, however, is to employ as many people as he can while keeping the business sustainable.
"God has been good to me," he says in response to a question on why he focuses on labour. "My father would have done the same if he'd had the funds. With my corporate background, I understand how banks work, so applying for big loans to expand the farm and create the jobs I wanted to was a little easier."
Debt and growth
Le Roux has had to take on sizeable debt during his farming career, as not even the family farm was passed down to him; he had to buy it from his father. But his keen business sense has paid off, and today the Le Roux Group comprises 654ha of table grapes and 192ha of prunes and nectarines across several farms in the Western Cape.
The Broodkraal farm is the largest single table grape unit in the Southern Hemisphere, and all production is under shade netting. The group's export company, Le Roux Fruit Exporters, exports more than 3,2 million cartons of grapes, nectarines and prunes annually to diverse markets that include the EU, UK, US and the Far and Middle East.
Establishing four packhouses on the farms not only gave Le Roux greater control over quality, but increased his ability to provide jobs. Job creation, however, was only part of his intention; recognising the need to plough back into the surrounding community led him to establish a worker's trust that owns 32% of the shares in the Broodkraal division of the Le Roux Group. All members of the trust are made up of people from previously disadvantaged backgrounds.
While Le Roux's focus is on employees, the irony is that the area does not have enough workers to complete the harvest, which requires just over 6 000 workers, a dramatic increase from his 800 permanent employees.
The workers often have to travel great distances between home and farm, and Le Roux realised that an efficient, happy workforce requires greater consideration for their lives outside of working hours. He therefore established an agricultural village, where the majority of the workers are housed in modern facilities with solar electricity and running water. The village has a community hall, clinic, crèche, ATM, grocery store and sports fields.
"If workers get home hours after their shift ends and then start the journey back to the farm hours before they start work, they'll be tired and not perform optimally. Reducing this transit time by housing them on-farm means they have more spare time, and I have a greater chance of having an energised workforce," says Le Roux.
The village is governed by officials elected by the community and by people living in the village itself. This ensures that these leaders are respected by, and accountable to, the workers. A code of conduct has been established and rules are firmly enforced to maintain a pleasant living environment.
Managing for best results
Strict, but fair, is how Le Roux's employees describe his management style. Abiding by the rules and following disciplinary procedures to the letter ensure fairness and equality in terms of how problems are dealt with. This way, the focus is kept on the wrongful action, not the individual.
Le Roux explains that the company's business culture is key to maintaining good worker relations.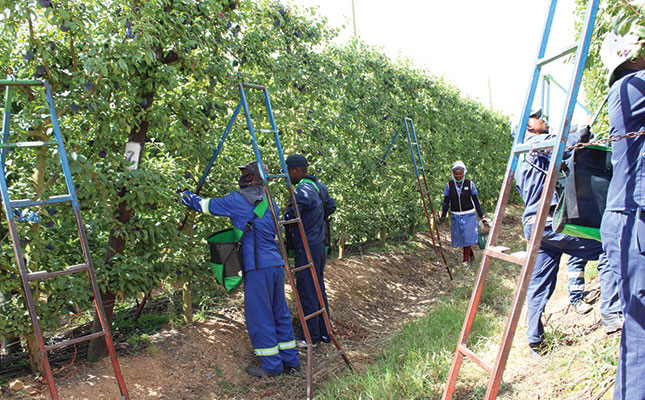 "Each business has its own culture that determines how it spends its time and resources and what it focuses on. Our culture is to focus on people. We shift responsibility to the workers so that they take ownership of whatever they're doing. But my nickname isn't 'check net' ('make sure you check') for nothing! I go over all the important details to make sure everything is functioning properly. Yes, you give people responsibility, but you must also ensure that everything is done as it should, without taking the responsibility out of their hands."
He emphasises that the onus is on the employee to get the job done.
"To get people to take responsibility, you need to give them responsibility. They'll either sink or swim. But if you don't give people responsibility, you'll spend the rest of your life looking after them.
"This isn't a military operation with rigid rules and regulations. I'm not here to tell people how to do their jobs. They can do things any way they want to, as long as the outcome is the same."
Processes in the business are driven by productivity and efficiency, as a labour force of this size cannot be managed without these attributes. This remains a challenge, however.
"A lot can be done with modern tractors and technology to improve harvesting and packing. And tractors don't go on strike. But we're in a sector that was supposed to create one million jobs within a few years. Instead, we're down by 300 000. I attribute this to the minimum wage and low productivity. We pay workers too little to live on, but too much for the work we receive in return. South Africa's productivity levels are far below international standards. The only way we can continue employing so many people amidst rising wages is to raise our productivity."
In a bid to improve productivity at his operations, Le Roux focuses on training and making sure that all employees understand the quality of work expected of them. Every worker, regardless of his or her position, undergoes an induction process. This includes being taught the rules that the company must abide by, the structure and functions of the Le Roux Group, the audits that are done, and the environmental considerations, such as water management, that are important.
Le Roux admits that the bigger the labour force, the more complex it is to manage. But when people become the centre of the business, a mindshift is needed and solutions must be found.
"You solve a problem by solving it, not moving it around. And you always show respect for your fellow human being," he says.
Le Roux adds that the group's consideration for systems that benefit workers goes a long way towards smoothing labour relations.
"Our principle is that we pay our workers a wage, and they can do with it what they wish. If they want to join a union, they're welcome to. I'm not against trade unions; they have a role to play to represent workers, but workers must get the service they pay for. Seeing that they don't, our workers have opted to form their own workers' committee and unions on the farm that actually know what's going on.
"Our employees also have the security that they'll get their fair pay at the end of the month without all kinds of deductions, leaving them with hardly anything. If they have disputes over their pay, we have an open-door policy to discuss it. The security our workers have is what keeps them here, and ensures that seasonal labourers return every year."
Sustaining production
Employment hinges on the ability of the group to keep producing fruit whose price warrants the cost of producing it. This starts with selecting products that are in demand, and ensuring that cultivars and quality keep up with consumer expectations.
Quality and condition are the two key criteria that Le Roux uses to select cultivars. "The consumer must want it, and it must be able to withstand the journey by sea and still be in good condition when it reaches our export markets.
"Ensuring we receive a premium for our fruit is also paramount to the sustainability of the farm, as our labour component is high and therefore costly. Producing the best quality is one way in which we can earn this premium and afford to keep paying our workers and providing for the community."
Quality also depends on how the fruit is handled. Each bunch of grapes is handled like "a little baby": picked carefully and laid down gently into the crate before going to the packhouse. This care is maintained until the fruit reaches the market.
An aspect over which he has less control, yet has the potential to put his staff out of work, is climate change. Over the past few years, rainfall has become more erratic in the Western Cape. Part of Le Roux's strategy in providing jobs has been to acquire a water licence to irrigate the hectares needed for mass job creation. Building an irrigation dam has also been crucial.
"Water rights have, however, become a contentious issue, and if there's one thing that worries me more than most in terms of being able to employ over 6 000 people indefinitely, it's access to water. The private sector can erect more dams, but government needs to give us water licences."
Email the Le Roux Group at [email protected].