A quiet revolution has been taking place in Msinga, the rural heart of KwaZulu-Natal (KZN). While the drought has devastated cattle herds, goat numbers have held up. This is partly because goats are resilient, but also because the Mdukatshani Rural Development Project has been working at ways to keep these animals healthy and productive.
Launched nine years ago, the successes of the Mdukatshani Rural Development Project have encouraged the Department of Rural Development and Land Reform to put R50 million into a project that aims to boost goat production in five districts in KwaZulu-Natal: Mzinyathi, Thukela, Uthungulu, Zululand and uMkhanyakude.
The total investment, which includes funds from the agriculture department and the European Union (EU), comes to over R70 million. The project aims to stitch together, within five years, a value chain that will double indigenous goat production, develop 7 000 female commercial farmers, create 620 youth jobs and 270 micro-businesses, and generate R100 million in extra value from the herds.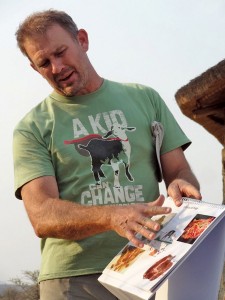 Choosing chickens
"It all started with chickens," says Rauri Alcock, Mdukatshani's director, recalling the project's beginnings. Most agricultural support for land reform was directed towards cattle. "If you asked farmers why they wanted land, they always said it's because they wanted cattle."
However, this mentality only affected a small part of the community, explains Gugu Mbatha, Mdukatshani's project manager. Cattle tended to be owed by men, thus support for cattle farming excluded women and did "not redress the power ratio between men and women", she explains.
In addition, according to Alcock, cattle were sometimes owned by men who worked in Johannesburg, and thus contact would have to be made by phone before any activities took place. These delays made any interventions impractical.
"If a man has five cattle, for example, that amounts to about R50 000. The question was: do we help wealthy people, or do we help people trying to make a livelihood? This is why women are our clients, and those are the farmers we help," Mbatha says.
Furthermore, keeping cattle is interweaved with cultural beliefs. "For example, makhotis (menstruating women) are not allowed into the kraal, and so the daily handling and management of the cattle becomes problematic," Alcock explains. "How do we work with women at their homes in Msinga? With chickens."
That was nine years ago. Mdukatshani began by launching a chicken vaccination and management programme to reduce mortality rates. The initiative was successful. According to female farmer, MaNdebele Skhakhane, her robust flock was able to provide meat which, because of the drought's impact on household budgets, had become too expensive and could not be included in the grocery shop.

Why goats?
Despite the project's success, chicken production was not enough. "Say you're a widow and you have two children," Alcock explains. "You'll incur expenses. Your social capital isn't in chickens. You'll pay with goats or cattle. If you don't have either, it's expensive. If you have four goats, that's the equivalent of one cow. If you have that, you have collateral for transactions. Without goats, at least, you'll always be stuck, and you'll have to pay cash for any damages, for example."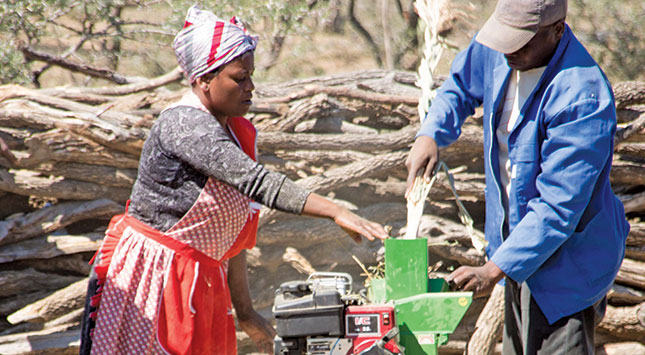 Resilience in time of drought
The logical choice, therefore, was goats. According to Alcock, the drought illustrates why they made good agricultural sense. "Cattle numbers have collapsed. Some farmers have lost all their cattle." Goat numbers, on the other hand, have remained constant. Although there have been losses, it is mainly new production – the kids – that have died. "This means that while numbers haven't increased, they haven't dropped."
According to Alcock, it could take 10 years to regenerate cattle herds, and for some farmers their losses will result in a "terminal exit" from farming because they cannot raise the capital to start again. He says that while cattle farming makes sense in some areas, goats are more resilient and therefore offer greater social and food security.
A tool to curb bush encrouchment
Goats are also a successful weapon against bush encroachment, which soaks up water in catchment areas and is the result of increased carbon emissions. "There are maybe 10 to 20 million hectares of land affected by bush encroachment. This is probably a bigger area than our game reserves. At this rate, it will cause rhino, buffalo and other grazers to disappear, and only impala and goats will remain."
Far from destroying the environment, as public perception dictates, goats are not destructive and could save these environments. "As organised agriculture collapses, goats will fill the gap. Look around you. Where do you see a fence? It's either high-security fences around game farms, or else the fences have collapsed. The advantage of goats is that they self- herd, so it doesn't matter."
Alcock admits that his vision does entail a fundamental shift in agriculture in areas where goats make more sense than any other livestock animal. Regarding large numbers of goats, he says: "We cannot imagine high enough numbers to push back on bush encroachment. Even high-volume goat areas have bush encroachment."
High demand, despite no official policy
Although goats are ubiquitous, they are not officially reflected anywhere. Alcock estimates that there are about one million goats in KZN, but a more likely estimate is three million. "Because there is no South African goat policy, there's no support for them and no research. Goats were the first domesticated herd animals in human history, but there's so little research on them anywhere."
Officially, no goat meat is sold in South Africa. Meat statistics are gathered at abattoirs, but since goats do not go to abattoirs for slaughter, they do not figure. Statistics SA, which has data on every imaginable agricultural activity in the country, has had no data for goats since 1988. No goat farming operations were earmarked for assistance during the drought.
Despite all this, demand for goats is insatiable, and production cannot keep up with demand. South Africa imports 400 000 goats from Namibia a year, and other provinces sell almost their entire production to KZN, and it's still not enough. Mdukatshani hopes to not only provide enough for the KZN market, but to start exporting foot- and- mouth disease-free goats.
Providing the right support
Alcock is glad that goats are starting to be taken seriously, and says that government support is very welcome. However, he is not in support of grand schemes, and encourages research and small beginnings. In addition, he believes that "farmers farm where they are", and any support must be local, specific and practical.
Alcock's track record illustrates his philosophy. Several years ago, he proposed the idea of manufacturing protein/energy licks for goats, where farmers were shown how to mix the ingredients at home and then to compact them into small bricks. In this way, the animals are kept healthy and mortality rates are reduced.
"If you can stop just the die-off – the mortality rate among kids – then you should have an immediate boost in production of 20% to 40%." Block-making machines are being built for this purpose, and with it comes the opportunity of creating block-making micro-businesses enabling small entrepreneurs to enter agriculture.
A boost in production creates its own problems, however. Managing herd sizes, and achieving a balance between ewes, kids and castrates (which fetch the highest price), is tricky. This is in addition to balancing sales and production. Optimal herd size is 60; more than that, and a farmer runs into trouble. "This means that you can't just give a farmer 200 goats and a fence. It won't work," stresses Alcock.
Anticipating the importance of goats on the commercial market, Mdukatshani and the departments of agriculture and rural development and land reform have been holding goat auctions – for the first time ever – to ensure that farmers are not blocked once herd numbers start increasing. Following a slow start, they are developing momentum.
Changing perceptions
While logic dictates that a goat industry is long overdue, overcoming image issues must be addressed, says Alcock. At the last goat auction earlier this year, two top Durban chefs served up cordon bleu goat dishes to dignitaries headed by King Goodwill Zwelithini.
"That's the 'eye candy' part of the project, creating a receptive environment. Mdukatshani has put goats on the national agenda in a huge way." Dr Yves Vanderhaeghen is a researcher currently conducting a study for Oxfam on the drought and its effects on vulnerable groups of people in South Africa.
Email him at [email protected]. For more information on Mdukatshani, visit www.mdukatshani.com.