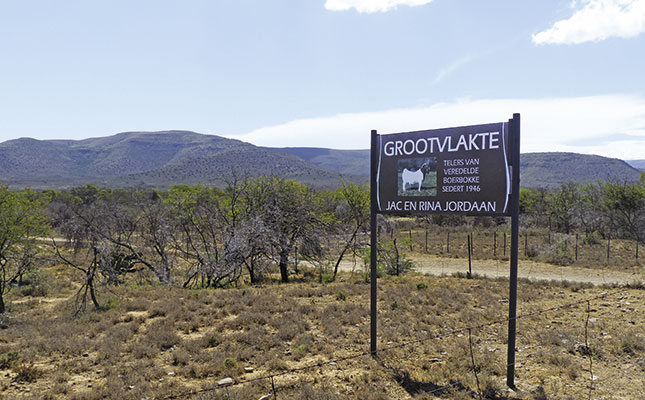 "Some guys play golf or go fishing on weekends. I take my Boer goats to a show, or go to an auction," says Jac Jordaan (37) of the farm Grootvlakte in the Swaershoek Valley. "Boer goats are the flagship of my business, and include 700 ewes."
The farm also has 2 500 Merino ewes, 200 Bonsmara x Beefmaster cows and a
game/hunting component on 10 000ha.
The Boer goats' central position in Jac's operation underscores not only his passion for Africa's most famous meat goat breed, but his drive to produce the best Boer goat genetics in the world.
"Just 5% of the best-performing people in any business make money. The rest do so-so,'' says Jac, who owns the Jac Jordaan Boer Goat stud, the last of the historic Jordaan family Boer goat studs.
"When I returned [to the family farm in 2009], I decided to always strive to be in the top 5% of Boer goat breeders.''
Born into a legacy
Farming Boer goats on Grootvlakte is part of the family's history and began with good neighbourly cooperation. In the 1920s, a farmer living next door to Grootvlakte, Theuns Jordaan (not directly related), was working on developing the breed, using indigenous genetics, on his farm Hopevale.
Jac's great-grandfather, Joe, was able to use some of Theuns Jordaan's best rams in his own flock of Boer goat-type animals.
In 1946, the Jordaans on Grootvlakte began marketing rams and by the time the Boer Goat Breeder's Association of South Africa was registered in the late 1950s, they had a respected Boer goat flock. Jac's grandfather, Jan, became a renowned Merino breeder, and steered the family's Boer goat legacy with diligence.
Jac Jordaan with his wife Rina and children Nika-Marie (left) and Janro on Grootvlakte.
In 1962, he produced the Junior Champion Boer goat ram at the inaugural SA Boer Goat Championships. By the time Jac's father, JR, took over Grootvlakte, Boer goats had become a national livestock treasure, and in 1976 the farm produced both the SA Grand Champion Ram and Reserve Grand Champion Ram.
Boer goats in his blood
Jac was born in 1978 and his childhood was defined by livestock shows where Boer goats were judged and inspected with great passion, a process he enthusiastically reenacted as a boy on Grootvlakte.
"When we were young children, the Boer goats kidded around the house. We used to catch the little six-week old rams and showed them at the top of our voices," he recalls.
When he was 10, his father rewarded his obvious passion for the breed with a stud ewe whose offspring he diligently recorded with an ear tag system.
Her genetics continue to play a role in the Jac Jordaan stud today. In 1992, when Jac was just 14, he completed his junior Boer goat judging course, a foundation on which he would further develop his knowledge throughout high school.
When he completed high school at Somerset East's Gill College, he went on to study accountancy at the University of the Free State, eventually obtaining a CTA.
He then travelled to England to earn foreign currency. When he returned to South Africa, he spent three years in Port Elizabeth completing his articles, and then worked for an accounting firm in Somerset East.
In 2009, Jac's father, by this time a respected Boer goat judge and inspector, left Grootvlakte for Somerset East to work as a livestock agent for BKB, making space for his son to take over the farm.
"We're all old-school farmers here in the Swaershoek, and our view is that you have the land for 30 years in order to pass it on to the next generation. That's your job,'' Jac explains.
Quality genetics
Jac believes that success in any agricultural venture depends on adding value to products, and he is always on the lookout for genetics that will positively influence his flock.
In 2010, he purchased an influential ram from Lukas Burger of Griekwastad that contributed significantly to the development of longer bodies and muscular, better-shaped heads in his flock.
The type of animal Jac focuses on breeding must be compatible with the demands set by the Indian traders in KwaZulu-Natal, who purchase up to 80% of his slaughter goats.
"They aren't looking for short dumpy goats. They want something higher on the leg," he explains.
These market requirements complement the demands that the environment place on the conformation of his goats, which need to be well-balanced and mobile to cope in the rugged, sweet thorn-dominated Swaershoek Valley.
When Jac returned to the family farm, he began increasing the size of the flock – from 120 ewes to the current 700, of which over 500 are registered stud animals – to establish a more diverse genetic base.
"We now have more ewes, which means we have more choices and more options. I have seven different blood lines," he says.
This improved genetic diversity has allowed him to use more self-bred rams, while the implementation of an artificial insemination (AI) programme four years ago has made it possible for him to utilise younger rams effectively in order to drive genetic progression.
"I decided to rather hold back my best rams every year for my own breeding. Every ewe on the farm gets mated individually, and I don't just throw a ram into a flock and hope for the best. AI means I can use many young rams so I can have quicker generational turnover. So, if a ram is two-tooth, then I already have kids from him and I can see what his offspring looks like. And that makes genetic progress so much faster.''
Breeding and kidding
Before mating, ewes are run extensively on rugged terrain with little to no supplementation.
In extreme drought, however, such as that experienced in 2015/2016, they receive protein blocks and some maize on the veld. Only mature ewes are artificially inseminated; maiden ewes are first put to the ram at 35kg, between eight and 12 months.
Ewes are mated in four flocks to kid in February (150), April (150), July (150) and August (250).
Following the AI procedures, rams are put to the flocks for three weeks to cover any ewes that may not have been successfully artificially inseminated.
Three weeks before kidding, the groups are returned to Grootvlakte. Here, the kidding process is managed intensively in small camps, before twins, triplets and their mothers are transferred to lambing pens.
Ewes with single lambs are left in the camps. After three weeks, the ewes are merged into groups of 30 ewes (with single lambs), 15 ewes (with twins) and eight ewes (with triplets). Ewes with multiple kids are supported on a portion of the 94ha of pastures.
According to Jac, moving to a more intensive management approach in terms of kidding has dramatically improved the flock's weaning rate.
"My weaning percentage has gone up from 110% to 160%. It's been worth my while to put in the extra effort and time.''
Effective marketing
Success with Boer goats demands equal dedication to breeding, feeding and marketing, says Jac. Successful marketing requires an understanding of the trends and demands of the industry, and this means involving oneself in breed management structures, as well as consistent show and auction attendance.
Jac, who is on the management committee of the Eastern Cape Boer Goat Club, says the showing of his top rams remains a critical marketing component prior to auctions. His successes have included Rambo (the 2014 SA four-tooth Champion ram that sold for
R50 000 in 2015) and Marlborro (the 2014 and 2015 Eastern Cape Grand Champion ram and 2015 Reserve World Champion ram, which sold for R70 000 in 2015).
"My best rams almost never go to the ewes (although their semen is used for AI). They need to go to shows and advertise the stud. They are here as ambassadors and for publicity.''
Success has bred success. Achieving well at auctions has served as effective marketing, and this has led to greater interest and demand. The 120 rams (and about 200 female animals) that Jac sells each year are marketed at a number of auctions, including the Oude Meester Auction in Kroonstad, held in January.
His fellow breeders who also market at this auction include Danie Schoeman (De Rust), Tommie van Kerken (Somerset East), Hendrik Botha (Somerset East) and Gerald Calitz (Ventersdorp).
In January this year, Jac sold the second-, third-, fourth- and fifth-highest priced rams on auction.
His goats are also marketed at the East Cape Veld Ram Auction in Graaff- Reinet, where 45 veld-adapted rams are marketed.
According to Jac, the fact that all five of the rams that he entered last year were successfully selected and marketed, proved the hardiness of his Boer goats, and was very pleasing.
Phone Jac Jordaan on 073 856 7179 or email him at [email protected]. 
This article was originally published in the 15 April 2016 issue of Farmers Weekly.