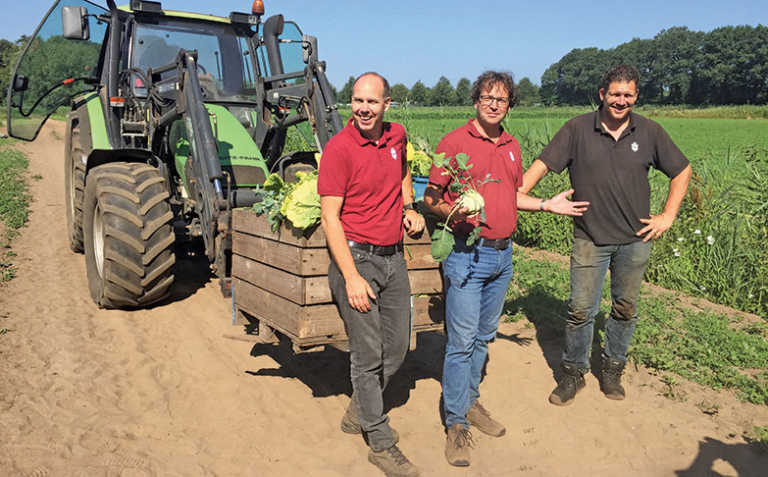 On a 100ha piece of land in Boxtel, the Netherlands, 165 ordinary families are renting land and paying a farmer to raise free-range pigs, cattle and chickens, and to grow 55 different types of vegetables to their organic specifications.
The co-operative, called Herenboeren, was initiated by Boudewijn Tooren and a group of friends in 2015.While the families rent 100ha of land from a foundation, production is only on 20ha.
READ Marketing your fruit and vegetables
Despite the apparently small area of production, the operation provides a box with five types of vegetables and some meat to each family per week.
Starting out
According to Tooren, a board member of Herenboeren, he and his friends had been thinking about the concept since 2012.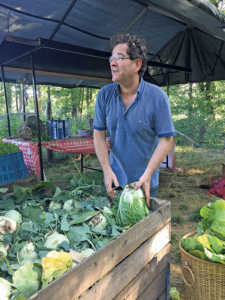 "We were four or five people that discussed how we can have more control over how our food is produced. After years of discussing the concept we decided to stop debating and just start," Tooren says.
Tooren and his friends placed advertisments in newspapers and on various other platforms to attract families to invest in the farm, and in 2015, 50 families joined the venture.
"The first 50 families are true heroes as they believed in what we wanted to do. The families that followed could visit the farm and see what was happening before they invested. We now have 165 families, and have space for about 210," he says.
Initially, each family invested €2 000 (about R30 974). However, the €100 000 (R1,5 million) from this was not enough, and it was calculated that they needed €250 000 (R3,87 million) to get production going.
READ Learning from apple growers in Poland
They loaned the remainder from the Markgraaff Foundation, from whom they also rent the land, and from a bank.
Herenboeren now pays a farmer a salary to farm for their communal needs. Most of the families involved in the co-operative are middle-class consumers with jobs in town and a desire to be closer to nature and the farming lifestyle. As such, they also volunteer on the farm over weekends, and help with everything from planting to harvesting.
In the beginning, the farm had no infrastructure, and temporary buildings, including an office, and more permanent infrastructure, such as cooling facilities, had to be built, Tooren says.
Hiring farmers
When Herenboeren started, the co-op needed to hire a farmer. A number of farmers applied for the post. Douwe Korting, the other chairperson of the co-op, and Tooren knew dairy producer Geert van der Bruggen, and wanted to hire someone with his skills and character.
They eventually approached him and asked him to be the Herenboeren farmer. Van der Bruggen accepted the position.
Another Herenboeren farm is already in production, and as the concept is now well known, there are many farmers applying for jobs at other farms that Herenboeren aims to initiate.
Van der Bruggen produces all the food and livestock at the co-op and has most of the say in how production is conducted.
The operation uses organic farming methods, and no pesticides are allowed. While Van der Bruggen is actively pursuing organic-style farming, he balances new ideas with those that ensure production, and so approaches organic production one step at a time.
As the families all want different produce and have different ideas about how it must be produced, a board of directors act as an intermediary between them and the farmer. In this regard, families submit a list of what produce they would like and the board then discusses the potential to grow this on the farm's specific soil with Van der Bruggen.
Sharing is caring
Beyond the initial €2000, each family also pays an additional €500/ year (R7 743/year) or about €10/week (R154/week).
Vegetarians pay less. As the cost of buying organic produce from a retailer for a family amounts to about the same amount, according to recent calculations by the board, the co-op's price compares well with retail prices.
However, fresh produce bought from retailers is often washed and packaged, whereas members of the co-op must wash and prepare their vegetables themselves.
READ Smallholder co-operatives combatting food waste
"The intention is to supply every member of the co-op with five types of vegetables every week. Members also receive 7,5kg of beef, 10kg of pork and 4kg of chicken a year. This quantity of meat amounts to about 50% of average per capita meat consumption in the Netherlands per year. Every person is also given five eggs a week," Tooren says.
Members collect their produce on Wednesdays and Saturdays.
The co-op produced enough food for 40 weeks last year, and have calculated that it will be able to produce for 52 weeks this year.
With regard to fruit, Tooren says they have not calculated how many kilograms of apples they produce per year, for instance, but it has been enough to meet the needs of the community.
As there is no profit to be made, there is no incentive to maximise production.
Many of the concepts on the farm are new to both the co-op members and Van der Bruggen.
For example, no one initially knew 'how much' they could take weekly. At the start of the project, everyone wanted to take as many vegetables home as possible, but later realised that there was ample supply and only took home what they needed.
Members are not allowed to sell the produce. However, Tooren says that there is no way to police the situation, and no penalty if members break this rule.
Chickens
Van der Bruggen had initially built chicken coops, but soon abandoned this when he realised that using mobile chicken caravans meant that the chickens could help fertilise the lands and apple orchards.
Tooren says that the chickens had led to a discussion early on in the project about how the co-op wanted to approach production in a nature-friendly and circular manner.
READ A healthy profit from pasture-raised eggs
As a result of predation from foxes, the co-op lost 70 chicks in one year, and Van der Bruggen was asked to either shoot or trap the foxes, or build high fences to keep them out.
"However, when we began talking about costs, we discussed how much a fence would cost versus how much a chicken costs. We lose €5 [R77] per chicken. At about 100 chickens per year, it amounts to €500 a year. We have about 500 mouths to feed which means it costs €1 [R15,49] per year per mouth. Is it [not cheaper] for members to pay €1 per year and include the fox on our farm, and not have to build a €25 000 [R387 184] fence?" Tooren asks.
As many of the organic production ideas are new, and as Van der Bruggen's experience is mostly as a dairy farmer, there have been some losses, with carrot seedlings, for example, blowing away on one occasion. However, co-op members were not even aware of this as other vegetables were made available to them that same week.
Pigs
At the moment, piglets are bought into the farm and raised until they are ready for slaughter.
However, Tooren says their aim is to eventually breed their own piglets. At the time of Farmer's Weekly's visit, there were seven pigs on the farm, with 14 having been slaughtered the previous week and kept in the cooling facilities.
The Herenboeren pigs have created a national conversation. As pigs are naturally forest animals, they range free on the Herenboeren farm.
However, in the Netherlands, the law dictates that anyone who owns more than four pigs is required to stable them.
Despite this, government is turning a blind eye as Herenboeren is well known in many communities.
"The Herenboeren movement is bigger than the farm itself. We have a sort of 'green deal' with government, and we are looking at working with them to create laws around this type of farming," Tooren says.
After slaughter, the pork is portioned into 100g to 200g portions. As Herenboeren is not a profit-seeking venture, there is no need to keep high-value cuts, and meat is often thus simply minced.
Slaughter facilities are 5km from the farm, but Herenboeren is investigating mobile slaughter facilities for future use.
The operation produces maize and sunflower seed for pig feed, and also buys in feed. Initially, pigs received 2kg of feed per day, which is similar to the feeding practices of commercial producers.
But due to the pigs' free-range lifestyle, Van der Bruggen quickly discovered that the pigs were getting most of their daily nutrition requirements from foraging in the forest areas. He now simply feels the back of their necks for fat percentage, and adjusts additional feed according to their condition.
Cattle
The farm runs free-range Brand Rood cattle. The Brand Rood is an indigenous breed, and Herenboeren is working with a nature organisation to save the disappearing species. While Brand Rood is a dual-purpose breed, Herenboeren only raises cattle for meat.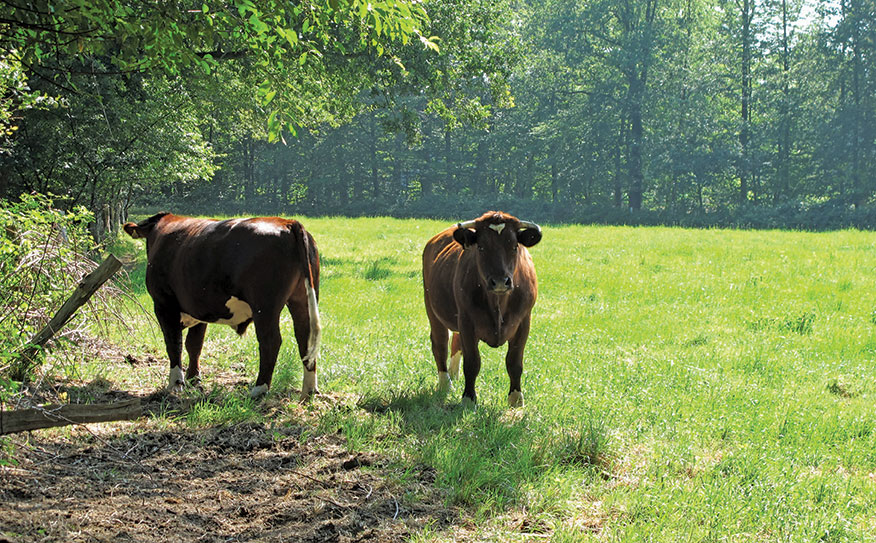 Oxen are currently grown out on rye grass, but a breeding herd will be established in three months' time. Six or seven head are slaughtered every year.
Vegetables and weed control
Eight plots are used on a rotational basis to grow vegetables, with one or two of the plots left lying fallow every year.
During this period, flowers and roots are planted on these lands to help improve soil quality and attract friendly predator insects. Weeds are not controlled, as they are only problematic in cases where one wants to maximise production, according to Tooren.
The area, like most of the Netherlands, consists of extremely sandy soil, with the average rainfall at about 800mm/year. A well of about 42m deep assists with irrigation, and a greenhouse will soon be established to be used for seedling production.
The farm plants mainly seasonal vegetables as it is easier to manage, while cooling facilities help with storage.
Potatoes are produced for six to eight months of the year, with other staple vegetables being produced for most of the year.
Temperatures can drop very low, but produce such as cabbages has survived in temperatures as low as -5˚C. Temperatures of -15˚C have been recorded on the farm.
Looking ahead
The farm is as much about learning about sustainable, organic food production as it is about providing food for the members of the co-op.
While it was mostly older people (above 45) who were first interested in the co-op, Tooren says younger families with children have since started joining as well.
"A hundred farms like this one can feed 50 000 people. There are now more consumers, farmers and banks that think this is a viable model for food production," Tooren says.
Email Boudewijn Tooren at [email protected].