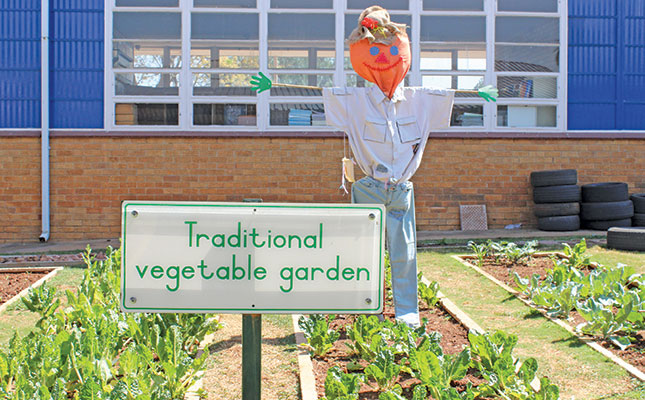 In his State of the Nation Address in February 2019, President Cyril Ramaphosa announced government's plan to introduce six new subjects in schools' curricula. One of these is aquaponics, and the aim is to teach learners technical skills, as well as how to produce food to ensure food security.
At the time of the announcement, Laerskool Kempton Park (LKP), a full-service school in Ekhurhuleni Municipality, was already ahead, having been teaching aquaponics since 2017.
The school is thus leading the way in terms of introducing practical and technical skills in schools.
The project, led by humanitarian development organisation INMED and funded by Air Products, has greatly benefitted the children and staff members of the school, as well as its immediate community, according to LKP's principal, André Page.
INMED South Africa, an affiliate of INMED Partnerships for Children, which aims to improve the lives of children and their communities, was approached by Air Products to inspect LKP as a possible site for the aquaponics project.
Air Products, a manufacturer of industrial and speciality gases in Southern Africa, was already involved in several other community service programmes, and was assisting the school with other projects.
According to Janet Lee Ogilvie, operations manager at INMED, Page had seen an aquaponics system at one of the other schools supported by Air Products, and had indicated that a similar project would be highly beneficial to the learners and staff at LKP.
Air Products then approached INMED, who investigated the site's suitability and came up with a special design for the space available.
Building on the project began in June 2017, and the project was launched in September of that year. The fish and vegetables produced in the system are used in the school's feeding scheme.
A nutritious meal
LKP has over 1 000 learners, some with learning and physical disabilities, and many come from impoverished and struggling families. In some cases, the feeding scheme provides the only full, nutritious meal the learners receive on any given day, and this was one of the reasons Air Products embarked on the project, says Rob Richardson, the company's managing director.
However, nutrition is not the only aim of the initiative.
"Aquaponics teaches kids a multitude of skills and concepts. It teaches them about the agricultural ecosystem," says Richardson.
He adds that these learners can implement the agricultural strategies they learn at school at their homes to produce vegetables for their families, as well as possibly generating an income.
"The school doesn't only focus on aquaponics, because not everyone has access to such technology or the necessary funds. For this reason, the school also teaches traditional agriculture, and shows children how to maximise the space available and use what they have to plant vegetables," says Ogilvie.
She adds that INMED is dedicated to educating children about agriculture so that they can produce their own food and become self-sufficient.
A learning centre
Page describes the school's aquaponics system as a learning centre. It teaches children practical skills, as well as engineering, science, chemistry, mathematics, business skills and marketing. After the school became a full-service institution in 2010, the staff had to adapt to teaching children with learning disabilities.
"Aquaponics has helped a lot with this," says Page. "When the children become tired during class, for example, they're sent to the aquaponics centre for a break. They then come back to class, more relaxed and ready to learn."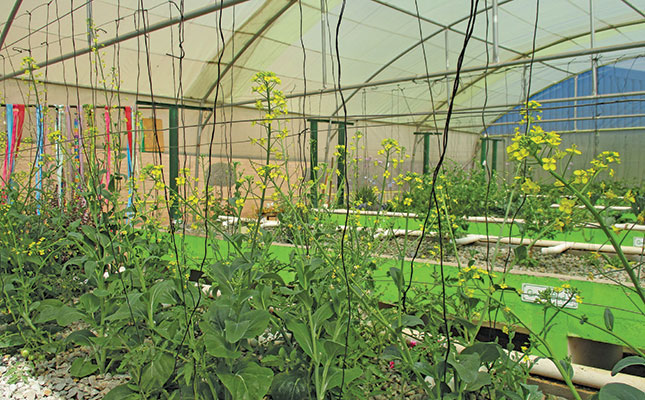 He adds that the aquaponics system aids in teaching mathematical concepts such as shapes and sizes, as well as weight, length and breadth.
"The system also teaches life skills such as responsibility by making them part of the process. The children can take ownership of the project; what they put in is what they get out."
Challenges
Introducing the project has not been without its difficulties. The school first started farming tilapia, which did not grow well in Johannesburg's cold winter.
"We then switched to catfish, which are much hardier and grow much more prolifically during winter," says Ogilvie.
Page says the school has also had to learn to deal with the mechanical aspects of the aquaculture system, after the pump stopped working and the grow beds were flooded.
"We've made many mistakes, but this whole process is a learning curve. We're still experimenting with vegetables to see which grow well together, and which are best suited to our system."
At present, the school produces black tomatoes, cucumber, spinach and green beans, amongst others.
"We need to take the kids' tastes into consideration, and must grow vegetables that they're familiar with and will be happy to eat," says Page.
Production system
The school produces catfish in three 4 000ℓ tanks, which provide water and nutrients to plants grown in five grow beds. The inner growing space of these beds is each 7m long and 1m wide. All water is supplied by the school's borehole.
The system is run on solar power to ensure a continuous power supply.
"We also try to teach the children about maximising space, so we teach them about trellising. Vegetables such as cabbage, for example, take up a lot of space because they grow out, not up, so we try to stick to vegetables that will allow for greater space utilisation," says Ogilvie.
The catfish are harvested every six to nine months, depending on the season, at between 1kg and 1,5kg of weight.
The school currently manages to harvest about 1 000 fish per season. These are used in the school feeding scheme or to help some of the families of children who are struggling. Surplus fish are sold and the proceeds reinvested in the school.
LKP uses an ebb-and-flow, closed water recirculation system. The tanks and grow beds are made of concrete to improve longevity, and the design and material of the system have been kept as simple as possible.
Only one pump is used to pump water from the tanks into the grow beds. Water is pumped to the beds for 15 minutes every hour, and this flows back into the tanks.
There is no need for an oxygenator. "The tanks are not filled to the top, and when the water drops, oxygen is 'pumped' into the tanks. As catfish are also able to breathe oxygen outside of the water, there is no need for an additional oxygen source," Ogilvie says.
The fish are fed three times a day, and the school teaches the process of visual observation in this regard, instead of weighing feed.
"The fish are given a handful of food. The feeder then has to wait for about 10 minutes. If all the food has disappeared in that time, he/she adds another handful. If there's still food floating on the surface, the fish have had enough," she says.
Visual observation enables even the youngest at the school to feed the fish adequately, and requires no additional tools.
The fish tanks are housed in a greenhouse, which helps ensure an optimal, year-round water temperature. Catfish prefer temperatures of between 27°C and 32°C.
All the fish are at more or less the same phase of development. Once they reach the ideal weight, they are harvested, filleted and frozen until they are consumed, donated or sold.
Fingerlings are bought at a weight of around 4g, and added to the fish tanks once all the other fish have been harvested.
Growing vegetables
The grow beds, which are kept in a ventilated greenhouse, are raised off the ground and spaced so that physically disabled children, such as those in wheelchairs, can work in the garden.
Gravel is used as a growing medium instead of soil. According to Ogilvie, this reduces input costs and eliminates any concern about soil-borne diseases and weeds.
Unathi Sihlahla, programme director at INMED Partnerships for Children, stresses the value of this type of project against the backdrop of South Africa's high school dropout rate.
"These kinds of initiatives have the ability to change the lives of children; it gives them a skill for survival."
He adds that aquaponics is the perfect alternative to traditional agricultural production as it uses less water, pesticide and space. It can also help ensure food security in an increasingly stagnant economy and a water-scarce country.
"The aquaponics system exposes teachers and learners to the importance of health and nutrition, and teaches them to grow their own vegetables in a quick, energy-efficient, environmentally friendly and chemical-free way," he says.
Email Janet Lee Ogilvie at [email protected]. Visit inmed.org.za.