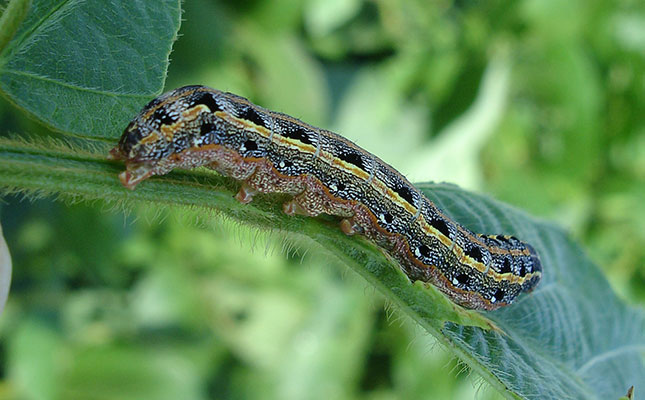 The agriculture ministry in China has raised concerns about an increased risk of fall armyworm (FAW) infestations this year. The ministry said that it would be responding by increasing prevention and control measures.
This could further exacerbate the pressure on the Chinese economy, which was already reeling from the severe impact of the novel coronavirus.
Last week, agriculture futures on China's commodity exchanges fell, hitting multi-week lows due to weak demand stemming from the rapidly spreading disease.
The destructive FAW pest was expected to affect about 6,67 million hectares of maize this year, as well as other crops such as sugar cane, sorghum and winter wheat, according to a statement by the ministry.
China first recorded FAW infestations in January 2019, when more than one million hectares of farmland was affected, with most of the damage suffered by maize and sugar cane crops, according to a report by the ministry's National Agriculture Technology Extension Service Center.
Since December last year, FAW had already effected an estimated 170ha of wheat crops in China's southwestern Sichuan province
It was expected that the pest would hit more crops this year, including the key maize-growing region in the northeast of the country.
The Chinese government has allocated 1,4 billion yuan (R3,14 billion) for the prevention and control of pests including FAW and locusts to protect the country's massive agriculture sector, as food security becomes a major concern amid the coronavirus epidemic, according to a statement by the Chinese ministry of finance.
Supply chains in the region had been disrupted, with many businesses and factories struggling to resume normal operations, due to the travel bans and quarantine measures that were implemented across the country in an effort to curb the spread of the virus.
Many agricultural commodities such as apples, for example, had recorded excess supplies, even during the peak consumption period at the end of last year, with demand being particularly poor throughout the Chinese New Year holiday period this year, Kong Lingqi, agriculture analyst at Haitong Futures told Reuters.
"Goods in the producing areas and in the sales areas are not being sold. Simply put, apple sales are progressing slowly, exacerbating the already high inventory pressure. Sales prospects in the later period will be poor, [and] overall, prices will move downward," he said.
Commenting on demand for agricultural products, Yuan Song, research director at China-America Commodity Data Analytics, said: "The workforce is gradually returning, so demand is recovering, but it has not recovered to normal levels."
He estimated that demand for eggs, for example, may not fully recover for the remainder of the first half of the year.