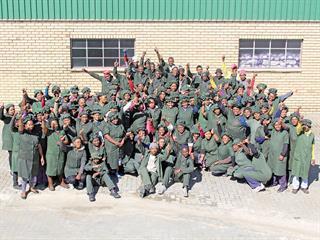 Stephan Fourie of Potato Pride near Frankfort in the Free State harvests between 200ha and 220ha of potatoes every year.
Despite believing in having a technological advantage, with total mechanisation in his potato lands, Stephan regards his farm workers as fulfilling a vital role in the production system.
He employs a total of 120 workers in the operation's packing facility.
"All are from the small community of Oranjeville and they work at our packing facility 2km outside the town. At least 95% of the workforce has been working for us since we started packing six years ago, which means we must be doing something right!" Stephan says.
Early on in his potato operation's existence, he decided that total mechanisation was not the correct route to take.
"I hear people saying that labour is expensive, but I have a responsibility towards the community," he says. "I want to plough back into Oranjeville. The work done here puts food on families' tables and clothes the children when they go to school. There are 120 families dependent on the work they do with us, and for at least six months in a year I can provide for them.
"We have skilled workers that are trained well for their specific jobs."
Stephan believes that Potato Pride is successful not only because of its products, but because of the ethical principles according to which the business is run.
Because there is no public transport system available in the area, a Potato Pride truck transports workers to and from work. To accommodate workers' financial needs, Stephan pays weekly wages as he feels this helps with unexpected expenses.
Each worker also receives a bag of potatoes weekly. Apart from contributing to food security in the community, this helps employees to get to know the product better and take pride in the brand.
Half of the workforce's children attend Metsimatle Secondary School near Oranjeville and Potato Pride regularly assists with sponsoring equipment. Potato Pride also sponsors the annual Wilge Marathon, a qualifying race for the Comrades Marathon.
Stephan even gets involved with his employees' accommodation, assisting them with buying property and building houses.
In the packhouse
According to Stephan, he communicates business goals to his workforce and ensures that everyone is in agreement in this regard. To further improve worker relations, he takes time to listen to workers' opinions on how to enhance systems, in the packhouse and then tests these suggestions.
Stephan stresses that he attaches value to the contribution of every employee and he would not have been able to achieve success without his team.
Ensuring little comforts at work and providing protective work clothes also have a positive influence on morale, he says.
Phone Stephan Fourie on 082 878 5019.