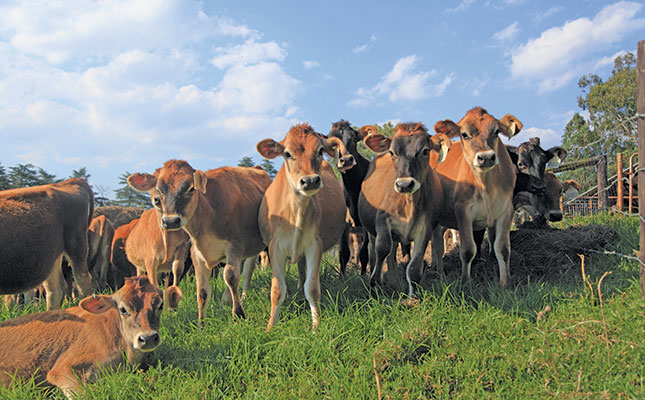 Springfontein Dairy, part of Makhoba Farms and situated in the Swartberg region, is Nestlé's largest black-owned supplier of milk in South Africa, providing the company with about 11 000ℓ per day.
But achieving the dairy's commercial status was far from easy. Chief Ambrose Makhoba, leader of the Makhoba community, which owns Makhoba Farms, says it would not have been possible were it not for the help the community received from numerous individuals and businesses.
"We were committed to establishing commercial farming operations if we got our ancestral land back, but all of that was forgotten by the time we won our restitution claim in 2002.
"Each household at the time had one or two Nguni cows, which they milked by hand. The cows supplied ample milk for household consumption, so it was difficult to convince the people of the benefits of commercialising," explains Makhoba.
Insufficient economic activity and an inability to bond the 10 000ha also made it difficult to obtain loans from commercial banks to cover electricity and production costs, let alone investments in much-needed infrastructure to take the dairy from a subsistence to a commercial operation.
"It was hard to get commercial operations off the ground because of a lack of infrastructure, such as roads and fences. [In addition], low soil nutrient levels, a high prevalence of cattle diseases, periods of flooding that rendered pastures inaccessible, and summer droughts made dryland pasture cropping uneconomical," says Makhoba.
As a result, the community focused on strengthening beef production during the first few years on the farm.
"It was also challenging to persuade the community members to castrate their [Nguni] bulls when we introduced Bonsmara bulls into the herd to improve meat yield and quality.
"Today, however, we are reaping the benefits, as the community's cattle are in high demand at local auctions," he says.
Big break
In 2008, with government support, the community purchased a commercial herd, comprising 150 crossbred Friesian, Holstein and Jersey cows, and got closer to realising its commercial dream when it entered into a supply agreement with Nestlé.
The cows were milked in the dilapidated dairy on the farm, and Nestlé supplied some of the equipment needed to make the operation work. At that stage, the milk yield was about 5ℓ/cow/day.
Makhoba says the first five years of operation were particularly taxing: "We thought we could just give our milk to Nestlé, with no questions asked. Instead, each batch of milk was subjected to rigorous health and safety tests before Nestlé would accept it, as is the general practice of all commercial milk buyers."
Due to huge fluctuations in production and the high somatic cell counts in the milk supplied to Nestlé, the community's biggest challenge at the time was meeting its quotas.
"Fortunately, Nestlé didn't give up on us. Instead, the company supported us with advice and resources to help us comply with its stringent food safety requirements," says Makhoba.
New technology
In 2015, government built a state-of-the-art dairy for the community via its Comprehensive Agricultural Support Programme. Nestlé also stepped up its support of the community by giving it an advance to buy the DeLaval DelPro Farm Management software solution.
Brian Todd, manager of Springfontein Dairy, says the software allows farmers to capture information from individual animals and process it in a user-friendly manner that allows them to make better-informed management decisions.
For example, the software monitors each cow's milk production, and automatically switches off the machine when milk flow slows down. This helps prevent mastitis and improve cow comfort.
Monitoring the milk yield of individual cows also enables farmers to compare their production with the group average and with their past performance, and thus identify when they should be dried off, or when it no longer makes economic sense to keep certain cows.
The software captures data on all activities, from insemination to calving, which helps with record-keeping, as well as breeding decisions such as which genetics to use on the cows to improve the herd.
"We like the Jersey-Friesian-Holstein mix, as it produces animals with the ability to walk long distances," says Todd. "In addition, the Jersey specifically produces high levels of milk solids, while the Friesian helps to boost milk yields.
"Our production now averages 21ℓ/cow/day, while the regional average is around 18ℓ/day for Jersey cows and 24ℓ/day for Holsteins."
Reproduction
Each cow is fitted with a sensor that monitors its health and fertility, based on its movement. This data is incorporated into the dairy management programme.
The farm also had the opportunity to use sexed semen this year, which promises to greatly accelerate genetic progress and increase herd size by producing more female offspring.
Sixty percent of the cows calve in spring, and the remaining 40% in autumn, enabling the farm to provide a year-round supply of milk.
The cows are kept with their calves for the first three days after calving to ensure the latter receive sufficient colostrum to get them "off to a good start", explains Todd.
The calves are then removed from their mothers and kept for seven days in individual pens heated with infrared lamps. Here, they receive crumble feed, water, and 4ℓ of milk daily.
"We feel that milk formula is too expensive, and cow's milk is more beneficial for calves," says Todd.
Thereafter, the calves are moved to group pens, where they receive hay, calf crumbles and water. They are weaned at three months old and then moved to grazing camps.
Mixed pastures
In July 2021, to boost Springfontein's long-term sustainability and reduce its electricity costs, Nestlé funded the construction of a 250 000m³ dam, which feeds into the farm's other smaller dams using gravity.
Hoven Meyer, head of agricultural services at Nestlé East and Southern Africa, says the higher volume of water has allowed the dairy to expand its pasture production and better withstand dry months and droughts.
To further enhance the farm's sustainability, its pasture production is based on regenerative farming principles aimed at restoring and improving soil health. This increases the soil's water-holding capacity, biodiversity, and level of plant-available nutrients, which in turn helps to ensure crops that can better tolerate heat, drought, water and disease stress.
As part of this farming approach, a multispecies crop is planted, including kikuyu (Pennisetum clandestinum), red clover (Trifolium pratense) and white clover (T. repens), to produce a supply of grazing throughout the year. Each of these species also benefits the soil; for example, the red and white clover have nitrogen-fixing abilities.
To prevent nutrient deficiencies, the soil is tested and chemically corrected according to the results of the analysis. The feed crops are then planted with a no-till planter.
Meyer points out that through their grazing action, the animals' manure and urine help to maintain the system by acting as additional fertiliser for the pastures.
Cow slurry is also pumped from the dairy via the irrigation system into some of the poorer pasture land in an attempt to improve the soil quality. This is helping to move the farm closer to a circular economy, where nothing is wasted.
The grasses are grazed at the two-and-a-half- to three-leaf stage and then left for a few weeks to recover before the cows are returned to the same pasture. A pasture may be mowed to stimulate regrowth if the cows are unable to get to it before the three-leaf stage. The cut plant material is then left on the pasture as mulch.
Farm Management
Up until two years ago, the dairy's milk production still averaged only around 10ℓ/ cow/ day, despite the fact that it had the right genetics and technology to set it on the road to commercial success. This all changed with the appointment of Todd, who ascribes his success to the training he gave the farmworkers.
Most of Springfontein's workers had grown up in an environment where everyone practised subsistence farming. For this reason, Todd had to go back to the basics to ensure they knew and understood the role they played in Springfontein's success.
"We had to teach the workers to treat the animals with more respect and to use the cattle's visual line, and in effect their fight-or-flight response, to move them without the need to shout or use sticks. This resulted in the cows being less anxious, which in turn helped to improve cow welfare and milk production," says Todd.
The training empowered the workers, and as a result they were more motivated about their jobs. "The staff have become much more disciplined in their work, because they understand how negligence or absenteeism influences the cows and production, and ultimately the overall success of the dairy," he adds.
Todd says that it is impossible to command respect, so he chooses to lead by example. "I work longer than anyone else on the farm, putting in an average of 14 hours of work each day. I check, supervise and ensure that each worker knows how to do his or her job properly before leaving him or her to do it alone.
"Aside from this, I involve the staff in the decision-making process, because I don't have all the answers, and I can also learn from them."
The dairy currently has 33 full-time employees and, for the past five years, has also been part of an initiative aimed at empowering young people in the Makhoba community via Nestlé's 12-month Youth Employment Scheme (YES).
To date, 300 people from the Makhoba community have received training via YES, and another 100 are currently enrolled. Almost all of the graduates so far have secured employment, primarily on surrounding farms, either as a direct result of the training, or thanks to their improved skills.
"Springfontein Dairy has turned out to be so much more than just a dairy. It is, rather, a centre of excellence in science-led, community-driven sustainable land use for Makhoba Farms. Its success is one of the linchpins in Makhoba Farms' growth and diversification into other areas of agriculture," says Makhoba.
Email Chief Ambrose Makhoba at [email protected].