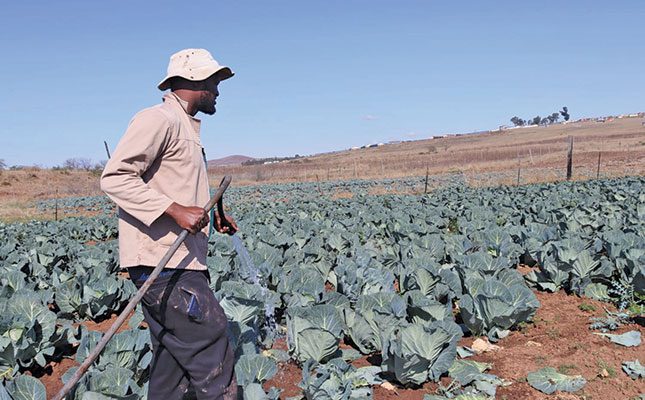 Inga Qeja registered Bhayi Holdings as a business in 2015, but only started his full-time career as a farmer five years later. This was after he lost his employment at a car dealership in Pietermaritzburg, KwaZulu-Natal, due to challenges brought about by the COVID-19 lockdown.
He says his experience as a salesperson helped him to create partnerships and networks, and these in turn enabled him to grow his business. He adds, however, that access to finance remains a challenge for him and other farmers in a similar position.
Qeja started farming in 2020 on 1,5ha of communal land in Mbokotwana, near Tsolo in the Eastern Cape that had been granted to his mother, but was not used by her. He has since expanded his operation to 2ha. He is potentially able to lease up to 100ha of arable land from the community.
Partnerships
Qeja has been able to create much-needed employment in the local community: he has three permanent staff and 10 young people on a temporary basis when planting and harvesting.
He says he is passionate about youth development, and this has prompted him to become involved in Ujamaa Youth Development, an initiative focusing on teaching the youth, mainly high school learners, about development issues.
He is also chairperson of a youth development initiative in Tsolo, and the youngest board member of the Mhlontlo Farmers' Association.
Bhayi Holdings' management team currently consists of Qeja as director, Linda Tswane as managing director, and Anele Flatela as operations manager. Tswane, who is also Qeja's fiancée, has worked with Qeja since the inception of the business.
Qeja and Flatela's business partnership started in 2020 when Flatela, a local young emerging farmer who ran his own poultry and vegetable project, started sharing resources with Bhayi Holdings.
Flatela became a Presidential Employment Stimulus Initiative beneficiary of input vouchers that were issued by the National Department of Agriculture, Land Reform and Rural Development to assist farmers during lockdown.
At the time, Bhayi Holdings did not qualify for vouchers, so Flatela suggested that they join up and share resources. At the same time, he would use the government support to boost his own enterprise.
"From time to time, we continue to share resources between our businesses," says Qeja.
Developing the business 
In 2020, Qeja was selected for a business-development programme sponsored by Bayer and Raizcorp, and received mentoring on how to develop a business.
"The biggest thing I learned was the importance of record-keeping. One needs structures to be able to track profit and growth," he says.
From his savings, he purchased fencing, a sprinkler irrigation system and inputs, as well as receiving assistance with a tractor and mechanisation services for soil preparation from the Eastern Cape Department of Rural Development and Agrarian Reform.
He also received monetary assistance from local community members to fence the land.
Since the establishment of the business, Bhayi Holdings has produced a consistent supply of spinach and cabbage for Boxer Superstore, Spar and other convenience stores in the OR Tambo District.
"We also plant butternut and onions. People love to eat the green leaves of onions with spinach," says Qeja.
"On average, we sell 500 bunches of spinach on the informal market a day. We saw that there aren't many farmers between Kokstad and Mthatha, but there are a lot of farmers beyond Kokstad deeper into KwaZulu-Natal."
He adds that his favourite way of selling is via the informal market, and each week sells spinach from his bakkie on the streets of Qumbu, a town about 30km from where he farms in Tsolo.
"I love interacting directly with my customers. I always joke with the other farmers that I was a salesman before I became a farmer," he says.
To further assist the business, he secured a R30 000 loan from the Eastern Cape Rural Development Agency, which supports Bhayi Holdings with seedlings and fertiliser.
The agency has been set up to implement an integrated rural development strategy for the Eastern Cape with the aim of building up an inclusive and sustainable rural economy. To this end, it works with small businesses and rural farmers, and provides training and mentorship programmes.
Qeja says that his plans for Bhayi Holdings include planting industrial crops such as maize, soya and sugar beans, and in order to achieve this, he will need to mechanise.
"Once we've bought a tractor, we'll use it to cultivate soya beans, maize and sugar beans," he adds.
Marketing
Using social media as a marketing tool has assisted him to create the necessary partnerships to grow his business.
"When we started planting, we created content by taking pictures and videos, and posted everything we do on the farm. From soil preparation, to fencing and planting, people have been able to monitor and follow our journey."
In August 2022, Bhayi Holdings organised a farmers' day in partnership with the Small Enterprise Finance Agency (SEFA). This helped to expose emerging farmers to ways of accessing new technology and funding.
"The success of the event will hopefully lead to the Mhlontlo Farmers' Association organising a farmers' day as an annual event," says Qeja.
"The reason we brought SEFA on board was that we wanted to remove the burden on the department of agriculture as the only funding institution. We wanted to show farmers that agencies like SEFA can help finance small businesses.
"Mxolisi Matshamba, the CEO of SEFA, saw our work on social media and decided to support us.
"This was after many others, including the Mhlontlo Local Municipality, declined to help us.
"The Department of Small Business Development has been supportive, and we were assisted to get free business training from the Small Enterprise Development Agency's office in Mthatha."
Funding
External funding is the most important growth factor in any business, whether big or small, says Qeja.
"I've come to realise that access to funding is very difficult, and other farmers here feel the same way. We're therefore looking at ways of working together to develop a farming stokvel or crowdfunding to raise funds.
"Other farmers have suggested a co-operative bank, but we're still doing research on that with various institutions."
He adds that stokvels can be run in different ways, in that some work with money and others with resources. In a financial stokvel, members fund the stokvel and borrow their own money, returning it with interest. Alternatively, they borrow other members' money and pay it back with interest.
"We'd love to communicate with other farmers. We need as much advice as we can get because there are many mistakes and disappointments that are part of agricultural production, so you need the advice of people who've walked the road," Qeja adds.
Follow Bhayi Holdings on its social media pages: Bhayi Holdings (Pty) Ltd (Facebook);
bhayiholdingsptyltd (Instagram); and @Inga_Nande40 (Twitter).