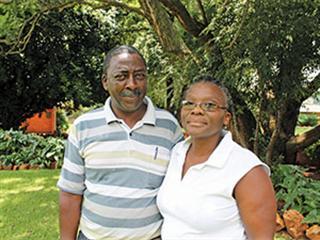 Regardless of the animals being reared or the crops being grown, all farms require one input above all else: money. Many land reform beneficiaries, unable to access enough for this initial investment, have struggled to succeed. Recognising this, the Department of Rural Development and Land Reform (DRDLR) introduced the Recapitalisation and Development Programme to rescue inadequately supported land reform farms.
For Lawrence and Simphiwe Mtswene, this support has come as an enormous relief after years of struggle. Although it is early days yet, they envisage making significant changes to turn their farm around. The Mtswenes moved onto Uitkyk near Nigel in 2006 as land reform beneficiaries. "I acquired the farm through the Pro-Active Land Acquisition Strategy (PLAS)," recalls Lawrence. "We received nothing apart from the land itself."

The farm uses one borehole that supplies a reservoir. This distributes the water to points on the farm.
To start farming, Lawrence used his own – inadequate – savings. "I started from scratch, buying livestock, fixing fences and restoring the arable land," he remembers. "It cost a lot of money – money that I didn't really have." What made all this especially challenging was the fact that the previous owner had not been a farmer but had leased out the property. "When someone leases a farm, he seldom does much to improve it. The soil was not maintained by liming or any other means."
The other problem was the number of invasive alien trees on the farm, particularly black wattle and blue gum, which consume large amounts of underground water. Fortunately, the Gauteng Department of Agriculture and Rural Development (GDARD) has begun removing invasive trees in the area and Lawrence's farm is one of those included in the project.
Intensifying production
The main enterprise on Uitkyk is livestock, mainly cattle, with a few sheep. Lawrence also plants maize. The farm is too small for extensive cattle farming, however, so his immediate plan is to intensify production. "The farm doesn't allow us to sustain enough grazing livestock as a commercial farming business. It can carry a herd of only 48," he explains. "So the DRDLR is constructing a 200-weaner feedlot for us through the recapitalisation programme."
Currently Lawrence runs 30 Nguni and Simmentaler cows bred to a Limousin bull. "I selected these two breeds for their excellent maternal ability, which allows me to wean healthy calves. Ngunis are hardy and can survive almost anywhere. For feedlot purposes, I need to wean good calves that will perform well in this feeding system. And crossing with a Limousin will help improve the meat content on the carcass."
The farm's maize had previously been sold at the local Afgri silos. But Lawrence will use the current crop in the feedlot.
"I plant about 60ha to maize, mostly for feed. Next season, I'll introduce soya beans, also for the feedlot. I expect the feedlot to start operating in mid-March or April this year. The planning stage has been completed. I plan to buy good weaners, even from farmers in Standerton and Bethal."
A management calendar
Due to lack of fencing, Lawrence currently has no fixed breeding season, nor is the farm subdivided into grazing camps.
"This will change, thanks to the recapitalisation programme," he explains. "We intend using the funds to divide the farm into five camps with fences." He will also receive a borehole-fed water tank. "I have plenty of underground water here – the only problem is distribution infrastructure."

Lawrence runs this four-year-old Limousin bull with Nguni and Simmentaler cows.
Lawrence follows a management programme designed by the ARC's Animal Production Institute's Animal Recording and Improvement unit. "This helps me to manage diseases, among other things. The grass is infested with roundworm and other parasites, so we must treat the cattle for internal parasites." Lumpy skin disease is common in the area due to its high rainfall and resulting large insect populations (insects are vectors for the disease). In September, before the rain, Lawrence vaccinates against the disease with LumpyVax.
Ticks are also a challenge, especially in summer, when Lawrence treats weekly using Deadline. Starting from May, seven-month-old calves are weaned so that they don't suckle in winter when grazing is poor. At this stage, he inoculates the heifers against brucellosis. After winter and before the first rain, he supplies protein supplement until the grass is green again.

Optimal breeding
"We also do performance recording by generating a stock card for each cow," says Lawrence. "This contains the date of birth, sex, birth weight, weaning weight, 12 month's weight, 18 month's weight and ID number. Then we add calving records, treatment records and so forth. We also note the details of unweaned calves on their mothers' stock cards." After pregnancy tests, cows and heifers that are not pregnant are culled. But this happens only after they have been given 90 days to conceive.
"The cows are run with the bull all the time, and cows come on heat every 21 days. This means I'm giving them at least three chances." Keeping accurate performance records helps Lawrence to select good breeding stock. Because of his small operation, he is forced to keep only the top-performing animals. According to him, his cows' conception rate is as high as 90%, the average birth weight is 35kg to 40kg, and the calves are weaned at 200kg.
Study groups
Lawrence firmly believes that joining a study group is the best way to keep informed. He belongs to the Masithuthukeni ('Let's develop') study group run by the Lesedi Municipality. "It keeps us updated on new developments. We invite organisations to share information with us. These include the Agricultural Research Council, which presents workshops on veld and cattle management and other important topics."
Companies such as Pannar Seeds also offer workshops. "Their presenter recently advised me to boost my pasture, which at the moment is dominated by kikuyu that dies off in winter, Lawrence explains. "I plan to replace it with forage oats – the Drakensberg and Le Tucana varieties – because this crop does well in winter. I'll plant it in the existing pasture in autumn so I 'm guaranteed of green grazing throughout the year."

Uitkyk is divided into two portions: 84ha for grazing and 60ha for grain.
Reaching the market
According to Lawrence, study groups have another powerful advantage: they link him with better markets. "The GDARD runs workshops with us and give us plenty of information. Because farmers have been complaining about lack of access to markets for so long, the GDARD has negotiated with the Gauteng Department of Health to support smallholders by allowing them to supply its hospital kitchens through an open tender system."
This means that instead of going through the normal tender process, farmers can now negotiate directly with the department, facilitated by the GDARD. The new model is designed to address the problem of long turnaround times for payment. "Few small-scale farmers can afford to wait for money," says Lawrence. "With this model, we get paid in just seven days."
The model has already being implemented successfully, especially with vegetable and poultry farmers. Egg producers in particular have benefited. Apart from giving farmers a ready market, the system is practical and relatively simple. Lawrence explains: "If a hospital wants red meat, it will order from me, and I'll approach the abattoir to do the order for me to supply the client."
Contact Lawrence Mtswene on 082 474 6898.