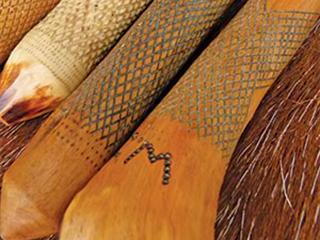 In the past few years, Gary Harvey realised that the umnquma stick crafters he had met since settling in the Eastern Cape 30 years ago, had either died or disappeared and nobody had replaced them. "It's a dying craft; they (umnquma sticks) are not made to that old traditional carving standard anymore," he says while showing me sticks from his collection. "This is because younger men are losing their traditional customs and replacing them with a more urban way of life."
Gary searches for crafters
It was this realisation in late 2011 that drove Gary to look for remaining crafters who could still carve the differently-styled umnquma sticks, like the walking sticks every man used to carry to ritual beer drinks, the fighting sticks used in the once popular sport of stick fighting and the more menacing hunting and fighting knobkieries often carried by Xhosa warriors during the 18th and 19th century frontier wars of the region.
Gary's search began with asking his 1 000-strong security staff stationed across the Eastern Cape to locate any crafters in their communities – he still has not had a meaningful response. However, in February 2012, a chance tip-off from a friend led him to a crafter in the shanty town of Mdantsane near East London. Gary fondly recalls his first meeting with 70-year-old Ndoyisile Kondlathi on the fringes of the sprawling township.

Gary Harvey with Ndoyisile Kondlathi and a batch of umnquma sticks.
He had brought a bundle of sticks for Gary to see. By the end of the meeting they had captured the core traditional techniques of crafting, including the all important curing process that demands – among other traditional procedures – the burial of certain sticks under dry dung in cattle byres to regulate the loss of moisture in the wood. Besides preserving such important traditional knowledge, Gary was also keen to somehow standardise production from crafters and see if he could market them on a website.
To ensure a better chance at retail success, Gary had a few suggestions during the standardisation process. These included the exclusive use of junior hacksaw blades when carving the grip (to ensure a finer and more delicate finish) and wood oil to lubricate them. Traditionally, animal fat was used – the most sought after being that of an uxam (leguaan) – but Gary felt that at times these fats turn rancid; probably not what an international client would appreciate.
After meeting Ndoyisile, Gary went on to hunt for more crafters around East London and King William's Town and eventually brought on board Jacob Booi (from a village along the Tsholomnqa River) and Jackson Tshem near King William's Town.
Gary visits them once a month and buys their sticks, supplies them with hacksaw blades and wood oils, before sharing a meal to complement social occasions he has come to treasure. "Although the emphasis of what I do is to keep the craft alive, it also gives me the opportunity to deal with old traditional stick crafters," Jaco says.
The master crafter
Of all the stick crafters, Ndoyisile remains one of the best, says Gary. Farmer's Weekly met him in his makeshift shack – one of thousands that organically attach themselves to Mdantsane each year. Inside, we chat about his love for crafting while scrutinising the next consignment of sticks Gary is buying. "Excellent as always," says Gary with a grin. Outside, the huge township illustrates just how many rural Xhosa folk are finding themselves drawn to shanty town life, just as Ndoyisile had been when he swapped the communal farming areas of Peelton, near King William's Town, for Mdantsane in 1970.
He would never again leave the township and today still lives in poverty, survives on his pension and faces old age with uncertainty. What sets him apart from the younger generation is not only his age, but a powerful dedication to his traditional roots and beliefs. For example, he deeply respects not only the umnquma tree for its significance in traditional Xhosa ceremonies, but also its strength as a powerful charm plant able to protect one from lightning.
"This is a good intonga (stick) from a good tree," he says tapping an umnquma stick. "When there is a thunderstorm and you have the stick in the house it (lightning) will pass over the home and do no harm." Ironically, it was only when moving to Mdantsane that Ndoyisile began specialising in stick crafting. Back in Peelton, he had grown up carving umzane (white ironwood) and umnqayi (kooboo-berry) sticks sourced from the forests of the Amathole mountains.
His switch to the umnquma in Mdantsane was largely due to the abundance of umnquma trees in the river valleys bordering the township, but also because of his introduction to a master crafter called Benson. It was with the late Benson that he would escape the hard grind of township life by harvesting, curing and carving sticks. He says a central feature in any stick is the fine diamond mesh carving (umxholo) of the grip (sipatu) that is traditionally finished off with a dusting of coal to accentuate the pattern.
Not only does the grip ensure the ability to hang onto one's stick when things get heated, says Ndoyisile, but also doubles as the most striking artistic feature on the stick.

Umnquma sticks belonging to Gary Harvey. The continued use of oil on the sticks turns them buttery yellow over time.
The unlikely stick expert
Gary later tells Farmer's Weekly that his best umxholo carver is not Ndoyisile, but rather a Captain Jaco van der Merwe from the South African Police Service stationed near Bisho. At first glance, Jaco seems completely unsuited to the role of master traditional Xhosa stick crafter. But when one hears about his childhood on Karoo farms near Beaufort West during the 1960s and 1970s, the traditional Xhosa in him begins to make sense.
As a boy, Jaco used to enjoy stick fighting with his Xhosa peers and fondly recalls watching Xhosa men carve (ukuqoqa) umnquma sticks around the camp fire on isolated sheep farms. "I watched them when we sat around the fire," he recalls. "They used to make a kraal with asbos (Pteronia incana) and inside was the three-legged pot and roosterkoek. "They used to carve and compete among each other who could 'ukuqoqa' the best."
It was a time, he recalls, in which traditional Xhosa customs were still strongly adhered to in the platteland, a time when a good stick and blanket could still get one through a tough day. "Back then, a man did not carry a knife but a kierie and he always had a blanket. "They used to say if a man had a blanket he could sleep anywhere and if he had a kierie he could protect himself at any time," he says.
It is therefore maybe not surprising that Jaco has, over the years, not only collected umnquma sticks, but developed an interest in crafting his own. The most important lesson Jaco has learnt is to always harvest fresh limbs from olive trees in winter when the tree's sap recedes to its roots, leaving the limbs relatively free of moisture and therefore minimising the potential for cracking during the curing process.
Jaco warns that curing for a stick is as important as any step in the production process. "As they get older they get more character. As you put oil on they get darker and darker until the stick becomes a buttery yellow with a red vein of inner wood," he explains. "It is such a nice Xhosa tradition and it is so sad that it is dying out," Jaco concludes.
Contact Gary Harvey on 083 452 0883 or visit www.africantribalsticks.com