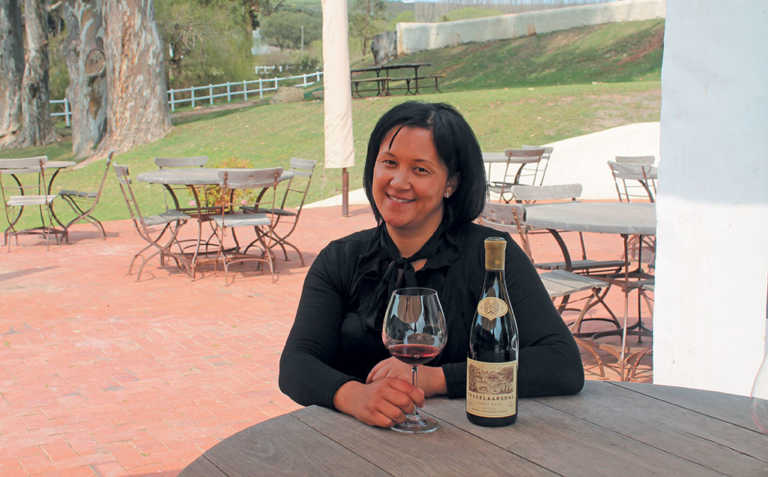 In 2000, Berene Damons started working as an au pair for the four children of winemaker, Anthony Hamilton Russell, of Hamilton Russell Vineyards in the Hemel-en-Aarde Valley.
This job lasted a mere month, however. Anthony saw her potential and invited her to assist the company's marketing manager.
READ Why SA wine exports must move from bulk to brands
Over the next year, Berene moved swiftly through the ranks to an administrative position involving the export and labelling of the Hamilton Russell Vineyards' wines.
"During this time in the office, I experienced many administrative aspects of the business, but my curiosity started to turn towards the delicate process from grape to bottle," recalls Berene.
"Where I come from, a small village called Tesselaarsdal in the Overberg, we didn't really know wine or understand why it can be so expensive. I wanted to learn more and try to understand why people are willing to pay so much for wine."
She enrolled at the Cape Wine Academy for introductory courses on wine, wine origins, and how to identify and compare wines through taste, sight and smell. She found it all fascinating and volunteered to assist during the harvest of 2002.
"After my first harvest, I helped out every year, while carefully observing the winemakers and learning from them," she says.
Becoming a winemaker
In November 2014, Berene was offered the opportunity to produce her own wine.
"Anthony assisted me with the start-up costs, while I had to secure my own grapes and register the business," she explains.
She chose to start with a Pinot Noir, as the climate and soil type of the Hemel-en Aarde-Valley made this the best choice.
"I also decided to stick with what I know. My palette is very much shaped by Pinot Noir as this is the only wine I'm really familiar with."
READ A premium upgrade for wine in the Swartland
Berene has never been afraid to get her hands dirty and is often to be found in the vineyards with the viticulturists to ensure that sugar development and berry health are both satisfactory.
At harvest time, she spends time picking grapes alongside the subcontracted pickers.
"Because we use subcontractors, we don't have the same team every year. By picking alongside the team, I can make sure they don't pick overripe grapes that will ultimately affect the quality of the wine," she explains.
The art of winemaking
All grapes are transported in crates to the Hamilton Russell Vineyards cellar where Berene makes the wine. Before these grapes can be made into wine, they must be crushed and destemmed.
The bulk of this task is done mechanically, but about 10% of the harvest is crushed by foot in the traditional manner. The mechanically crushed grapes are then added to the stomped grapes.
Berene's wine is fermented in French oak barrels for over 10 months before being bottled at Hamilton Russell Vineyards.
"Although creating your first wine is challenging, it's not impossible," insists Berene. "I was mentored almost exclusively by Emul Ross, the very knowledgeable winemaker of Hamilton Russell Vineyards. He helped me step by step through each process."
Khoi meets french
Currently, Berene secures approximately 5t of Pinot Noir grapes from Babylon's Le Vierge Vineyards, an unirrigated vineyard in the Hemel-en-Aarde Ridge, under contract until 2022.
"I chose the highest, north-west-facing vineyard that I could. It's also the closest vineyard block to my hometown, Tesselaarsdal, and I feel this gives the wine its own identity."
She named her wine brand Tesselaarsdal in honour of her background.
"I always refer to my label as 'Khoi meets French'. It tells the story of where I come from," says Berene.
Berene released her first batch of Tesselaarsdal Pinot Noir in 2015. "I produced only 1 202 bottles, but the feedback after my maiden release was overwhelming," she recalls. "It sold out within the first month of the release."
Greg Sherwood, a Master of Wine, referred to it as the "next South African Pinot Noir icon", and it was awarded five stars in the John Platter South African Wine Guide.
Currently, Berene exports 40% of her wine to Europe, the UK and the US, and the remaining 60% is sold locally.
Tesselaarsdal is available at some of South Africa's top restaurants, including La Colombe and Aubergine in Cape Town, Overture in Stellenbosch, and the Saxon Hotel in Johannesburg.
While Berene is recognised for making a stellar Pinot Noir, in 2017 she was also acknowledged for her entrepreneurial acumen, winning the department of agriculture's national title of Top Female Entrepreneur in the agri-processing category. She also won the special ministerial award as the department of agriculture's Top Young Female Entrepreneur of 2017.
She also previously won the Youth in Agriculture, Forestry and Fisheries Award in the small-scale agro-processing category.
Future plans: Her own vineyard
Berene is looking at purchasing 23ha of land in the Hemel-en-Aarde Valley where she plans to plant Pinot Noir and Chardonnay vines.
This enterprising winemaker also hopes to one day own her "very own vineyard in Tesselaarsdal" where she intends building a cellar and tasting room.
"I'm also planning to expand my production list within the next two years by adding an unwooded Chardonnay. But the most important plan is to obtain land so that I can start planting my own grapes."
Email Berene Damons at [email protected].