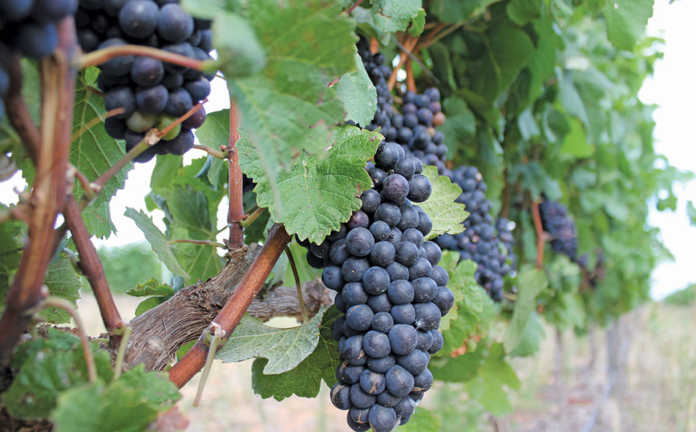 What is your role as Vinpro chairperson? Which issues will you address this year?
My task as chairperson will be one of oversight, with an emphasis on promoting unity between industry role players. VinPro represents 3 300 producer members in the
wine industry.
In line with the industry's collaborative roadmap, the Wine Industry Strategic Exercise (Wise), we're striving to reach our goals by 2025. These include a robust and adaptable approach to drive profitability, global competitiveness and sustainability.
It specifically includes shifting the industry from a production orientation to a market orientation.
The South African wine industry is currently in a slump, with only a third of grape producers farming at financially sustainable levels. What must be done to improve the situation?
The theme of this year's Nedbank VinPro Information Day was 'Unlocking Value'. This theme will remain an important focus of VinPro's actions for the year. Wine producers have managed to stay afloat in three ways: by improving efficiencies, increasing yields and cutting costs. The real change by improving efficiencies, increasing yields and cutting costs. The real change that needs to take place now is to increase value, as well as primary producer income.
The real change by improving efficiencies, increasing yields and cutting costs. The real change that needs to take place now is to increase value, as well as primary producer income.
There is no silver bullet, but a significant shift of emphasis from volume to value and from a production orientation to a market orientation is key. The growth in the local market is very encouraging, and so is growth in exports to expanding markets such as China and North America.
These have been identified as key export markets in the Wise export market work stream.
In addition, business intelligence, strategic alliances and an innovative approach are all key focus areas.
What other challenges does the industry face?
The total area planted to vines in South Africa has decreased significantly over the past decade. New investment in vineyards will be critical to avoid eventually running
into shortages.
In 2015, there was a surplus in the wine market of more than 80 000t. Now, in 2017, there could possibly be shortages. Furthermore, the industry would benefit enormously
from more support through preferential trade agreements with developing markets.
Finally, policy stability is crucial in terms of ensuring an environment that is conducive to further growth. The same principle applies to reliable access to water.
Why do South African wines struggle to maintain an image of premium quality in the international marketplace? How can this be addressed?
Wines of South Africa is responsible for generic marketing in the international market and its CEO, Siobhan Thompson, is better positioned to answer this question.
In my opinion, South African wineries should refrain from dumping wine at giveaway prices.
This causes immense damage to the reputation of the wine industry at large. A shift from bulk wine exports to branded, packaged products is also a key goal of Wise.
Does the South African wine industry have any recent success stories?
I believe the country's wine industry should be commended for the notable increase in multi-stakeholder platforms, where the wine industry, labour and government are all represented in constructive engagement.
The Laborie Forum, Wine Industry Value Chain Round Table, Wine Industry Ethical Trade Association (Wieta) and Cape Wine Auction are all outstanding examples.
Wine tourism holds large potential for both growth and job creation. More than 290 000 people are employed in the wine industry value chain, and wine tourism accounts for many of these jobs. Opportunities for growth here are very encouraging.
The new focus on authenticity and experience tourism bodes well for South Africa and the Western Cape in particular.
The South African wine industry is a global leader in terms of traceability, sustainable production and homegrown ethical and environmental certifications. These positive stories should be told with pride and enthusiasm!
On the technical side, there has been significant progress in providing virus-free plant material. The world is also taking note of South Africa's top premium wines, which are increasingly proving to be top-notch.
Where is the greatest potential for market growth?
South Africa has the lowest per capita wine consumption of all the major wine-producing regions. The wine industry has historically focused on the export market, while there is significant potential for growth right here in our backyard.
South Africa is largely a beer-drinking nation and the challenge is to responsibly take market share away from beer.
The burgeoning wine tourism trade also offers a massive opportunity to ensure that tourists leave as ambassadors for South African wine.
This has a ripple effect in the local market; the emotional connection cannot be substituted.
What do the next 10 years hold for South Africa's wine industry?
The industry will probably be smaller in terms of total hectares planted to vines, but more profitable and more sustainable. Strategic alliances and mergers are likely to play a very important role in the next decade, which should result in a less fragmented supply base.
In terms of transformation, there are currently 52 black economic empowerment
projects, which represent more than 2 500ha. There are also 47 wine brands under black ownership.
Sustainable transformation is pertinent, and initiatives such as the Treasure Chest, which showcases a selection of top black-owned products at events across South Africa, are an important means of facilitating opportunities for new businesses.
Improved profitability for the wine grape producer would, however, ultimately also benefit transformation.
If producers do not get an adequate return on investment, vineyard expansion and the many associated transformation and land reform opportunities will also be hampered.
Email Anton Smuts at [email protected].