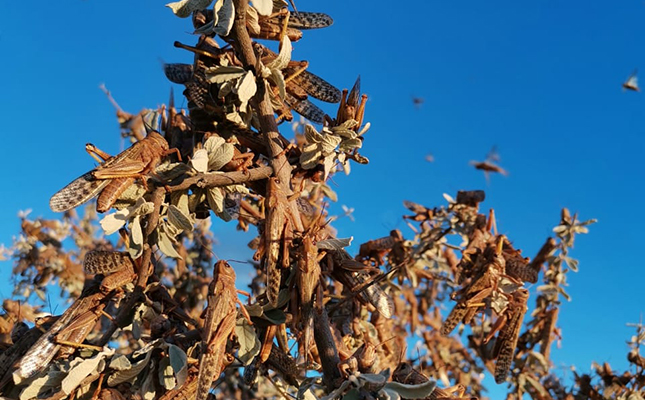 Millions of hectares of grazing have so far been decimated by devastating infestations of brown locust (Locustana pardalina) in southern Namibia.
The current outbreaks stretch from Karasburg near the South African border, to Mariental in central Namibia.
According to Marlize Nel, who farms with her husband Gerhardus some 68 km from Keetmanshoop in the direction of Aroab, the veld looked as if it had been destroyed in a wildfire after the immense swarms of locusts in the pedestrian as well as flyer stages moved through it.
"The swarms are incredibly big and some of them are kilometers long and wide. The density of the insects is so bad that road visibility is sometimes limited to a few metres in front of a vehicle. The farmers and landowners in our area have been fighting the locusts since late 2021, but to no avail," she told Farmer's Weekly.
Dr Gerhard Verdoorn, CropLife SA's stewardship manager, said it was highly unlikely that the Namibian outbreak was directly connected to the devastating outbreaks in the adjoining parts of South Africa during the 2021/22 season.
According to him, that country mostly maintained its own locust populations.
"I am concerned that the current occurrence of locusts in our neighboring country could continue until the middle of May 2022, considering the minimum and maximum temperatures expected until then.
"I am also worried about significant outbreaks in the coming summer given the high soil moisture levels in southern Namibia," Verdoorn added.
It was therefore vitally important that all role players, including the Namibian government, implemented sufficient precautionary measures to combat and control summer outbreaks. It was simply too late to start making plans when the first locusts were detected.
"Farmers and landowners should make sure that the equipment that will be needed is in a good working condition, and it is the state's responsibility to ensure adequate supplies of chemicals.
"There are three suppliers of the chemicals needed for locust management based in Namibia. I would advise the state and other interested parties to procure chemicals timeously," said Verdoorn.