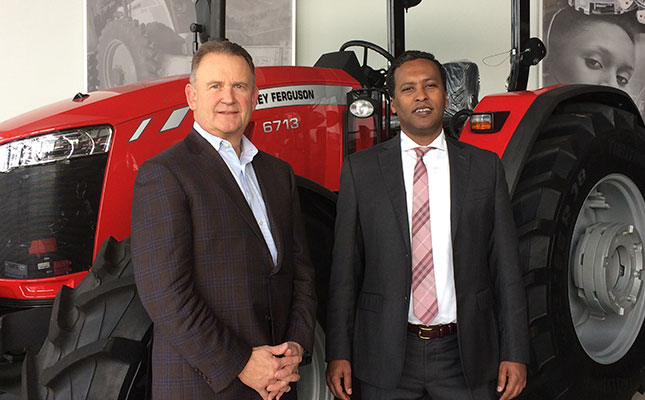 What spurred AGCO's decision to restructure its Asia-Pacific region to include Africa?
Gary Collar (GC): We believe that with this move, the region will be strongly positioned to leverage the synergies of similar market dynamics in the two territories. These are the emergence of a growing smallholder farmer segment, product and application similarities, shared consumer finance patterns and growing trade between the two regions.
Nuradin Osman (NO): Other similarities between Asia-Pacific and Africa are a growing need for micro-financing for smallholder farmers because of an absence of direct farm subsidies, and the fact that productivity can benefit a great deal from mechanisation. These markets also face the challenge of ensuring food security for fast- growing populations, so there's a lot that Africa and Asia-Pacific can learn from each other.
How does doing business in Africa and Asia-Pacific differ from doing business in Europe, for example?
NO: In Europe, farm subsidies play a big role while in Africa a large share of financing needs has to come from the private sector. This is why in the African and Asia-Pacific region we cannot expand our business without looking at developing micro-financing solutions.
Market linkages in Europe are also more formal than in parts of Africa and Asia-Pacific. Many countries in Africa are still developing their supply chains to link farmers to consumers.
READ Impressive line-up of tractors at the Nedbank Eston Show
GC: In Africa and Asia-Pacific, smallholder farmers offer an opportunity and a challenge. Many haven't yet implemented a high level of mechanisation and the transition from low horsepower to high horsepower, which took place in Europe over a decade ago, still has to take place in many countries in Africa and Asia-Pacific. One of the challenges is to provide basic education on what mechanisation can do for productivity on a farm.
At what scale does a farmer have to operate to be able to afford some degree of mechanisation, and how does AGCO plan to cater for farmers at the lower end of the scale?
NO: A farmer has to earn a gross farm income of about US$60/ day (about R800/ day) to be able to afford one of our machines, but the majority of smallholder farmers in Africa earn about US$20/day (R270/ day). Ultimately, we'd like to see farmers at the lower end of the income scale improve their productivity and income through mechanisation.
This will ensure that over a three- year period, their businesses grow to the point where they can afford to buy their own machinery. But we first need to support them by providing mechanisation models that will be affordable.
This is why we're working with local entrepreneurs to implement a model similar to the Uber ride-sharing app for tractors by setting up pay-as- you-go-type tractor schemes, where a farmer can hire a tractor for a certain period.
GC: In Asia-Pacific, there's already a healthy contractor market for agriculture machinery, but this does not exist in Africa. That is why we need entrepreneurs to invest in this Uber-model. In Kenya, for example, we've partnered with a company called Hello Tractor to provide tractor-sharing services at affordable rates for low-income smallholder farmers.
Our commitment to Africa goes beyond simply selling machinery.
Through our Future Farms, we're investing in human capital to improve the skills of local farmers and support for our products. One Future Farm is already operational in Lusaka in Zambia and the other one will open in West Africa this year.
AGCO is also developing suitable finance solutions for farmers, and we're investing in improving distribution and growing our local footprint.
During a recent panel discussion on agricultural investment in Africa at the 2016 African Agri Investment Indaba in Cape Town, the majority of panellists indicated that investing in agriculture in Africa was simply not worth the risk. Why has AGCO remained optimistic?
NO: We've been closely following the experiences of South African farmers who have invested in farming elsewhere in Africa and there have certainly been instances where they faced challenges in their ventures, especially with logistics.
In some cases, the land allocated to them was too far removed from markets and existing infrastructure. I once travelled to a farm located 600km from the nearest town. But I think many lessons have been learned by the first wave of those venturing into Africa and I expect we're now in the second wave. We're already seeing farmers from South Africa investing in farming in the Ivory Coast, for example, and they have far more knowledge about what to expect.
We remain optimistic about growth because all the fundamental drivers are in place. The population will grow, food demand is growing and the continent has vast tracts of unutilised or underutilised arable land available.
African governments, especially those that suffered from low oil prices, are also realising that they can no longer ignore agriculture's potential to drive job creation and economic growth on the continent.
GC: As far as we're concerned, Africa still offers surprising opportunities, for the reasons Nuradin has listed. Additionally, the level of mechanisation is still low and this will grow. To insure our business against the risks that operating in this region poses, we're placing our operations in all four corners of the continent and offering a diverse range of products and services.
According to AGFACTS, an interesting trend in the South African tractor market has emerged where the number of models available has increased despite a decrease in total units sold. In 2012 for example, 8 000 units were sold and there were 450 models on the market, whereas in 2016, about 6 000 units were sold while about 480 models were available. Is this increasingly diverse product range a global trend? If so, what are the economic implications for your business?
GC: Certainly, from a marketer's perspective, you want to provide every farmer with a tractor specifically suited to the needs on his or her farm. In the last few years, AGCO has launched more models according to the specific needs of farmers in a number of African countries. We are able to economically manage the manufacturing of a wide product range by capitalising on the diversity of our manufacturing base around the world with factories in, among others, Brazil, India, China, Algeria and France.
NO: The type of machinery we offer has to keep up with farmers' demands. Farmers require a wider range of machinery and implements, and we have to be able to provide it. Some of the trends that have influenced the type of machinery we offer are year-round farming and the need for mechanisation solutions to replace manual labour. Year-round farming is now emerging more and more in Africa, and this has created the need for machinery that can perform a number of different tasks.
However, it's interesting to note that while the units of tractors may have decreased, you'll probably find that the combined horsepower of tractors sold has increased. This is because farms are getting larger and, as a result, fewer farmers are buying tractors. But those farmers who remain want large, stronger machines.
For more information, visit agcocorp.com.