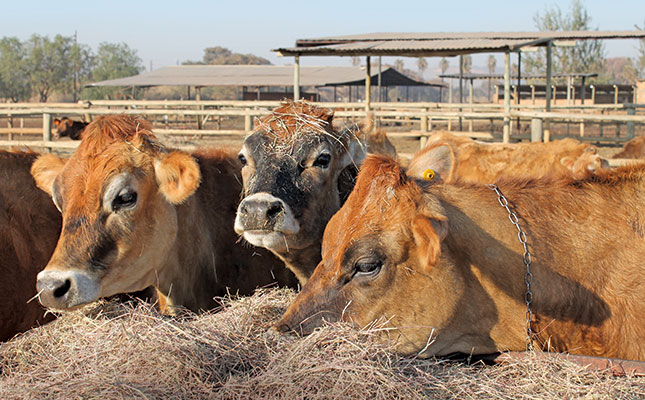 The Namibian dairy sector is battling to survive, with production decreasing and the price-cost squeeze forcing producers to exit the sector.
According to Kokkie Adriaanse, chairperson of the Namibia Dairy Producers' Association, raw milk production dropped from 21,8 million litres in 2019 to 17,2 million litres currently, which was a 21,1% decline in volumes.
The organisation and various other role players, including milk buyers and trade specialists, had therefore petitioned the Namibian government to introduce a subsidy on animal feed. However, a decision on the matter was still awaited.
Roelie Venter, CEO of the Namibia Agricultural Union, told Farmer's Weekly that the role players had requested a R2/ℓ subsidy on raw milk.
He said the local milk production sector was facing an uphill battle. The majority of animal feed in Namibia was being imported from South Africa, with transport costs constituting about 20% of the cost, pushing production prices sky-high.
"This erodes our local producers' competitiveness and makes it virtually impossible to compete with imported milk. Milk loaded in Cape Town and delivered in our capital Windhoek can be sold for less than locally produced milk. Should the state decide to [introduce a subsidy], it will go a long way to get the industry up and going again."
The drought that had been experienced during the past few years had also resulted in low water levels in local dams, and a significant decline in fodder production in the Hardap Dam area, where close to 80% of the country's raw milk was being produced.
Adriaanse added that some dairy producers were consequently forced out of the milk production industry, and that had contributed to drastically reduced volumes of raw milk being produced in Namibia.
Since the early 2000s, the number of milk producers in Namibia declined from 45 to 10.
In addition, despite the country's milk production cost index indicating that total expenses increased 10,4% year-on-year, no significant change had been evident in the raw milk price.
In addition, the recent heavy rainfall recorded across the region resulted in fodder being harvested late, while the quality of the fodder had also declined, Adriaanse said.
"Producers are now faced with the challenge of acquiring additional inputs to improve the quality of feed, adding to an increase in feed costs. Government support over the next two years is vital to get the industry going again."