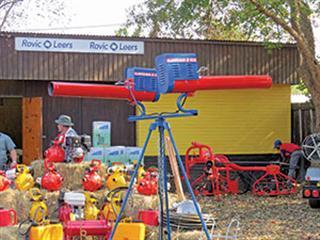 The construction equipment on display at the Royal Show seems to get more impressive every year. McCloskey International, for example, offers a one-stop shop for crushing, screening and recycling equipment. Its R105 High Energy Screener, exhibited by High Power Equipment, is ideal for operators who don't require the capacity of the larger models. With the highest stockpile and largest screening area in its class, it meets the EU transport regulation width, and has all the class-leading features of the R-Range, such as high-quality components and durability.
The bird scarer from Rovic & Leers (above right) is an indication of the diversity of the equipment on display this year. Powered by propane or butane gas, it has an adjustable volume. Birds aren't killed, only driven away, and the scarer is completely weather resistant.
Eliminate ruts
Improve the performance and efficiency of centre pivot irrigation systems by fitting Raaft tracks. Distributed by Mascor, they reduce traction between the soil and the tyre, counteract tyre slippage and digging, and provide high flotation with a surface area up to eight times larger than tyres.
Mechanical weeding
Monosem, specialists in precision planters, also make a range of precision cultivators. Originally designed in the 1950s, its vegetable cultivator is now joined by the Supercrop, an inter-row cultivator for maize, canola and sunflowers. The local distributor is Reapers of Pietermaritzburg.