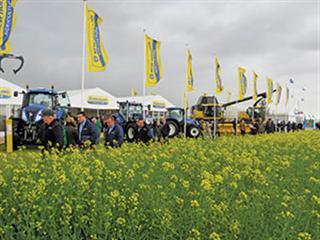 Showers and grey skies failed to deter 25 850 farmers, agronomists and other professionals – the second-highest
number of visitors in Cereals' history – from attending this year's event at Boothby Graffoe, Lincolnshire. Hundreds of plots showcased the latest crop varieties, while other specialist areas included post-harvest technology, renewable energy and sprayers.
An impressive example of the latter was Amazone's Pantera self-propelled sprayer, which combines state-of-the-art technology and management systems to "meet all the challenges presented by today's crop protection requirements", according to Amazone's Simon Brown. The company also used the exhibition to launch its 4m Cenius folding trailed mulch cultivator, as well as display its EDX Precision air seeder and new ZA-TS mounted fertiliser spreader.
Interest in renewable energy continues to grow. John Moore, managing director of small wind- turbine specialist Windcrop, reported receiving hundreds of enquiries about the company's 15m-high 5kW turbines. Other potential energy sources promoted included bio-digesters, straw furnaces and biomass crops such as miscanthus and willow. Cereals 2013 saw Turkish tractor manufacturer Armatrak entering the busy UK market. On show was the company's 504 model, with a Perkins 1103D-33 engine rated at 39,5kW and Carraro 12×12 transmission.
Harvesting willow

Systems to harvest for willow biomass have undergone dramatic improvements, increasing efficiency and effectiveness.
As a result, farmers' attitude toward willow has begun to change. The latest header from New Holland, which attaches easily to the FR9000 range of forage harvesters, has been designed to double the harvesting rate of short-rotation coppice willow so far achieved by competitors' products. This will allow a willow contractor to harvest the crop far more effectively.
Slurry handling
In the 1980s, the smell of slurry had become a public problem in Germany due to intensive livestock production and the volume of compost being handled. In response, Vogelsang of Germany introduced a range of pump systems to cope with a mix of liquids and solids, as well as dribble bars to reduce the environmental impact of slurry application.
Vogelsang also manufactures distributors that chop the material and meter it accurately to all the distribution pipes, ensuring an even application rate across the entire width of the dribble bar. The Vogelsang DropStop system helps to prevent contamination on the road: the pipes fold up to 90° flush alongside the tanker and the outlets face upwards.
Tracked combines
Soucy track systems for combine harvesters are designed to maximise harvest yield. With less than a third of the footprint pressure of dual wheels, tracks provide unprecedented flotation and traction, which allows harvesting to carry on in conditions that would defeat conventional tyres. In addition, Soucy's tandem systems provide the tracks with terrain-hugging flexibility, ensuring rolling comfort.
Pusher trailer
The new Roadeo HP hydraulic pusher trailer from K Two Sales is an extremely stable, high-capacity, bulk-load carrying platform. Its full height side design enables it to carry a variety of products, including grain, silage and root crops, without any modifications needed to the trailer body. The pusher system uses a large double-acting cylinder to move the floor and two smaller double-acting cylinders working in tandem to move the headboard.
Selective spraying
The Varidome range of shielded, low-volume, inter-row sprayers eradicates weeds in maize, onions, carrots and other crops, including ornamentals, herbs and tree nurseries. The design incorporates shielded heads that can be adjusted individually to spray variable inter-row widths. The toolbar configuration can be changed easily to fit different row widths and bed heights.