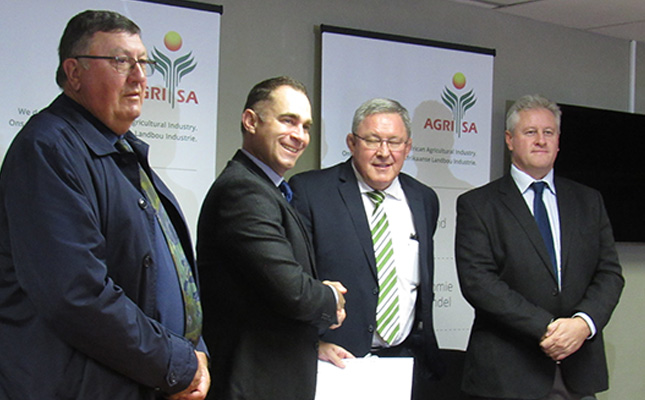 Agri SA and Fidelity ADT, a subsidiary of the Fidelity Services Group, recently signed an agreement in Centurion aimed at curbing the high number of farm attacks and related agricultural crime in South African rural communities.
According to an Agri SA statement, the partnership came into effect on 1 February and was currently being rolled out to the provincial arms of Agri SA, such as Agri Northern Cape and Free State Agriculture.
"In 2017/2018, farm attacks increased to concerning levels, while reported stock theft cases also grew by a further 7,2 %. Seven out of 10 farming units experienced one or other form of crime and 37,2% of farmers experienced theft of infrastructure. A total overall agricultural crime-related cost of R7,7 billion shows that the farming community in South Africa are repeated victims of various crimes," the statement said.
Wahl Bartmann, CEO of Fidelity Services Group, said the partnership represented an opportunity for a single point of entry for agricultural businesses and local security companies to acquire security products and services at a more affordable and sustainable pricing structure.
"Providing affordable, yet beneficial, safety solutions for the vulnerable farming and rural communities through Agri SA is critical; the pricing will be tailor-made according to the farmers' needs," he said.
Fidelity ADT will be providing a full range of integrated systems ranging from intrusion systems to radio frequency identification tagging, CCTV, fire solutions, access control, monitoring services, control room facilities, and guarding.
Bartman said the company would be working with the South African Police Service, and joint operation centres would be set up all over the country to assist with crime investigations and arrests.
"The interaction with the police has grown in the past few months with the setting up of joint operation centres for the cash in transit environment," said Bartman
"We will also be working closely with the various farm watch [groups], local security companies and farmer associations to help upskill them and empower them with valuable security insights in areas such as citizens' arrests, reporting of suspicious behaviour, land grabbing, industrial unrest, [and] stock theft, and [we will provide] training in various safety aspects," he added.