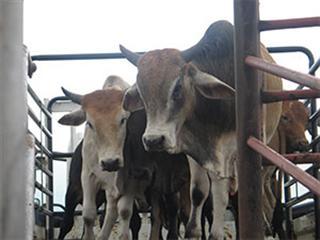 The KZN SAPS reported that the, as yet, unnamed suspect had been entrusted by his brother to manage his farm while he worked in Johannesburg. Instead, with an accomplice, the suspect arranged to sell the cattle for his own profit.
KZN SAPS spokesperson, Colonel Vincent Mdunge, said that a tip-off from the De Jagersdrift area, near Dundee, revealed that the suspect and his accomplice used the De Jagersdrift Farmers' Association's livestock sales yard to sell the cattle for R5 000 each. "Police also discovered that the suspects did not obtain the necessary permission to use the kraal from the De Jagersdrift Farmers' Association, which is the body that regulates and oversees the utilisation of the auction kraal," Mdunge said.
Members of the Dundee Crime Intelligence Unit and the Nquthu and Glencoe Stock Theft Unit, arrested the suspects and recovered the stolen cattle. "We commend the community/police partnership in tackling stock theft in the Dundee area, which resulted in the prompt arrests and the recovery of the sold cows," said KZN Police Commissioner, Lieutenant-General Mmamonnye Ngobeni.
"Successful stock theft investigation stems from the proactive vigilance of community members and livestock owners. We urge all subsistence and commercial livestock owners to brand their livestock appropriately, and SAPS Stock Theft Units are readily available to provide assistance and guidance."
Koos Marais, of the KZN Agricultural Union's Security Desk, said that the union supported Ngobeni's calls for all livestock to be branded with a registered mark. He explained that it was almost impossible to secure stock-theft convictions if the stolen livestock were unbranded.
"Unbranded stolen livestock is also very difficult to trace," Marais said. "We call on feedlots and speculators not to purchase unbranded livestock. This will help the SAPS and livestock owners with the stock-theft problem." "Kwanalu believes that most commercial farmers do indeed brand their livestock because they are well aware that moving unbranded animals opens them up to criminal charges," Marais said.