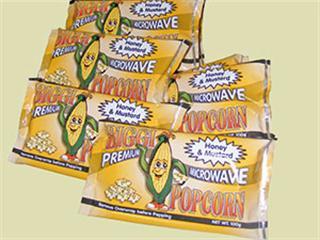 Bigfoot Trading Company markets between 6 000 metric tons and 9 000 metric tons of popcorn per annum under 'Biggi' and other private label brands. The business entails producing, cleaning and marketing popcorn and microwave popcorn. The company's head office is in Hopetown with warehouses in Durban, Johannesburg, Cape Town and Port Elizabeth.
Founded in 1991, Bigfoot's business is built around a joint venture with agribusiness OVK, called Orange River Popcorn, which ensures financial support to procure popcorn from producers. Popcorn is produced on some 1 300ha under irrigation in an area along the Orange River from Luckhoff in the Free State to Hopetown in the Northern Cape.
About 10 different farmers produce it on contract basis. "Some of our producers prefer to work on a voorskot and agterskot basis, while others produce at a pre-determined price. "Popcorn traded at around 250% of the price of grain maize in the past year, at between R4 600/t to R4 900/t. Yields fluctuate between 6t/ha to 8t/ha, but with improved fertilisation and cultivation, 9t/ ha is quite possible," explains Johann Kriek, Bigfoot Trading CEO.
Export markets
The area from Luckhoff to Hopetown holds some of the cleanest water in the Orange River system. There is no run-off from heavy industries or human settlements into the river, contributing hugely to the top quality popcorn produced. "Pure, clean water, excellent climate (hot days and cold nights) and superior cultivars are keys to our industry. Our cultivar range is based on the best seed from the US. The rich alluvial soil along the river, coupled with ongoing trials and research, ensures top quality popcorn highly sought after worldwide," Johann says.
"We export popcorn in 25kg three-ply paper bags with inner poly linings to African countries including Egypt, Ivory Coast and Ghana as well as the Middle East, including Bahrain and United Arab Emirates. South-East Asia remains our main export market. We also export to India and Europe to a lesser degree," Johann continues. The company's local clients include Ster-Kinekor, Tiger Brands, Mr Video and National Brands. Bigfoot also supplies spices and the palm oil used in the popping process to Ster-Kinekor, its main local customer, and has a state of the art packaging plant for microwave popcorn.
Superior cultivars
"We use the most advanced cultivars that ensure big and fluffy popcorn," says Koos de Wet, popcorn producer and chairperson of the Bigfoot board. "Quality is not negotiable. It took us the better part of six years to develop a cultivar that produces mushroom-shaped popcorn. The shape is highly sought after for coating with products such as caramel. We have eventually reached a point where the yield of 'mushroom cultivars' is on par with that of the traditionally butterfly-shaped popcorn cultivars.
Our success means we can now increase our access into the European and Middle Eastern markets. The three cultivars are a closely-guarded trade secret, however." The Bigfoot team continuously researches new cultivar hybrids to improve yield and reach the optimum popcorn kernel expansion ratio. Kernel count is vital for profitable popcorn production, explains Koos.
"We are working towards a kernel count of 50/10g and a 50cm³/g expansion ratio. We are also working on improved cultivation and fertilisation methods, aiming for a 10t/ ha yield within five years. We have, over the years, worked on 20 different hybrids from the US to find the best seed suited for our production practices. However, we do not trade in seed popcorn as it would make no sense to flood our own market."
The production cost of popcorn varies from R14 000/ha to R15 000/ ha. But the exchange rate remains the major challenge. "The current weak rand benefits us greatly, but a strong rand impacts on profitability," says Johann. "We must also ensure a constant flow to meet our export and local obligations. Our production capacity depends on the maize price. When the price is high, farmers switch to conventional maize production and vice versa. Low local stocks mean we have to contract farmers in Limpopo to grow popcorn for us," he explains.
"Because it is expensive to transport the popcorn to our processing plant in Hopetown, we are in the process of contracting a plant in Mokopane. This will also make sense because popcorn in our area is harvested in May and June, while the northern harvest is in January and February."
Logistics
Bigfoot runs its own logistics company, Lillimex, which was established in 1997. Originally founded as a trading company in the agricultural sector, it has since expanded into other sectors. "We have developed a detailed logistics network locally and internationally," Koos explains. "Our area of expertise is harbour and freight costs, and we have developed a good relationship with four or five of the top global shipping lines.
"Lillimex currently handles cotton, lucerne and pecan nuts exports, as well as fertiliser imports on behalf of third parties. Bigfoot is looking to extend this to other products and welcomes any joint venture opportunities," Koos concludes.
"We value our producers and customers, the lifeblood of our company. We have a passion for excellence and regard our community and environment very highly. That has been the bottom line of our business.
"We are extending our products to other related commodities and love doing good business sustainably and profitably, based on good relationships with producers and customers," says Johann.
Contact Bigfoot Trading Company on 053 203 0403 or visit www.biggi.co.za.