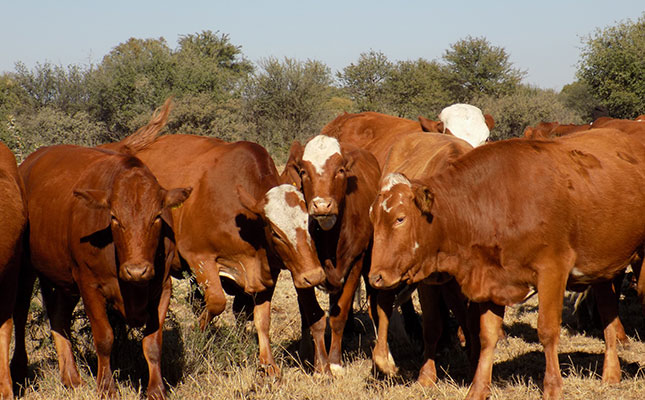 Botswana's Department of Agricultural Development and Food Security announced on Monday, 31 May that import restrictions have been placed on the importation of live cloven-hoofed animals from South Africa.
The transit of live animals through Botswana is also banned. According to the department's directive all permits issued in this regard are cancelled with immediate effect.
This followed after large-scale testing of cattle in KwaZulu-Natal by the Department of Agriculture, Land Reform and Rural Development (agriculture department) during the last week of May, confirmed an outbreak of foot-and-mouth disease (FMD) in the Mtubatuba area in the northern part of the province.
According to the chairperson of the KwaZulu-Natal Agricultural Union (Kwanalu), PJ Hassard, the outbreak would have a major impact on livestock producers in the province.
The movement of live, cloven-hoofed animals, including game, had been banned in the district municipalities of King Cetshwayo and Umkhanyakude, as well as the local municipalities of Nongoma, Ulundi, and Pongola in the Zululand District Municipality, he said.
"We have taken issue with the fact that the abattoirs have been closed as well, and are in consultation with the authorities about the matter at the moment. The livestock producers in the affected areas have been left practically without any source of income after the outbreak.
"Given the large-scale testing, there is no reason why animals found to be free of the disease cannot be sent for slaughter. Our producers need all the assistance possible to carry on farming until the matter has been resolved.
"I, for instance, had to cancel my livestock production auction that was planned for 2 July 2021," Hassard said.
A team of officials from the KwaZulu-Natal agricultural department would be conducting further investigations to determine the extent of the outbreak, after which the necessary control measures would be determined.
Agriculture minister Thoko Didiza meanwhile established an FMD task team, as well as a veterinary operational committee, to deal with the outbreak at a provincial level.
She urged farmers in the affected areas to abide by the ban on the movement of cloven-hoofed livestock and game.