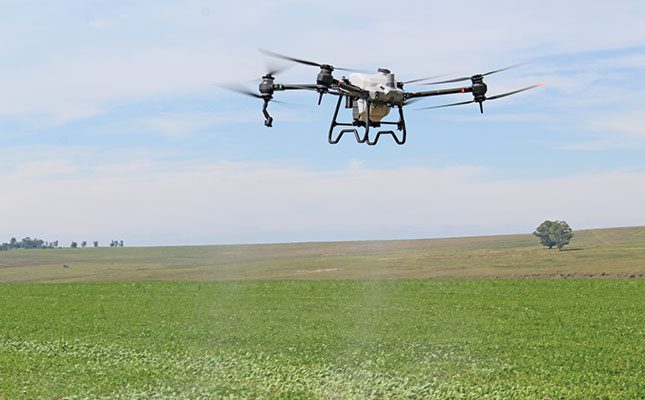 A recent webinar hosted by CropLife International featured speakers from around the world who lamented the lack of updated regulations on crop protection chemical applications, and the impact it had on drone usage.
Tim Wise, CEO of Precision Agricultural Systems in KwaZulu-Natal, said that many questions about drone usage remained unanswered, especially in view of chemical registrations and label specifications.
"Pesticides that are registered for aerial application in South Africa, for example, don't specify what kind of aerial device can be used," he said.
Gaps also existed in terms of information on application rates for different modes of aerial application. Wise noted that if droplet size and distribution of chemicals was the same on a drone as on a helicopter, then new regulations were not needed for drones, as those applying to helicopters would suffice.
Hector Portilo, global technical product manager at the FMC Corporation in the US, said that the regulatory environment needed to catch up quickly, since there was an eagerness in the agriculture sector to start using drones, and that regulatory delays should not hinder this progress.
"Adoption in China, for example, has happened very fast because the government has realised that the technology offers many benefits. "Drones offer greater accuracy, and human exposure to the chemicals are minimal, compared with using a knapsack sprayer," said Portilo.
Looking at the local environment, drone usage was governed by aviation laws, which required a licensed pilot to operate them.
Hiresh Ramanand, stewardship coordinator at CropLife South Africa, said that not every agricultural remedy was registered for aerial application, but where the label of a product allowed for aerial application, a drone could be used.
"However, where aerial application is not indicated on the label, it is unlawful to apply the product by drone. Label instructions must be closely read since some labels may restrict aerial application to piloted aircrafts," Ramanand said.
He added that labels on crop protection products were a legal document in terms of Act No. 36 of 1947 to ensure safe and effective use. Ramanand further said that the current South African regulations should not be viewed as hindering the uptake of drones in agriculture, but rather safeguarding the technology.
Speakers were clear about the advantages of drone applications over traditional tractor spraying. Wise noted that drone applications could be done at 10% of the cost and using only 10% of the water compared with spray cart applications.
"I therefore anticipate that drones will really take off in Africa over the next three years. But we will need to properly control usage since much damage can be done if drones are operated by untrained people," Ramanand added.