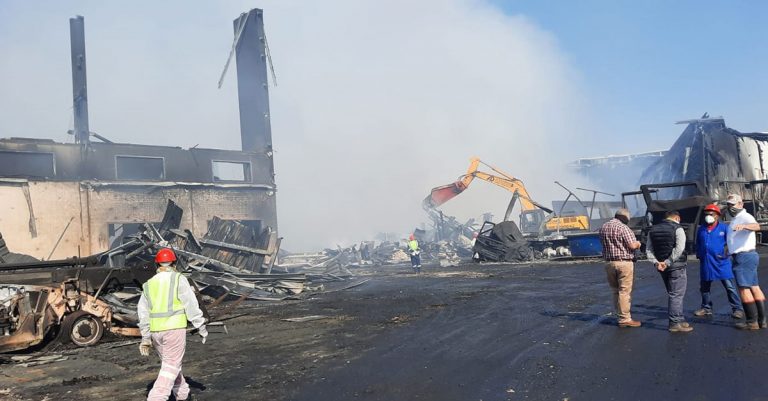 At least 3,5t of dead fish have already been collected following the torching of an agricultural chemical warehouse during the recent civil unrest in KwaZulu-Natal.
United Phosphorous Limited (UPL) chemical warehouse in Cornubia north of Durban, was vandalised and set alight by looters during July.
Bheki Mbanjwa, spokesperson for KwaZulu-Natal's Department of Economic Development, Tourism and Environment, said all beaches and nearby streams (the Ohlanga River and the uMhlanga Estuary) within the proximity of the warehouse remained closed as a precautionary measure. This area stretched from the uMgeni River to Salt Rock on the Dolphin Coast.
"We are still waiting for complete results on the impact that the spill had on water and soil quality. The estuary is, however, severely polluted with over 3,5t of dead fish collected to date," Mbanjwa said.
The freshwater, estuarine, coastal and marine ecosystems were being monitored by authorities. Their research included determining air quality levels, and the implications the spill would have on human health.
"It is still unclear how long the impact of this spill will linger. This will be informed by ongoing remediation and rehabilitation interventions," Mbanjwa added.
UPL's spokesperson, Craig Dodds, previously told Farmer's Weekly that the warehouse contained foliar feeds, fungicides, herbicides (including glyphosate) and insecticides.
"UPL is actively trying to replace the stock that has been lost as soon as possible, so that it is available by the time farmers need it."
Dodds said the chemical runoff was caused by the large volume of water required to douse the fire.
"The containment team could also not drain the catchment devices, as would normally happen, because access was prevented for an extended period [due to] the unrest situation.
"The fire department's initial response to the [blaze] was delayed for a variety of reasons, including threats to the safety of their personnel and barricades that delayed access, as well as strained resources in dealing with the multitude of events at the time," Dodds said.
"When the fire department was eventually able to attend to it, the fire was so advanced and in places covered by so much rubble and sheet metal from the destroyed warehouse, that it took several days to access certain areas and extinguish the smouldering debris."
The warehouse was located in an appropriately zoned facility and, in the opinion of their technical staff and external consultants, was fit for purpose, he added.
"The facility was equipped with the necessary infrastructure to manage incidents of the kind reasonably expected."
This facility involved no manufacturing of any kind.
"The products in the warehouse were all safely contained and packaged, and were overwhelmingly water-based, with little to low fire risk," Dodds said.