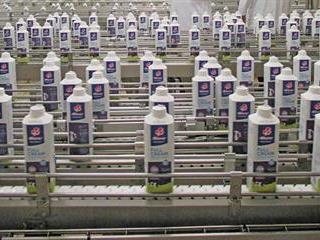 Two of these challenges were an oversupply of raw milk in the first half of the year under review and then reduced raw milk supply compounded by higher input costs in the second half.
However, according to Clover, a combination of strong sales of higher margin value-added products and improved cost efficiencies were able to overcome the challenges.
For the year ended 30 June, Clover increased its revenue 6% from R9,3 billion to R9,8 billion. Its operating profit increased 10,9% from R509,1 million to R564,5 million, and its headline earnings grew 11,7% from R319,3 million to R356,6 million.
"Our strategy to balance traditional dairy products with higher margin value-added products continued to gain traction.
Although our roots will always remain firmly in dairy, non-dairy and value-added products now contribute 40% to margin on material. Our short-term aim is to increase this to an even split," said Clover CEO Johann Vorster.
He stressed that Clover would not be decreasing its milk purchasing and processing capacities to make way for an increased focus on non-dairy and value-added products. His company would, instead, be increasing production capacity for the latter products.
Discussing trends in raw milk availability, Vorster told Farmer's Weekly that while the drought and other factors had resulted in a decline in the number of dairy farmers supplying milk to Clover, the remaining suppliers in SA had expanded their dairy operations to maintain, and even exceed, previous raw milk volumes.
Clover currently purchases approximately 600 million litres of raw milk annually from 160 dairy operations.
"Clover kept dairy selling prices constant for most of the review period and absorbed inflationary increases as far as possible. Sales price increases were, however, implemented across the product categories in April 2016 to recover high cost inflation pushed up by the weakening foreign exchange rate," said Clover.
Vorster said due to the oversupply of raw milk in the first half of the 12 months ended 30 June, Clover had reduced the price paid to its milk suppliers by 6%. However, later in the year, and as raw milk supplies decreased due to effects of the drought and higher dairy feed costs, Clover increased the milk price to its suppliers by a total of 75c/litre.
Clover anticipated that improved weather conditions predicted for late 2016 and early 2017 would normalise milk production, resulting in "a fall in food and beverage input costs and an overall reduction in food price inflation".